Dynasty Blueprint: Week Three
Editor's Note: Ryan debuted the Dynasty Blueprint term all the way back in 2014, focusing on his personal dynasty strategy and philosophy. He introduced ideas like punting running backs and the now-common productive struggle. This series expands on the original, providing an in-depth look inside his dynasty mind.
This is my personal weekly Dynasty Blueprint. Here, you'll find my "Game Notes," which comes directly from my fantasy football notebook, along with multiple post-game conversations with others. In the "Game Play" section, I'll explain what I'm doing with my personal dynasty teams, including waiver wire targets and trade ideas. Finally, "Game Theory" will focus on dynasty strategy.
GAME NOTES
49ers vs Giants
Outside of the second-half of Week Two's game against the Cardinals, this has been a disastrous start to the Giants season. Now 1-2 on the year following another pasting, this time at the hands of the Niners, there are seemingly no Giants dynasty managers can trust in weekly lineups.
New York did their best offseason maneuvering to retain both quarterback Daniel Jones and running back Saquon Barkley, along with adding veteran tight end Darren Waller. None of those moves have paid off yet as Barkley is hurt and Jones is playing the worst football of his career, which is really saying something. Unfortunately, neither of those is surprising. What has been a shock to dynasty managers is the lack of production from former Raider Waller. Thanks to a solid Week Two performance and an overall broken tight end position, Waller is the TE8 on the year, but that also includes a Week One TE18 ranking and this past week's pitiful TE25 finish. At 31 years of age and having been dumped by the Raiders, there is a chance Waller is simply past his prime. I've dropped Waller down to TE11 in my dynasty rankings but again, due to the poor state of the position, Waller remains a weekly starter moving forward.
There was a bit of good news for Giants fans and dynasty managers. Second-year receiver Wan'Dale Robinson, a personal favorite of mine, made his 2023 debut after suffering a torn ACL last season. Robinson was clearly on a pitch count, playing eleven snaps and running just nine routes, but that was still enough to earn five targets. Robinson finished with four receptions for 21 yards. He still has an uphill climb to overcome the crowded Giants receiver depth chart.
Saints vs Packers
At halftime of the Saints and Packers contest in Green Bay, the home team was being shut out and down 17 points to Derek Carr's squad. Then, Carr went down hard, landing on his shoulder and being forced from the game. He was replaced by veteran Jameis Winston and the game changed. The Packers' comeback was on as Jordan Love ran for a short touchdown before tossing a scoring pass to Romeo Doubs.
Carr was later diagnosed with a sprained AC joint, which could keep him out multiple weeks. At the very least, look for Winston to start in Week Four against his former squad, Tampa Bay. Winston's big arm and aggressive mindset used to be a huge boost for pass catchers, but he hasn't looked like the same player in recent years. This is a significant downgrade for Chris Olave, Michael Thomas, and company.
Love led his team to a 17-point, fourth-quarter comeback and has now notched fantasy finishes of QB3 and QB6 in his first three games as a full-time starter. As my DLF Podcast co-host pointed out, Love has produced despite multiple bad throws through three games, most noticeably his overthrow of rookie tight end Luke Musgrave in Sunday's game. That would've been a sure long touchdown. The question is, should this sometimes-erratic play be viewed as a positive or negative? Obviously, NFL teams and dynasty managers don't want their quarterback routinely missing throws, but the fact that Love is leaving some plays on the field, yet still winning and producing as a top-five fantasy scorer is an encouraging sign. Oh, and he's done this without the Packers' two best playmakers, Aaron Jones and Christian Watson. Expect both to be back this week in a monster matchup against the Lions.
Titans vs Browns
Through three games, the Titans' backfield usage has been surprisingly competitive between veteran superstar Derrick Henry and rookie Tyjae Spears. In the team's Week Three blowout loss to the Browns, Spears played ten more snaps than Henry as the team trailed throughout. In previous years, Henry was essentially an every-down back, even though he didn't have a large role in the passing game. That has changed with the addition of Spears. Neither player has consistently produced, but this has the look of a situation in which Spears' role will continue to expand. Henry is just the RB20 on the season through three games. Henry's value has been trending down already due to his age, so once he stops producing as an RB1, he'll be close to "roster-clogger" status.
The dynasty community constantly analyzes the Falcons' pass-catching duo of Kyle Pitts and Drake London, who continue to underperform due to poor quarterback play and a run-heavy offensive scheme. I think we might be seeing the same thing play out in Nashville. Second-year men Treylon Burks and Chig Okonkwo have yet to make an impact at all through three weeks. Unlike the Falcons duo, these two don't seem to be getting a pass from dynasty managers. Burks has fantasy finishes of WR72, WR53, and WR108 while Okonkwo has finished as the TE50, TE23, and TE28 on the season. Considering the way veteran Ryan Tannehill has been playing this year, the young Titans might not be held back by him for much longer. Until something changes, this duo is unplayable.
Colts vs Ravens
The Colts were without rookie quarterback Anthony Richardson, but that didn't stop them from pulling out a surprise victory over the Ravens. With backup Gardner Minshew under center, Michael Pittman continued to lead the Colts, hauling in nine passes for 77 scoreless yards. Pittman's dynasty value has been volatile over the past year due to his inconsistent play but the changes on offense under new head coach Shane Steichen have been a big boost for the receiver. Pittman's 34 targets rank him among the top-six wideouts while he's in the top four with 25 receptions. Currently ranked as our WR20, Pittman could be an under-the-radar riser in the coming weeks. Here's Pittman's dynasty ADP history, courtesy of our ADP Over Time tool.
Falcons vs Lions
TE8. TE8. TE1. Those are the fantasy rankings in the first three career games for Lions tight end Sam LaPorta. Currently the TE2 on the young season, LaPorta's production has surprised even his strongest believers. Leading all tight ends with 186 yards, LaPorta has served as a consistent safety net for quarterback Jared Goff and even showed he can break a big play with Week Three's 45-yard score. On this week's DLF Dynasty Podcast, we briefly discussed LaPorta's expected October ADP and settled on a projection of TE4, ahead of Kyle Pitts. By the way, now in his third season, Pitts has finished as a top-eight fantasy scorer five times. LaPorta already has three.
Texans vs Jaguars
This season, I am attempting to avoid discussing players in back-to-back weeks. The Texans rookie duo of CJ Stroud and Tank Dell are already making me forget that. A week after a breakout performance that saw Stroud throw for over 380 yards and Dell record his first career touchdown, the kids did it again. This time though, it wasn't garbage time. Houston led wire to wire against the Jaguars as Stroud totaled 280 yards and two scores with Dell leading the team in targets (7), receptions (5), and yards (145), catching another touchdown along the way. Dell got his shot because veteran Noah Brown suffered an injury, but he is already showing he's the team's best weapon on offense. Stroud's 906 passing yards through three weeks ranks fifth in the league and is among the highest totals in league history in a player's first three starts.
Broncos vs Dolphins
If you've read a fantasy football article, listened to a podcast, or even refreshed your Twitter timeline since Sunday afternoon, you've already heard plenty of analysis on what the Dolphins did to the Broncos in Week Three. We have to begin with rookie De'Von Achane, who announced his last name is actually pronounced "A-Chan." After being inactive in Week One and playing sparingly the next week, the rookie exploded for what is sure to be his best game ever. He rushed for over 200 yards and totaled four touchdowns. That was good for over 50 fantasy points in most leagues and the RB1 spot, edging out his teammate Raheem Mostert.
Things change fast in the NFL and even though dynasty fantasy football is a long-term game, we have to react quickly sometimes. The Dolphins look like the best team in the league being led by the best coaching staff in the league. Combine that with the speed of the backs, plus Tyreek Hill and Jaylen Waddle and this team will be difficult to beat. That means more weeks of big numbers for all involved. Achane is still expected to be the second option in the backfield, and could even be pushed down when veteran Jeff Wilson returns, but that doesn't mean he can't be counted on for weekly fantasy production. With many other veteran running backs injured or outright struggling, it is reasonable to push young, explosive players like Achane close to the dynasty RB1 range ahead of players who are clearly nearing the end of their respective careers.
One other quick note regarding the Miami offense. Through the first two weeks, veteran tight end Durham Smythe had been nearly a full-time player, though he had yet to make an impact. In Week Three, Smythe took a backseat as undrafted rookie Julian Hill was active for the first time and played a majority of the team's snaps. Hill saw just one target, which he did not catch, but his opportunity in the league's best offense is enough to make him a waiver wire target this week.
Chargers vs Vikings
Things started well for Chargers veteran receiver Mike Williams, who put together his best all-around game of the young season in Week Three against the Vikings. Williams caught seven passes for 121 yards and a touchdown before exiting with a knee injury. Unfortunately, the test results on the knee ultimately revealed a season-ending ACL tear. With Williams out, the Chargers will turn to some combination of Josh Palmer and rookie Quentin Johnston to replace the veteran in the starting lineup. While Palmer has been favored through three weeks, I expect Johnston's talent to eventually win out. Palmer did finish with a 4/66/1 line, much of that coming after Williams left the game. We could also just see more of Keenan Allen, if that's possible. More on that later…
While the Chargers' passing game has been amazing through three weeks, with Justin Herbert ranking as the QB1 and Allen topping the wide receiver list, the running game has been a disaster. Of course, the team has been without Austin Ekeler since Week One. Many expected Joshua Kelley to serve as a competent replacement when given the chance, but he has been awful. After understandably being held in check in Week Two against the Titans' strong defense, this felt like a get-right spot in a high-scoring affair against an average run defense. Kelley finished with just 12 yards on eleven carries. Yuck. He's also not a factor in the passing game. With Ekeler expected to be out for another week leading into the Chargers' Week Five bye, don't be surprised to see second-year back Isaiah Spiller see a few more touches.
Patriots vs Jets
Wow, what an ugly game this was to watch. I was hoping to just skip this game altogether but one thing did stand out and it's not particularly good. Patriots running back Rhamondre Stevenson posted another disappointing stat line, totaling 62 yards on 23 opportunities. While Stevenson still led the way in terms of snaps, it was the veteran Ezekiel Elliott who was actually more productive, finishing with 87 yards on 17 touches. Stevenson has now posted weekly fantasy ranks of RB13, RB17, and RB32. We knew Stevenson's role in the passing game would decline this year, and it has. His target share has dropped from 17.2% last season to just 10.6% this year. That's a big part of what's impacting his fantasy bottom line. Heading into a Zeke revenge game against Dallas in Week Four, we could see even less of the starter.
Bills vs Commanders
Entering Week One, there were many who expected second-year receiver Jahan Dotson to overtake Terry McLaurin as the Commanders true top target. That has not even been close to the case. In fact, Dotson ranks behind the veteran in essentially all receiving categories, including the one most important to fantasy managers, fantasy points scored. That's not all. Even veteran Curtis Samuel is outpacing Dotson by more than two fantasy points per game. While this is definitely frustrating, I don't think it's all Dotson's fault. Young quarterback Sam Howell is struggling and spreading the ball around rather than focusing on just his top targets. Wide receiver expert Matt Harmon also recently displayed confidence that Dotson would turn things around. He makes an excellent trade target, especially for teams starting 0-3 on the year.
Panthers vs Seahawks
One of the huge storylines of the early season has been the terrible state of the running back position. Six of the top 25 backs based on current DLF dynasty rankings have missed at least one game already this season. Of the remaining 19 backs who have been playing, 12 of them have yet to post a top-ten weekly finish through three games. Now for some good news. Kenneth Walker has been one of the few backs who has not been a total flop through three weeks. Producing RB14 and RB3 games after a quiet debut, Walker is second in the league in rushing scores, boosting him to the RB3 overall currently. Walker has also been quite elusive, forcing 18 missed tackles on the season, which is tied for most among running backs.
Oh, and if you're one of the dynasty managers heavily invested in rookie Zach Charbonnet. Walker's play is not necessarily a negative for his backup. Charbonnet's snap percentage has increased each week and his punishing hit laid on a Panthers' defender Sunday got everyone's attention. I expect Charbonnet to continue to increase his role in the Seattle offense. He's another good buy low target if the manager in your league is panicking after just three weeks.
Cowboys vs Cardinals
I mentioned in an earlier edition of Dynasty Blueprint that I was expecting a breakout season from Cardinals tight end Trey McBride this year. That hasn't happened yet, McBride is starting to see more playing time. After seeing the field for just 37% of the team's Week One snaps, McBride has averaged 50% of the snaps in the past two games. Meanwhile, veteran Zach Ertz's playing time has decreased weekly, dropping from 77% of the work in the opener to 59% last week. Ertz has been a fun player to cheer for and he's overcome multiple injuries throughout his career, but his time as a relevant dynasty asset is probably over. The Cardinals should continue to give McBride a larger workload moving forward.
Bears vs Chiefs
Look, we can only talk about how bad Justin Fields has been so many times. Let's focus on a different topic. Rookie Roschon Johnson continues to eat into the role once dominated by starter Khalil Herbert. On Sunday, Herbert played more snaps but only produced 35 yards on nine touches. Johnson totaled 49 yards on his ten touches. Johnson is also the Bears leading fantasy point producer, outscoring Herbert by three points per game. The Bears are probably the worst team in football and seemingly have no answers, so it is unlikely that either of these backs, or anyone else on the roster, belongs in your weekly lineup. That doesn't mean Johnson is not a quality investment for the future at a still very reasonable price.
Steelers vs Raiders
Yet another backfield that is becoming more and more confusing is found in Pittsburgh. It has become trendy to focus on just how average Najee Harris has been and it seems that each week there is a new report suggesting Jaylen Warren's role will increase. The truth is, neither back has been all that effective so far. Harris fans were quick to point out that his struggles over the first two weeks came against two of the top run-stuffing teams in the league, which is true. Week Three was his chance to show off, and he was…just okay. Harris finished with 65 yards on 19 carries, while Warren totaled 52 yards on 11 touches against the Raiders. Like the Bears and other teams, this offense just isn't very good right now and until that changes, which could come soon if Steelers fans get their way, both players should continue to sit on fantasy benches. If you can find anyone in your league who still values Harris for his name appeal or fondly remembers his rookie year performance, sell now!
Eagles vs Buccaneers
Even after one of the best games of his career, I was not quite ready to give Eagles running back D'Andre Swift much credit. After all, I've fallen for this trap before. And then his coaches give another back the workload. Or Swift gets hurt, again. Sure enough, with Kenneth Gainwell due back for Week Three, there were comments from the coaching staff that Philly would use the "hot hand" approach to determine their backfield workload. I'm not sure if that's what I would call how the Eagles handled the game plan, but they did give each back plenty of opportunity. Swift only touched the ball in the first and third quarter, dominating the Bucs in the third to the tune of 92 rushing yards in that period alone. Outside of one rush attempt in the first quarter, all of Gainwell's work came in the second and fourth quarters. Swift is clearly the best option for this offense and as long as he stays healthy, he might even live up to the lofty expectations once placed upon him by dynasty managers.
Bengals vs Rams
You already know this but something is just not right with this Bengals offense. It was great to see Joe Burrow power through his injury and lead his team to their first win of the year. It was also a bit of a relief to finally see superstar receiver JaMarr Chase force-fed targets, finishing with a 12/141 line on 15 targets. This offense is just not the same though. Tee Higgins continues to struggle while Joe Mixon hasn't finished among the top 15 fantasy backs in any of the first three weeks. Maybe it's just Burrow's injury or maybe we've just been spoiled by this high-powered offense the past couple of years. Moving forward, Higgins and Mixon can no longer be considered locked-in fantasy starters. Higgins, who could be on a new team next year, is stuck in a crowded tier of wide receivers and is about to be overtaken by players like Puka Nacua and Jordan Addison, if he hasn't already.
GAME PLAY
Here, I'll share the moves I am looking to make in my personal dynasty leagues this week. That could include waiver wire targets and players to trade for or trade away.
I hope you took advantage of the strong waiver wire options over the past two weeks, because things are looking very thin this week. Outside of some possible injury replacements, good luck in hunting for a short-term impact player.
With that in mind, let's shift our focus to the trade market. If your team is off to a strong start but needs a boost, or even some insurance at the wide receiver position, you are in an ideal position. We all know it is much easier to acquire players once they reach a certain age. For the wide receiver position, that age seems to be around 28 years old. Three weeks into the season, the average age of the top-ten fantasy scorers is 28.1 and includes only three players under the age of 27. If you are targeting one of these aging, yet still productive wideouts, there are a few different price points.
Adam Thielen is the WR9 at 33 years of age. He's the cheapest by far of the top-ten, but also the least likely to continue his hot start. Mike Evans (WR5) and Keenan Allen (WR1) continue to produce and both can still be acquired at a very reasonable cost. Finally, the most expensive wideouts include Deebo Samuel (WR8), Stefon Diggs (WR7), Davante Adams (WR4), and Tyreek Hill (WR2).
In the leagues I'm in where I could use some extra help at the receiver position, I'll be shopping in the middle tier for Evans or Allen. Using the DLF Trade Finder, we see multiple trades for these players including a future second-rounder and a prospect for Evans and Allen is even cheaper. Here are some examples…
Evans for Harrison Bryant, 2024 2nd, 2025 3rd
Evans for Luke Musgrave, 2024 3rd
Evans for Elijah Moore, 2024 2nd
Allen, 2024 4th for 2024 2nd
Allen for Jahan Dotson
Allen, 2024 5th for 2024 2nd
GAME THEORY
In this section, I'll be discussing any relevant dynasty strategy or simply any other topic on my mind.
Let's stick with the trade talk. With three weeks of information, we should all know where our teams stand. Are you a contender or already looking ahead to next season? Regardless of where you currently find your squad, now is the time to fire up some trade talks, in case you haven't already.
Finding trade partners can sometimes be difficult but in this early part of the season, I simply target the teams on the opposite end of the standings. Hopefully, my teams are off to a strong 3-0 or 2-1 start. If that's the case, I'm daily checking out the rosters of those 0-3 teams. I know they could be panicking or at the very least, are willing to move some veterans off their struggling teams.
On the other hand, if my team is winless, I could be ready to add youth or future draft picks, and the top contenders are the managers most likely to be willing to part with future assets.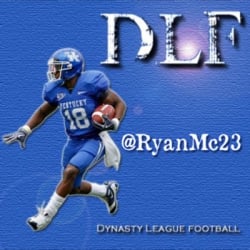 Latest posts by Ryan McDowell
(see all)