What is a Dynasty Fantasy Football League?
A dynasty fantasy football league is a league where you retain most or all of your players from year to year.  This creates an environment which is very different from that of a redraft league.  By enabling team owners to keep players and build a team over time, there is a much stronger sense of team ownership. Success is achieved with a greater sense of satisfaction. Read on to find out more bout how to start a dynasty fantasy football league and how to win in dynasty fantasy football.
First off, catch this quick overview of dynasty fantasy football, and some quick tips on how to win in dynasty.
Five Dynasty Fantasy Football Tips for Starting a Dynasty League
Five Tips to get better at Dynasty Fantasy Football
What's the difference between a Dynasty League and a Keeper League?
A keeper league is similar to a dynasty league, but involves keeping a smaller portion of your players.  Basically, a keeper league allows for a few players to be retained.  A dynasty fantasy football league allows for most or all players to be retained.
The analysis and advice we offer here at DLF is applicable to both dynasty fantasy football leagues and keeper leagues. Regardless of which you play, DLF can help you become a champion!
Getting started in a dynasty fantasy football league
If all this interests you, then you are ready to give a dynasty fantasy football league a try.
1. You can join a start-up or existing dynasty fantasy football league.  You're better off getting in on the ground floor of a dynasty league. The initial draft is critical to the future direction of a team.   If you don't know anyone starting a league, and you have an opportunity to take over an existing team, then go for it.   Just be aware that turning around a struggling dynasty franchise can often take several seasons.
2. If you don't have access to a new or existing league, then you can start your own dynasty league.  Don't be intimidated if you've never played in a dynasty or keeper league before.  If you are familiar with fantasy football, you can do this, and we are here to help!
The DLF Forum and the DLF Dynasty Discord Server are terrific resources for finding an existing league, joining a start-up league, and connecting with a ton of other like-minded dynasty fantasy football fans.
Creating Your Own Dynasty Fantasy Football League
Starting a dynasty fantasy football league is much like any other league.  Some decisions must be made regarding rules and format. An initial draft is held with all of the available NFL players, just like a regular fantasy league.  But there are some things to think about which are specifically relevant to creating a dynasty fantasy football league.
Rosters and Keepers – The most fundamental decision when creating a dynasty or keeper league is determining the size and starting position requirements for each team. You will also decide on roster size – how many players each team will retain from year to year.  While the numbers will vary depending upon league size, position starting requirements, and personal preference, a good starting point for your first dynasty fantasy football league would be something like this;
12 team league – three divisions, 30 player rosters, fairly standard starting positions (1QB, 1HB, 2WR, 2OffFlex, 1TE, 1K, 3IDP),  team may keep all players, annual rookie/free agent draft.
The idea is to allow each owner to keep most if not all players on their roster from season to season. If this seems like too much of a commitment for your first dynasty fantasy football league, then reduce the number of keepers. Just remember, the more players each team keeps from season to season, the greater the challenge and sense of ownership.
IDP – If you've never used Individual Defensive Players (IDP's) on your fantasy team before, we'd highly recommend you consider doing so.  IDP leagues add a much greater degree of depth and interest to the game. Using a team defense, while not at all incompatible with a dynasty or keeper format, does not support the objective of creating a more challenging and dynamic league.
If you've never used IDP's before, you may want to start out with just a few starting positions on each team, maybe three to six per team.  You could allow each team to start any three defensive players (defensive flex players), though this often leads to each team seeking out LB's.  These guys tend to be very consistent tackle producers, and therefor offer more predictable production than other IDP positions.
Another option for those just starting out with IDP, and one which we'd recommend, is starting at least one IDP from each defensive category.  For instance, 1 DL, 1LB, and 1 DB.  Or start two from each if you are wanting to jump into the IDP world a bit more.
For those who've played in IDP leagues before and are familiar with the options and strategies, then by all means go as deep as you like.  Some IDP heavy dynasty and keeper leagues use as many as 10 or 11 defensive players per team.
Just to clarify, a dynasty fantasy football league does not require defensive players.  Your league could use IDP's, team defenses, or no defense at all.
Free Agency – Just like with IDP's, a dynasty fantasy football league neither requires nor excludes any specific system for handling free agents.  If this is your first dynasty league and you have never used any system to manage free agent and waiver wire activity, then you will probably want to keep it simple, and use a traditional method for handling free agency.  Jumping into a dynasty format, especially with IDP's, will probably be enough of a change that you don't want to introduce too many additional complications to your new league.
If however you (and the rest of the league) are really up for the challenge, then you should consider using a blind bidding system for managing free agent acquisitions during the season.  Basically, each team gets a certain number of dollars or points to spend each year during the regular season (100 or 1,000 are typical numbers).  During the free agent portion of the week, teams will bid on available free agents using the bidding dollars.  Once all of a team's money is spent for the season, they cannot acquire any more free agents from the waiver wire.    This system forces owners to be much more judicious in their free agent activities.  Just be aware that not all league services support the use of a blind bidding system.
Salary Caps – Here too use of a salary cap system for your league is entirely optional. If you've never run a dynasty or keeper league before, and you are already feeling a little overwhelmed with this format, then you may want to hold off . If however you are up for the challenge, or you're familiar with running a salary cap league, then by all means, go for it!  Again, just be aware that not all league services support a salary cap system.
Annual Draft – You'll want to clarify early on how future league drafts will be handled.  Typically the subsequent drafts are rookie/free agents drafts which happen after the NFL draft is complete.  Teams can then select from the new rookies in the league, as well as from any free agents currently un-drafted.  Many leagues will lock down the waiver wire at the conclusion of the NFL regular season, so that by the time the draft rolls around, changes on teams will have created some opportunities for free agents who were not all that attractive just a few weeks before.  Some leagues separate out the rookie draft and the free agents draft, handling them as two distinct events.
Trades – Trading is without question one of the best parts of playing in a dynasty or keeper league.  Trades rarely occur in a redraft league, simply because there is little impetus to trade in-season.  Both teams are looking to win this year, so it's a lot harder to structure a deal which benefits both sides.
In a dynasty fantasy football league, it's a whole different story.  Some teams are rebuilding or building for the future, and are willing to trade away an older veteran who may only have a couple seasons left in exchange for a promising young rookie, or to acquire a draft pick or two in next year's draft.  Other teams are looking to win this season, and will give up some future potential in order to solidify their chances now.
Plus there is always the fine art of trading for some gems in the rough who may not shine for a season or two.  Or trading away a fantasy stud at the peak of his career, and watching him crash down to earth while on someone else's roster.  Finally, during each season's drafts, there will often be many trades made involving just draft picks.
As with any league, you may set your league bylaws to require all trades be approved by a commissioner, or you can just let the trades fall where they may with little or no intervention.  Either way, a dynasty or heavy keeper league will stimulate far more trading activity than a redraft league, and the entire league will benefit from the added strategy and fun.
One final note regarding trading draft picks.  Most leagues allow for teams to trade away future draft picks.  It would be wise to start out limiting how many seasons in the future draft picks may be traded.  If you allow a team to trade away picks for the next three or four seasons, they could easily trade those picks away foolishly, and dig themselves into a hole from which could be extremely difficult to recover.  If their team tanks and they have no more draft picks for the next three years, they may very well lose hope and abandon the team.  And if that happens, getting someone to take over that team could be a real challenge.  For this reason many leagues choose to limit trading of future draft picks to just the next season or two.
Coaching Commitment – It cant be overstated how important it is to ensure the league is comprised of coaches who are dedicated to the league for the long haul.  Being a dynasty league, teams can sometimes find themselves in a hole which may take several seasons to overcome.  Owners must be committed to seeing their teams through the good times and bad.  Make sure the coaches in the league are as reliable as possible.
Selecting a League Host – Where you will play your league is one of the most important decisions you will make.  There are many options which will accommodate both dynasty and keeper leagues.  You'll want to identify one which is affordable, meets all your league needs, has good service and up-time, and provides good support. That said, if you are looking for the best hosting platform for a traditional dynasty league, we would recommend you check out where to join a dynasty fantasy football league.
Options, options and more options – This is by no means a definitive list of all the league options which are available to you.  Each league can be run a little bit differently, and can posses unique rules and guidelines.  It's all up to you, the league commissioner, and the participants in the league how they want a league to operate.  These rules are simply general guidelines and suggestions – run with it as you see fit!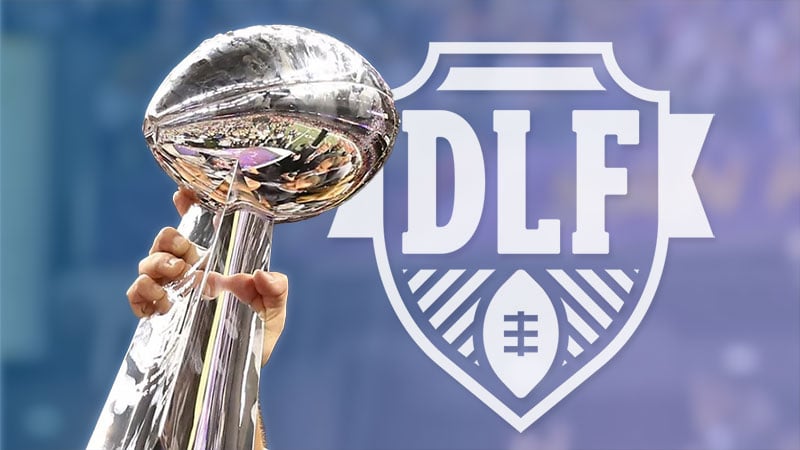 Building your dynasty fantasy football team
Now that your dynasty fantasy football league is in place, it's time for you to dominate the competition.  DLF is committed to helping you create an enduring dynasty. Whether it is getting ready for your initial startup draft, preparing for your annual rookie drafts, trade advice, player ranking(s) and sleeper suggestions or draft analysis, DLF is committed to getting you into the playoffs and keeping you at the top of your league.
Get started by registering on our forum and connecting with the DLF community.  There you'll find friendly, experienced experts who are very willing to help get you started and share ideas for your continued success.  We cannot stress enough the importance of connecting with a community of like-minded, dedicated fantasy football enthusiasts to further your knowledge and enable your long term success!  There is no better way to learn this game than from those who've been playing it, and winning it, for a long time.  So Join the DLF Forum right now, and you'll be well on your way to becoming a champion!
Key dynasty fantasy football resources
Dynasty Fantasy Football Rankings
Continuously updated throughout out year, our industry-leading dynasty fantasy football rankings are never stale, and provide a key resource for understanding player value.
Dynasty Fantasy Football ADP
Curated monthly mock drafts are an excellent indicator of how players will be valued in real-world dynasty draft. Another key tool for understanding player value!
Dynasty Fantasy Football Rookie Rankings
Let's not forget those rookie drafts! Every year get a jump on the competition by checking our dynasty rookie rankings.
Dynasty Trade Analyzer
Trading players and draft picks is one of the most fun parts of playing in a dynasty legaue! But how do you know if you are getting a fair deal in a trade? Our dynasty trade analyzer will help you craft winning trades!
Dynasty Mock Draft Simulator
Have a startup dynasty fantasy football draft coming up? Preparing for a rookie draft? Nothing gets you ready like running through some mock draft simulations, to refine your strategy and prepare you to make league winning draft picks!
These and so many other resources on DLF are all here for you, to help you get started in a dynasty fantasy football league, and keep winning it year after year. So join the DLF community today, and get started on your journey into dynasty fantasy football.
If you have any questions, you can always Contact Us directly, any time, with any question. We are always here for you.
Good luck, and remember, at DLF as in dynasty fantasy football – There Is No Offseason!