Over the past couple of years, I periodically take part in a dynasty ranking exercise that is different than my typical ranking process. This rankings exercise is two-fold. First, I rank each dynasty relevant player in comparison to other players on their own NFL teams. After that is complete, I then rank all teams based on total dynasty value.
This began as a time filler when my son was in the hospital, but I actually found it was a very rewarding experience as a dynasty player and writer. It forced me to look at players differently than my normal positional rankings process. Also, it shed some light on some very good and not so good team situations. Many of these might be obvious, but actually going through this on a team-by-team basis made things clear.
As I mentioned, the process was basically to rank all players on their teams and then rank all 32 NFL teams. This time, rather than relying on my own opinion, I went to the data – our recently collected ADP data to be exact. Using the ADP data, I found the value of each NFL team's top-ranked quarterback, running back, two wide receivers, tight end and one "flex," which was most often a second running back or third receiver. I then found the sum of these six players' ADP and used that number to rank each team. Just like in golf, the lower score, the better.
With free agency and the draft looming, these teams and lists will look much different in a few months, but here's a team-by-team snapshot of current dynasty value.
Note: Any player who went undrafted was assigned an ADP of 241.
#32 Baltimore
The Ravens continue to put together relatively successful seasons despite a putrid offense. Seahawks castoff Alex Collins is their most valuable player in dynasty leagues and their coaching staff has been unwilling to commit to him going forward.
#31 Arizona
When it comes to dynasty value, the Cardinals are a one-man show. But they didn't have that one man, running back David Johnson, this past season. They have no quarterback on the roster and could lose top receiver Larry Fitzgerald, who is considering retirement.
#30 New York Jets
I'm still not sure how the Jets won as many games as they did in 2017, but they have very few appealing options for dynasty players. Even receiver Robby Anderson's dynasty value is now shaky after a recent arrest.
#29 Denver
This team has completely fallen apart over the past year. The Broncos have no starting quarterback and aging playmakers at running back and receiver. Other than the unknown of injured rookies Chad Kelly and Jake Butt, all key offensive players for the Broncos are losing value.
[am4show have='g1;' guest_error='sub_message' user_error='sub_message' ]
#28 Oakland
Essentially all of the Raiders key players lost dynasty value over the past year and it showed in their record. They are reportedly considering releasing both veterans Marshawn Lynch and Michael Crabtree.
#27 Dallas
The 'Big Three' of the Cowboys took a hit this season. Running back Ezekiel Elliott dealt with off-field issues, and Dak Prescott and Dez Bryant struggled on the field. The Cowboys must address the receiver position, where Bryant could be gone and there is little left behind him.
#26 Chicago
The young Bears have some intriguing players who could see a nice value bump in the coming season. It will be exciting to see what new head coach Matt Nagy will do with running backs Jordan Howard and Tarik Cohen.
#25 Buffalo
As has been the case for some time now, the Bills are a team most dynasty players will simply avoid. The quarterback Taylor will certainly be gone and both receivers the team traded for over the past year, Kelvin Benjamin and Jordan Matthews, are set to enter free agency.
#24 Miami
Although they traded the valuable dynasty asset Jay Ajayi, that allowed Kenyan Drake to quickly make his mark and gain value. Jarvis Landry, the WR3 for the season, remains vastly underrated as a third-round dynasty startup pick, while DeVante Parker retains respectable value through disappointing seasons.
#23 New York Giants
The Giants makeup is similar to the Cardinals. They have one mega-star and then a gap to the rest of the supporting cast. The star, in this case, receiver Odell Beckham, missed most of the season. The Giants are a little better off though, thanks in large part to rookie tight end Evan Engram, but they have major weaknesses at quarterback and running back.
#22 San Francisco
The 49ers brought in a new head coach and general manager to rebuild the team and they wasted little time. Of this group, only running back Carlos Hyde was on the roster a year ago. I expect this team to rank even higher a year from now.
#21 Jacksonville
Several of the Jaguars have gained dynasty value this season and the addition of rookies Leonard Fournette and Dede Westbrook made a big difference in their total team value. Even with his season-ending injury in week one, Allen Robinson was able to maintain his top 30 overall value.
#20 Indianapolis
Once a team stockpiled with high-end talent, Colts' stars Andrew Luck, T.Y. Hilton and Donte Moncrief all saw their value tumble this season. However, they all have a chance to bounce back, depending on Luck's long-term health.
#19 Cincinnati
After adding a pair of offensive players with their first two picks in last year's draft, the Bengals had a chance to really bump their team value in this exercise. But John Ross struggled, Tyler Eifert got hurt again and the arrival or Joe Mixon hurt the value of Giovani Bernard.
#18 Seattle
The Seahawks didn't have the same success they've enjoyed in past seasons, but most of their key players have done enough to maintain their dynasty value. They might have just found their answer at running back in Chris Carson.
#17 Washington
It was a weird year for the Redskins. Terrelle Pryor was a flop, Jordan Reed was injured again and the running game struggled throughout, but they still have six players inside the top 120 overall to fall in the middle of the pack.
#16 Tampa Bay
The addition of talented rookies O.J. Howard and Chris Godwin help out the Bucs' team total, but they have major questions at the running back position. Veteran Doug Martin is a near lock to be gone from the team.
#15 New Orleans
You might be surprised to see the Saints so low on this list considering the high dynasty value of receiver Michael Thomas and rookie back Alvin Kamara, not to mention the value increase for veteran back Mark Ingram this season. The total collapse of tight end Coby Fleener and the disappointing season from Willie Snead hurt this group.
#14 Cleveland
The Browns were the laughing stock of the NFL this season, failing to win a single game. But dynasty players are investing serious capital into this team, one of the few with five players in the top 100. If they add a strong fantasy option at the quarterback position, this team could jump several spots.
#13 Carolina
This time a year ago, receiver Kelvin Benjamin was considered the Panthers top dynasty asset, and while he's gone, they haven't missed a beat. Rookies Christian McCaffrey and Curtis Samuel carry value and Devin Funchess enjoyed a breakout in his third season.
#12 Detroit
The Lions are one of the few teams without a single player in the top 50 overall but still achieve this lofty rank. Detroit is expected to use an early draft pick on a running back, which could make a huge impact to their offense after the disappointment of Ameer Abdullah.
#11 Kansas City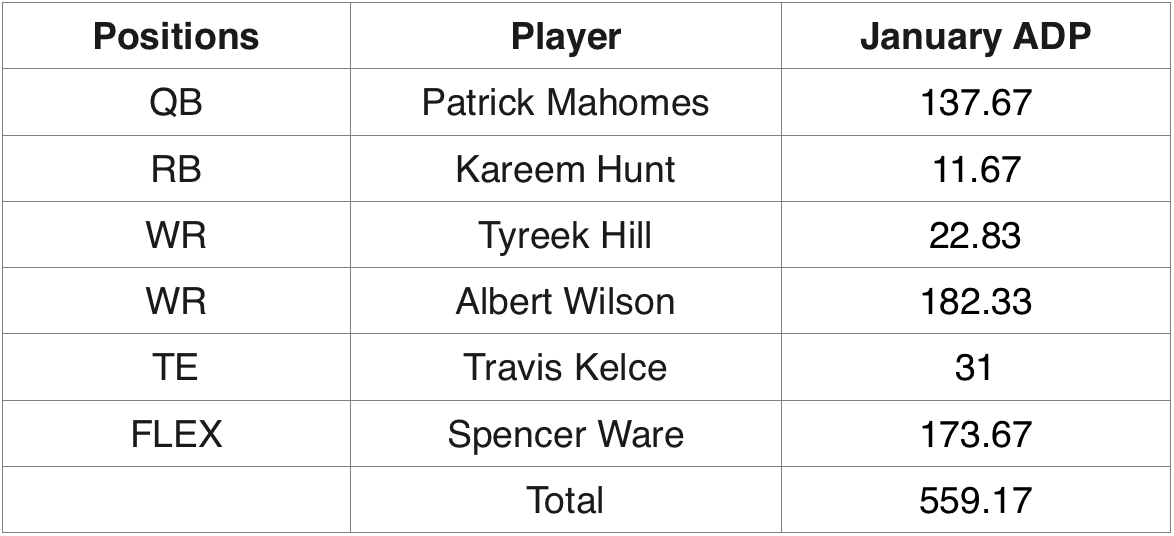 The Chiefs have really changed their outlook in just one year. The breakout of receiver Tyreek Hill and the addition of running back Kareem Hunt and quarterback Patrick Mahomes make this team a contender and a favorite of dynasty players.
#10 Green Bay
The Packers have long been one of the top teams in this type of exercise, but have fallen down the ranks with the struggles of receiver Jordy Nelson and the uncertainty at the running back position. The injury to quarterback Aaron Rodgers didn't help either.
#9 Tennessee
You might be surprised to see the Titans this highly-valued. But running back Derrick Henry is quickly gaining value and there are still very high expectations for rookie receiver Corey Davis.
#8 Pittsburgh
Two players inside the top seven overall players will really give a team a boost and that's what Antonio Brown and Le'Veon Bell have done. The addition of JuJu Smith-Schuster and the return of Martavis Bryant, despite his struggles, make the Steelers a top ten team, based on our ADP data.
#7 Atlanta
The Falcons season was a major disappointment after last year's Super Bowl run, but they still have valuable stars like Julio Jones and Devonta Freeman to carry them to this spot.
#6 Los Angeles Chargers
The Chargers are a fantasy smorgasbord with key options at every position. Tight end Hunter Henry had another impressive season and the addition of first-round wideout Mike Williams gives the team another weapon in the offense.
#5 Houston
A year ago, the Texans had no answer at quarterback and it had a major impact on the entire offense. The addition of rookie Deshaun Watson, even in limited playing time this season, made an equally sizable impression as DeAndre Hopkins ascended to the top tier of all dynasty players.
#4 Minnesota
What a story the Vikings have been this season! They lost starters at quarterback and running back early in the season and still became one of the best teams in the entire league. Both Stefon Diggs and Adam Thielen continued their climb up the fantasy receiver ranks, giving excellent balance to this team.
#3 New England
The Patriots are set to make yet another Super Bowl appearance and the addition of former Saints receiver Brandin Cooks has given them another strong dynasty asset. Just as they win with balance, that also lends fantasy value to many different players.
#2 Los Angeles Rams
What a difference a year makes! The Rams brought in a new head coach in Sean McVay and the team overhauled their receiver position, adding Robert Woods through free agency, drafting Cooper Kupp and trading for Sammy Watkins. The breakout season of second-year quarterback Jared Goff and the bounce-back season from running back Todd Gurley capped things off, making the Rams the second overall team in our standings.
#1 Philadelphia
The Eagles also made some moves, signing receiver Alshon Jeffery and trading for running back Jay Ajayi in mid-season. Those moves really helped, but the difference-maker both in this exercise and in the Eagles season was the play of quarterback Carson Wentz and tight end Zach Ertz. Despite a season-ending injury, Wentz is now widely considered the dynasty QB1 and Ertz is locked in as a top-four fantasy tight end.
[/am4show]
Latest posts by Ryan McDowell
(see all)