The Dynasty Fantasy Football Impact of Deshaun Watson's Injury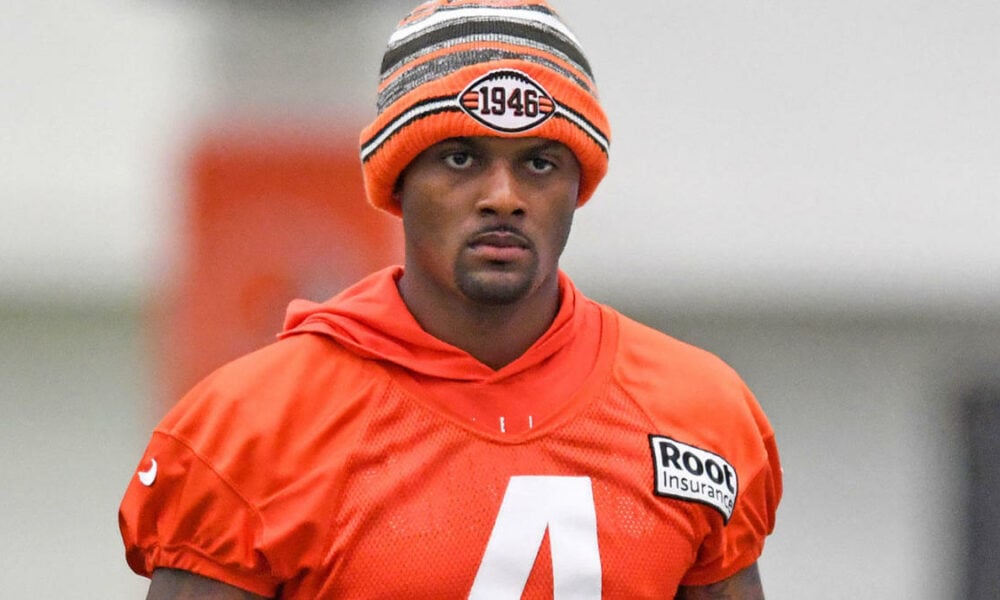 In March of 2022, the Cleveland Browns traded their 2022, 2023 and 2024 first-round picks, 2023 third-round pick and fourth-round picks in 2022 and 2024 for quarterback Deshaun Watson and a 2024 sixth-round pick from the Houston Texans. Not only did they take the PR hit that came with Watson, who was accused of sexual misconduct, they also signed him to a five-year contract worth $230 million guaranteed. Watson returned last year after serving his suspension and played in six games, showing mixed results in the process. Hopes were high this year, but Watson again battled various injuries and will now be sidelined the rest of the season after undergoing shoulder surgery. It's a disaster and has far-reaching ramifications not just for Cleveland but in dynasty leagues as well. Let's take a look at some adjusted values after absorbing this news.
Deshaun Watson, QB CLE
Wow. Watson was amazing during his time in Houston. In his last full season back in 2020, he had 4,823 passing yards with 33 touchdowns and seven interceptions, looking clearly like one of the best quarterbacks in the NFL. After being moved to Cleveland and serving his suspension after missing out on the entire 2021 season while under investigation, he simply hasn't looked like the same player. In fact, his two seasons look pretty close:
2022 = Six games, 1,102 passing yards, seven touchdowns, five interceptions, 175 rushing yards, one rushing touchdown, QBR of 40.4
2023 = Six games, 1,115 passing yards, seven, touchdowns, four interceptions, 142 rushing yards, one rushing touchdown, QBR of 44.7
Like I said, pretty similar. And to put it into perspective, Watson finishes the season ranked #23 in QBR, behind players like Jordan Love, Derek Carr, Sam Howell, Baker Mayfield, Josh Dobbs, and Gardner Minshew. It's a frightening turn of events for the Browns, who are on the hook for the biggest guaranteed contract in NFL history.
As for his fantasy prospects, this one hurts. He should return for the start of the 2024 season but the assumption Watson was going to return to an elite level player again in Cleveland is up in smoke. At this point, dynasty owners have to look at him as a QB2 with some weekly upside but simply cannot consider Watson a pillar at the position to build a team around, Watson left the week as our QB13 but that's going to sink into the 20s at best with this news. Dynasty owners will likely need to hold on to him for the time being as his trade value has been destroyed. While he's still good enough to keep, he's just going to waste a roster spot on any dynasty team that doesn't have an IR spot for him. It's a major buzzkill in dynasty leagues and one that reminds many of what happened to Le'Veon Bell when he took a year off and simply never looked the same. The biggest difference there is the fact Le'Veon Bell wasn't paid like Mark Zuckerberg.
Dorian Thompson-Robinson, QB CLE
When one door shuts, another one tends to open. And here we are with DTR, who the Browns are surprisingly going to start this week at quarterback. He was a total mess in his only start this season as he threw three interceptions in a 28-3 bludgeoning at the hands of the Baltimore Ravens. However, he was absolutely thrown to the wolves in that one and has had some more time to develop and hopefully improve. Remember, this is a dual threat quarterback with five years of starting experience at UCLA. While his audition was a mess, you have to believe his talent equals some upside. While nowhere close to a starting lineup in dynasty leagues, he's certainly worth a roster spot in most leagues, just to see if he can somehow represent lightning in a bottle.
PJ Walker, QB CLE
Walker was expected to be named the starter when the news broke but he lost out to DTR. In the end, it's likely a wise move for the Browns as Walker has proven to have a limited ceiling. On the year, Walker has just one touchdown pass and five interceptions in parts of four games. He's also posted a career 6:16 touchdown-to-interception ratio. Walker is a capable backup player but it's clear he's not a starting caliber quarterback in the NFL. While he likely has a higher floor than Thompson-Robinson, he also has a lower ceiling. The Browns are in the playoff hunt and it seems they're willing to go for broke and risk flaming out big time. None of this bodes well for Walker, who doesn't belong on dynasty rosters at this point.
Cleveland Skill Players
Yikes. While running backs Jerome Ford and Kareem Hunt seem relatively safe based on projected volume, you can't say the same for the likes of Amari Cooper, Elijah Moore, David Njoku and the rest of the Browns skill players. We're going to need to see something positive from the Browns passers before feeling good putting any of these players in lineups moving forward.

Latest posts by Ken Kelly
(see all)