Savvy fantasy football managers focus on all positions of a football team. This includes the coaching staff. The off-season changes can hugely impact skill players' production at certain positions. Each week we will look at one of the five coaches that have found new homes and examine the potential dynasty impact on the key members of that team.
Indianapolis Colts: Shane Steichen
The fourth of the five hires ended up with former Philadelphia Eagles offensive coordinator Steichen being hired to run the Indianapolis Colts. The Eagles' Super Bowl loss cannot be put on his shoulders. The offense did their part, putting up 35 points for the game, and also led the NFL in scoring in 2023. This is the polar opposite of the team Steichen was hired to coach. The Colts were 31st in the league, averaging 17.0 points per contest.
Quarterback
The first-time head coach has his work cut out for him. There isn't a signal-caller on the roster who can come close to approaching the elite talent level of Eagles quarterback Jalen Hurts. The roster has three quarterbacks under contract, and we will touch on them each. Needless to say, the Colts will be addressing the position via the draft or free agency this off-season.
In all likelihood, none of this trio of quarterbacks will be starting in 2023. The Ryan/Foles/Ehlinger experiment failed miserably in 2022. Each played in at least three games, but none had a rating over 83.9. The group combined for just 17 passing touchdowns on the season to go with 20 interceptions. That is not good.
Data Courtesy of DLF Player Scoring History App.
Ryan was the only one to put up more than 20 fantasy points in a game (three times). To put that in perspective, Hurts averaged 28.6 points every time he took the field. Unfortunately, the only top ten statistic anyone of these signal-callers registered was in the interception category.
Data Courtesy of DLF Player Scoring History App.
You can be sure that owner Jim Irsay brought Steichen in to fix this very problem. The organization has been playing quarterback roulette since Andrew Luck abruptly retired in 2019. The only real question is whether they will trade with the Chicago Bears to pick their future franchise quarterback at No 1 overall.
Data Courtesy of DLF Coaching History App.
Steichen has had the luxury of working with the likes of Justin Herbert (2020) and Jalen Hurts (2021, 2022) during his time as an offensive coordinator. His coaching skills will be truly tested in 2023. CJ Stroud has a similar build to Hurts but lacks the Eagles stud's rushing ability. Bryce Young is slightly better as a rusher but lacks the size. It'll be interesting to see how Indy handles the position this off-season.
Running Backs
Another big reason the Colts offense struggled in 2022 was the ground game. Unlike the quarterback position, it wasn't due to a lack of talent; injuries did them in. Indianapolis traded for Zack Moss at the deadline to try and put a bandage on the situation, but it didn't matter then.
First-team All-Pro running back Taylor only played in 11 games in 2021. Despite playing a limited season, the Wisconsin grad finished as the RB31. From a point-per-game basis, Taylor averaged 13.9 points per contest, 16th best in PPR formats. While that may seem reasonable, it is quite a decline from the stellar numbers he put up in 2021.
Data Courtesy of DLF Player Scoring History App.
The bar graph above shows that despite the solid 16th points-per-game rank, it was a career-low average for the 24-year-old. The offensive line should shoulder some blame as they dropped from 12th to 18th in the Pro Football Focus rankings. A return to normalcy in 2023 would go a long way in improving Taylor's stats.
Data Courtesy of DLF Player Gamelog App.
The game log app shows us how down the season truly was for the former Badger. He could only accomplish an RB1 finish in just four of 11 games. In 2021, JT accomplished that feat in 12 of 17 games. It is not like the Colts were playing the '85 Bears or the '00 Ravens, either. There were some matchups to be taken advantage of in 2022. It just didn't happen.
Data Courtesy of DLF Coaching History App.
New head coach Steichen has yet to coach an RB1 season out of a running back. Miles Sanders came the closest in 2022 with an RB14 finish. That is quite impressive, considering the amount of work the veteran received. Boston Scott and Kenneth Gainwell were constant thorns in his side. One would think that the new head coach would lean on his stud running back and use Moss and Deon Jackson only to give him a breather when needed. It is also worth noting that Moss could be cut with no cap penalty.
Wide Receivers
Wideout is actually a position of youth and depth for the Colts organization. Michael Pittman, Alec Pierce, Parris Campbell, and Ashton Dulin are all under 25 years of age. All they need is a quarterback capable of getting them the ball and an offensive line that can pass-protect long enough not to allow a sack. It sounds simple enough, but easier said than done in today's NFL.
Pittman is the most talented wide receiver on the roster. The 2020 second-rounder is still waiting to play with a competent quarterback. It is saying something that Sam Darnold is perhaps the best quarterback he has played with, and that was back in 2016 while the duo was at USC. By the way, Pittman had just six catches that season.
Data Courtesy of DLF Player Scoring History App.
The plot of Pittman's weekly fantasy points shows just how inconsistent the quarterback play was in 2022. He was the epitome of boom or bust. It is hard to rely on a fantasy asset with this production. He can win or lose you a week—nothing in between.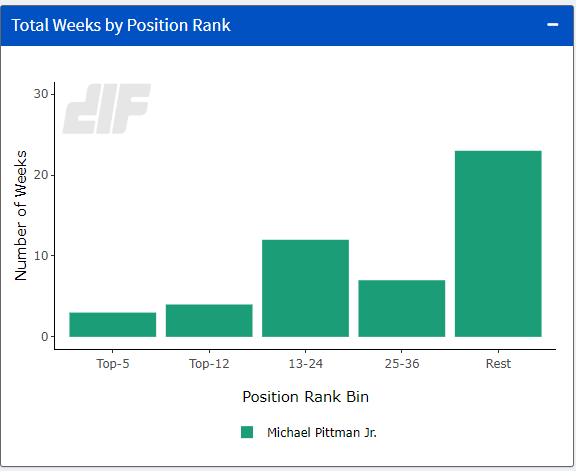 Data Courtesy of DLF Player Scoring History App.
A closer look at the player scoring history app indicates precisely that: boom or bust. One thing Pittman has going for him is receptions and targets. He finished seventh and ninth in those categories, respectively. We all know how a Steichen offense likes to utilize receivers.
Data Courtesy of DLF Coaching History App.
The chart above shows what Steichen has done with players such as Keenan Allen, Mike Williams, AJ Brown, and DeVonta Smith. There is room for two wideouts to thrive in the said offense. Will Pittman Jr and Pierce be Brown and Smith? Absolutely not. Will there be the opportunity to try at least to duplicate the numbers? You can count on it. Invest in the receiving corps in America's heartland.
Alec Pierce and the Rest of the Crew
We noted earlier that Pierce, Campbell, and Dulin are all 25 or under, just like Pittman. One of them will need to step up in 2023. The player most likely to do so should be Pierce. The front office just invested a second-round pick on him in 2022. Pierce has the skillset to pull it off as well. However, don't count out Campbell and Dulin. They have shown flashes occasionally, and this is a new regime. Pay attention to camp battles, and depth charts come summer.
Tight Ends
Although there is no alpha in the room, the tight end group is nearly as young and talented as the receiving corps. Kylen Granson, Jelani Woods, Andrew Ogletree, and even Mo Alie-Cox could all potentially become a TE1 in this system. Woods and Ogletree are probably the two most intriguing of the bunch. Steichen has always found a way to involve tight ends in his offense.
Data Courtesy of DLF Coaching History App.
The trio of Granson, Woods, and Alie-Cox all recorded a TE1 game during the 2022 season. Ogletree did not see any game time but is an exciting prospect at 6'7″ tall and weighing 250 pounds. The Colts used a sixth-round pick on him in 2022, so they must see some potential in the former basketball standout. He was first-team all-Ohio in football and basketball.
Data Courtesy of DLF Player Scoring History App.
As individuals, this group does not look like much. However, if one of these youngsters stands out in camp or develops a rapport with whoever is brought in to lead this franchise, they could be fantasy gold. The best part is that they can be had by putting in a waiver claim or offering an end-of-the-bench type player in return. Shoot your shot.
Conclusion
This article is the fourth of five coaching changes we will cover. As was the case with the Broncos squad last week, this is a team I am targeting for dynasty assets. Also, like Denver, the Indianapolis offensive pieces will be inexpensive to acquire. A healthy offensive line and a healthy Taylor will improve this offense tenfold. The front office has seven picks to work with (one in each round), including the number four overall. Look for a much better team (on offense, at least) in 2023, and buy low while you still can.
Latest posts by Jeff Smith
(see all)