Five in Five: Week Eleven Dynasty Storylines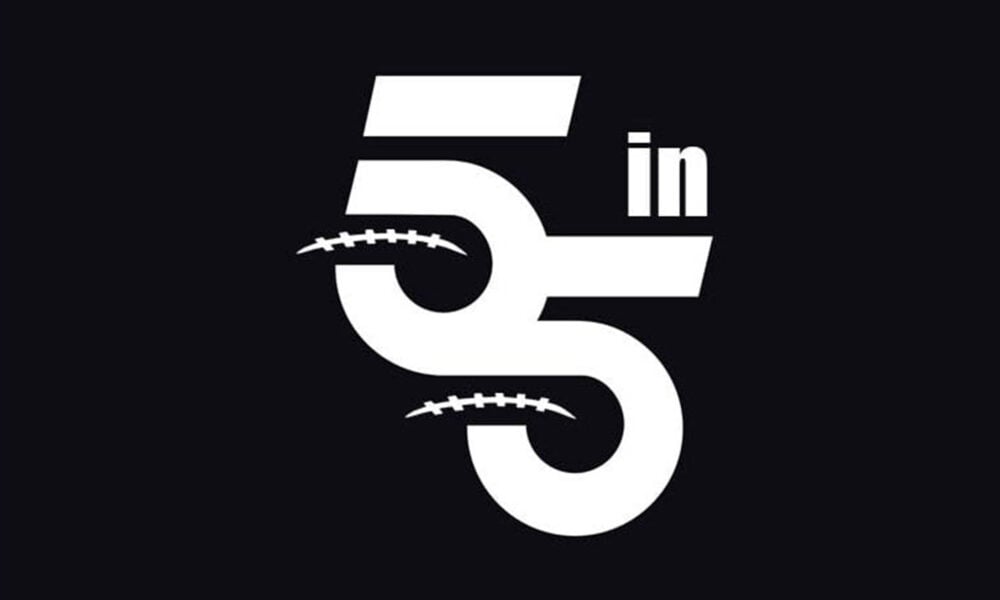 Over the years, we've done several different weekly preview articles and love to give new things a try. This is the time of year when it's nearly information overload with every nook and cranny of the internet flooded with all kinds of fantasy football opinions and advice. Instead of following the herd and doing the same thing you're used to, we're going a little off the wall this year with our "Five in Five." This is a weekly written preview of the five biggest storylines of the week encompassed in a five-section theme and in the way I love to do it – weird. It will also be a bit of a preview for my weekly Dynasty Aftermath – the longest running dynasty series in the business as we hit year #17 in 2023 as we bring you five possible storylines we could see on Monday Morning. I'm adding another piece to this for the rest of the year and that's a prediction of what I think could produce that particular headline.
Are you Joshing me?
The Raiders fired Josh McDaniels and it has directly helped another Josh – Josh Jacobs. New Head Coach Antonio Pierce wants to run the football and Jacobs has been fed the past two weeks. In week nine against the Giants, he had 26 carries for 98 yards and two touchdowns. Last week, he had 27 for 116 more yards. Those two games yielded the highest number of carries he's had all season and dynasty managers are rejoicing. A date with Miami is up next and the Raiders will clearly want to work the clock and keep the ball away from Miami's potent offense. If they can keep the game close, Jacobs could have another big day. Regardless, the coaching change has given the Raiders a new direction and Jacobs' value has been given a major shot in the arm.
Prediction: 25 carries, 105 yards, one touchdown
Lamb chopping records
The Cowboys are cruising as Dak Prescott is playing the best football of his life. Meanwhile, CeeDee Lamb is running down players like Justin Jefferson and Ja'Marr Chase in a quest to become dynasty's WR1. Over the past three weeks, Lamb has had at least 11 catches and 151 receiving yards in each game and scored four touchdowns as well. His average over that span is 36.87 and that's ten points better than the next best receiver (AJ Brown). It's a tear we haven't seen in a long time. Dallas travels to Carolina this week to play one of the league's worst teams and Lamb could be in line for another monster performance as the Cowboys seem content with just accepting the fact they don't run the ball well and have a quarterback playing out of his mind.
Prediction: 12 catches, 155 yards, two touchdowns
Ram Tough
The Rams haven't been good without Matthew Stafford but get him back this week. It's a sneaky big game in fantasy circles because we really need to see just how Los Angeles looks with a healthy Cooper Kupp, Puka Nacua and Stafford playing together. They get the Seahawks this week, who they blew out on the road in week one. The Rams tend to always play well against the Seahawks and while this season may be a bit of a lost one, it could set up to be a bit of a shootout. A healthy Stafford could get back into the QB1 conversation and a big game from these two receivers would be a huge confidence builder for fantasy managers. Kupp has had three straight single-digit fantasy performances and that simply needs to end.
Prediction: Stafford with 275 yards passing and two touchdowns. Kupp with eight catches for 125 yards and a touchdown. Nacua with eight catches for 95 yards.
A little Dobbs will do ya
The Rodney Dangerfield of the NFL (Joshua Dobbs gets no respect) and the Vikings travel to Denver to take on a suddenly hot Broncos team. When Kirk Cousins went down for the season, many thought the Vikings would end up tanking the season, position themselves for a quarterback in the draft, keep Justin Jefferson on the sidelines and look forward to Christmas. Instead, Dobbs has given them a huge boost as the Vikings have now won five games in a row and six-out-of-seven overall. Dobbs is completing around 67% of his passes and has five total touchdowns with no interceptions in his two games. When you consider he had just stepped off the bus and was thrown in the first game, that's pretty impressive. While we know he's not an elite-level player, he's done enough to keep the Vikings afloat and maintain the values of Jordan Addison and TJ Hockenson, who is just going nuclear right now. It's clearly a story to watch this week and gives anyone who has Jefferson hope he can return soon and have a chance to post his usual numbers.
Prediction: Dobbs completes 25-of-35 passes for 245 yards with one touchdown and one interception. 
Steel City Switcheroo
The Steelers quietly made a switch at running back this week and announced Jaylen Warren would be the starter over Najee Harris. The question now is what does that exactly mean? Over the course of the season, Warren has 71 carries and 31 catches and Harris has 116 carries and 18 catches. Put it all together and it equates to a 43% share for Warren and a 57% share for Harris. My guess is that just flip-flops but if we truly see a changing of the guard and Warren gets 65% or more of the running back touches, this could be a very significant development this season. The Steelers have a cupcake of a schedule moving forward as they play the Deshaun Watson-less Browns, the Joe Burrow-less Bengals, then the Cardinals and Patriots over the next month. Hmm.
Prediction: Warren with 18 carries and six catches this week. Harris with ten carries and no catches. 
This again looks like a huge week, gang!
Make sure to get your lineup questions in! We'll see you next week for the Dynasty Aftermath!

Latest posts by Ken Kelly
(see all)