Summer is the best time to evaluate dynasty assets and their place in the dynasty market. In this brand-new series, we will bring you a riser, faller, and longshot from each NFL team. We'll cover dynasty values, potential trades, and overall team outlooks.
Let's jump into the Arizona Cardinals!
The Cardinals aren't necessarily the most exciting team for a risers, fallers, and longshot series, as they're probably the most toxic dynasty roster in the entire NFL, in my eyes. Kyler Murray will likely miss significant time in 2023, causing either rookie Clayton Tune, journeyman Colt McCoy, or a washed-up veteran free agent like Teddy Bridgewater or Carson Wentz to start quite a few games this year. They also lack depth at offensive skill positions, with nothing proven behind Marquise Brown and an aging James Conner. However, despite that negativity, I find McBride a potential riser in this offense.
Current Market Value
Right now, McBride is the TE21 and 160.33 overall in June's DLF ADP.
As you can see, that ADP places him behind some uninspiring tight ends like Dawson Knox, Luke Schoonmaker, and Cole Kmet. While Schoonmaker and Kmet are fine players, neither has McBride's receiving upside. As for Knox, I completely disagree with the ADP, as I believe that adding Dalton Kincaid made Knox essentially fantasy irrelevant in the Bills offense.
Interestingly, though, DLF's expert TE rankings have McBride at TE12 and 127th overall in the overall rankings, which seems very high. I based my choices for risers and fallers on the ADP data, as I would have McBride as a sell at the rankings price. I rank McBride at TE18 and 137th overall, somewhat between the rankings and ADP data.
Future Outlook
The Cardinals might not have certainty at the quarterback position, but they have available targets in their passing game. After releasing DeAndre Hopkins, their top receivers include Brown, Rondale Moore, Michael Wilson, and Greg Dortch. They spent the 55th overall pick in the 2022 NFL Draft on McBride, who entered the NFL with a robust receiving profile.
Almost no college tight ends have 90 receptions and 1,121 receiving yards in their college careers, let alone in one season. However, not only did McBride do just that in his 2021 season, he also averaged 82.5 yards per game in the COVID-shortened 2020 season and put up an impressive 45 catches, 560 yards, and four touchdowns in 2019. Typically, college receiving production translates to NFL receiving production, especially at tight end, where it's so tough to produce in college at all.
But despite his strong draft profile, it's fair to note that McBride had a relatively poor rookie season.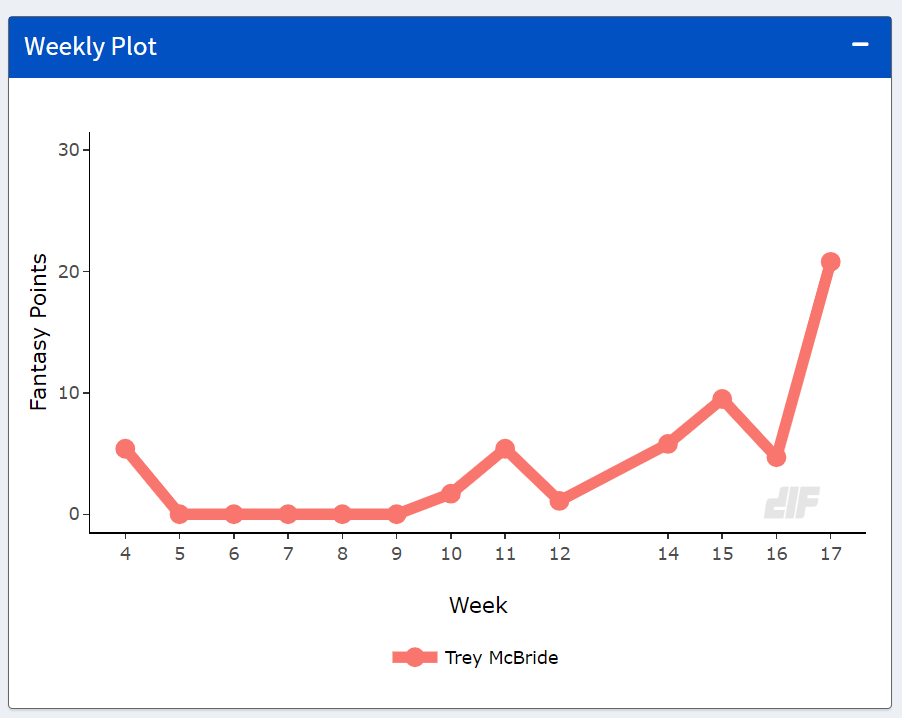 He started the year with a healthy scratch in week one before putting up two straight goose eggs in weeks two and three. Even once he began to see the field in week four, he only made an impact starting in week ten.
Of course, Zach Ertz tore his ACL in week ten, forcing McBride to take over as the starting tight end for the rest of the season. From that point forward, he saw at least three targets in every game, although he only scored double-digit fantasy points in his 20.8-point performance in week 17.
Overall, McBride's numbers without Ertz on the field aren't terrible, although they certainly aren't league-winning numbers. Unfortunately, the Cardinals can't get out of Ertz's contract this season, so he will remain on their 2023 roster. I expect McBride to be the starter, but Ertz may steal some snaps and goal-line looks, similar to Jimmy Graham's end-of-career in Chicago.
Trade Options/Conclusion
Let's use the DLF Trade Finder to look at possible McBride trades.
There weren't too many trades with McBride as a centerpiece, but I found some cheap ones. The first trade is probably my favorite of the three, as Juwan Johnson isn't particularly valuable and doesn't possess the same upside as McBride.
As for the other two trades, the second trade also feels like a great value, especially in a TE-premium format. Tight ends like McBride usually cost at least a second-rounder in that type of league. Finally, the last trade is getting rid of two players I don't want in Odell Beckham and Gerald Everett, for one I like in McBride. Therefore, I'd suggest sending buy-low offers like these to acquire McBride this off-season before he gains year two hype.
I want to open this section by saying that I like Brown's talent. However, I base my dynasty decisions on value, and everything changed after the Cardinals released Hopkins. Brown's value rose way too much, making him the faller candidate from the Cardinals' roster.
Current Market Value (ADP/Rankings)
Brown's value has remained relatively consistent since the Cardinals traded for him during the 2022 NFL Draft.
He broke into the top 50 players last summer, remaining there until he fell after his injury dip in late October for November's ADP. But, he rose to 31st overall in December, as he returned to a high snap share and target rate in his first game back.
Unfortunately, Brown's value plummeted after Murray tore his ACL on December 12th. He dropped to 46th overall in January and then dropped outside the top 50 players after rookies entered the ADP data in February. After that drop, though, he remained remarkably consistent, although he continued to slide a bit as it seemed possible that the Cardinals might retain Hopkins. But now, in June, he's the WR26 and 49th overall in the first ADP data since Hopkins' release, which seems like too much of a jump.
Future Outlook
The main problem with Brown is that he's already 26 years old and is due for a down season in the prime of his career. It's a small sample size, but Brown's splits with and without Murray in 2022 help prove my point.
Unfortunately, Brown's numbers tanked without Murray in the lineup, falling to a measly 7.1 fantasy PPG. He also plummeted in target volume, receptions, and yards and failed to score a single touchdown in those contests.
The Cardinals failed to add any significant quarterbacks this off-season, leaving veterans Colt McCoy and David Blough and fifth-round rookie Clayton Tune as their backups. We know McCoy and Blough are mediocre backups at best, and Tune is simply a wildcard. However, it's unlikely that whoever plays quarterback in Murray's absence will do much for Brown's fantasy prospects. Therefore, I rank Brown at WR32 in redraft formats, and if he finishes that low, he will not hold WR26 value in dynasty as he turns 27 next off-season.
Trade Options/Conclusion
Once again, let's look at the DLF Trade Finder for trade options involving Brown.
In both cases, I'd prefer the stud acquired by trading Brown away. Brown and Kirk are middling wide receiver assets, while Drake London is a potential future stud and a current dynasty WR1 in my rankings. As for the Hill trade, it occurred before any news of his legal issues, so factoring that out of the equation, it's a no-brainer to pay AJ Dillon to upgrade from Brown to Hill.
Additionally, the DLF Trade Analyzer has an interesting perspective on Brown.
Even in a 1 QB format, I would easily take a 2024 first over Brown, as the 2024 class already looks exciting. If selling Brown, acquiring a 2024 first-round pick would probably be my first option. I'm not sure this type of deal is possible as there weren't any in the Trade Finder, but the only way to find out is to send the offer. I'd make any effort to get Brown off my dynasty roster before we see him play in the Cardinals' disastrous offense this year.
Path to Relevance
Ingram's path to relevance is straightforward.
The Cardinals have no other relevant running backs beyond Conner, and Conner has a lengthy injury history. Last year, Eno Benjamin had 70 carries, and Ingram, Darrel Williams, and Corey Clement split 68 carries between them. Considering that Benjamin and Williams are both gone, it's hard to believe that Ingram won't get at least 70 carries this year if the current depth chart holds up.
Case Against Him
The main case against Ingram is his draft capital and lack of work as a rookie. The Cardinals only spent a sixth-rounder on him last year, and he managed only 27 carries for 60 yards and a touchdown and four receptions for 21 yards on the whole season. I expected the Cardinals to add to their running back room in the NFL Draft, but they chose not to do so. Additionally, they could still add a veteran free agent like Dalvin Cook, Ezekiel Elliott, Kareem Hunt, or Leonard Fournette to take the backup job to Conner.
Verdict
I'd definitely draft Ingram at his current DLF ADP of RB76 and 237th overall. I typically prefer to bet on running backs with a path to touches in that range, as they gain dynasty value the quickest. He represents an excellent bet at that cost.
Latest posts by Tyler Justin Karp
(see all)