Twitter Observations: Wild Card Weekend
The fantasy playoffs have been over for a while, which means the off-season for dynasty leagues is just getting started. It's that magical time where college players are declaring for the draft and NFL teams are changing head coaches. It's also a great time to process the season that was and how it affects the veterans on your dynasty team. There could be some good buy-low targets or you may want to cash in on those big-named studs before their value drops. Below are a few of those players to keep an eye on.
A reminder: This space will be dedicated to an assortment of things we find on Twitter and what it means for our dynasty teams. Most fantasy tweets undoubtedly have a re-draft slant, but we're here to talk about the dynasty implications.
Practicing McCarthyism
Scoopage alert: the @dallascowboys have agreed to terms with Mike McCarthy to be their new head coach. Announcement and press conference expected later this week @NFLonFOX #cowboys

— Jay Glazer (@JayGlazer) January 6, 2020
Despite being the latest team to move on from their coach, the Dallas Cowboys also became one of the first to fill their vacancies when they hired Mike McCarthy on Monday. While many locals have bemoaned the hiring of McCarthy (I should know, I live in the Dallas area), I view it as a positive move for the team. While the Cowboys have failed to even appear in an NFC Championship Game in 25 years, McCarthy took the Packers to four of them during his nearly 13-year tenure.
Dynasty Impact: Of course, what we really care about is the fantasy implications. It should be business as usual for quarterback Dak Prescott. Under McCarthy, the Packers finished in the top-10 in pass attempts several times with Aaron Rodgers leading the way. And even though Prescott is coming off a career-year with nearly 5,000 passing yards and 30 touchdowns, his dynasty ADP of sixth should be stable.
I'd actually be more worried about running back Ezekiel Elliott. At no point in McCarthy's 13 years in Green Bay did his offense finish in the top-12 of rush attempts. Meanwhile, Elliott has benefitted from huge volume, topping 300 carries in three of his first four seasons. If Zeke is going to continue to produce, he'll need to change how he does it. Consider that the three running backs ahead of Elliott in dynasty ADP – Christian McCaffrey, Alvin Kamra, and Saquon Barkley – have all averaged 100-plus targets-per-season over the course of their careers while Elliott has averaged about 60.
Derrick System
#Titans RB Derrick Henry average TDs per game:

In Sept-Nov: 0.48
Double That: 0.96
In Dec-Jan: 1.05

— Evan Silva (@evansilva) January 6, 2020
You certainly couldn't be blamed if you traded Derrick Henry after the first half of the 2019 season. He had turned in only one 100-yard rushing game and had more than 20 carries in a single game just twice. The volume is especially important as Henry has never been utilized in the passing game. But a switch flipped in Week 10 against the Chiefs and Henry has, undoubtedly, been the best running back in the NFL since. He's recorded 149 or more rushing yards in five of his last seven games since then, totaled well over 1,000 rushing yards in that span and scored 11 touchdowns on the ground.
Dynasty Impact: Thanks to that incredible stretch to end the season, Henry had one of the sharpest in-season jumps in dynasty ADP. He went from the 19th running back taken in dynasty startups as recently as November all the way up to the 12th in December. But can, or should, he stay there? Henry will be a free agent after the Titans season concludes, and Tennessee hasn't indicated either way if it plans to re-sign him. If he were to return to the Titans, along with fellow late-season sensation Ryan Tannehill, I could certainly understand Henry keeping his low-end RB1 value. He's just 26 and would be the centerpiece of a viable offense. If he were to move on, however, I'd be highly skeptical since his new team and role would be an unknown.
Alpha DK
Most receiving yards in a playoff game by a rookie WR all-time:

1. D.K. Metcalf 2020 vs. PHI (160)
2. Jeremy Maclin 2010 vs. DAL (146)
3. Keenan Allen 2014 vs. DEN (142)
4. Austin Collie 2010 vs. NYJ (123)
5. Michael Gallup 2019 vs. LAR (119)
6. Davante Adams 2015 vs. DAL (117)

— Graham Barfield (@GrahamBarfield) January 6, 2020
DK Metcalf picked a good time to break out – not that dynasty owners needed any more convincing after he totaled 900 yards and seven touchdowns in his rookie season. But he saved his best game for the playoffs and a national audience this weekend after catching seven balls for 160 yards and a touchdown.
Dynasty Impact: If the last two games are any indication, DK Metcalf will be the top Seahawks receiver to own in dynasty leagues next year. After falling behind Lockett for most of the season, he's steadily gained in ADP before topping out at 22. Lockett is still 17th but Metcalf has a full five years on Lockett and will have the rookie season jitters out of his system. Anyone watching him this season can attest that Metcalf looks like a prototypical WR1, something the Seahawks have rarely had.
Damien Invasion
Damien Williams

3 gms w/ 🚫 LeSean McCoy:

PPR ppg: 21.83

Rush att/gm: 15.67

Rush yds/gm: 88.6

Tg/gm: 5

Rec yds/gm: 29.6
—————————————-

This week vs. HOU

28th in Open Field Yds
27th in DVOA vs Pass Catching RBs
pic.twitter.com/shosm78Ljx

— Derek Brown (@DBro_FFB) January 6, 2020
This past off-season, Damien Williams was one of the more intriguing dynasty running backs. Since the Chiefs released Kareem Hunt last season, whichever back ended up taking the starting running back job in Kansas City was going to be an attractive option and that honor fell to Williams. At its peak, his dynasty ADP was 19th among running backs which, of course, was rendered moot once the Chiefs signed LeSean McCoy just before the season started. But while dynasty owners of McCoy and Williams hoped one would win out, neither wrestled the job away from the other. Williams ended the season with 111 carries and McCoy had 101. Williams clearly played better without McCoy as evidenced by the tweet above.
Dynasty Impact: Williams finished the season strong averaging over 90 yards rushing and nearly 30 yards receiving his last two games while scoring three times. If the Chiefs would finally give him the starting job, as we all expected them to last season, he could be a RB1 for the foreseeable future. He'll have a good shot, too. McCoy is due to be a free agent after this season. If you can acquire Williams at his current dynasty ADP of 38th, I would do it.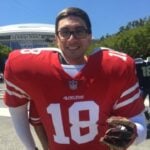 Latest posts by Michael Moore
(see all)