Voxer is an app that works like a walkie talkie for smartphones.  DLF uses this app to communicate with each other since the team is now spread out all across the world. Voxer is used to leave what equates to be short voice or text messages and we have the ability to create groups to talk about whatever we may want in a very quick and efficient manner.
Earlier this week, I brought you a Voxer Rookie Mock Draft , a Voxer Rookie Bust Mock Draft and a Vox Talks: Dynasty Sell Candidates for you to review.  Those articles were well received so we decided to keep the series going.  We can use the app to get a lot of information very quickly and formulate some great community discussion, so why wouldn't we!?!  With that in mind, I asked Team DLF another very simple question this week:
"Who are you buying right now in dynasty leagues?"
What I meant by that is which player(s) do you not have on your roster(s) who you look at right now and believe they may have bargain value, making you feel the need to test the waters to see if you can buy at or close to their current price, thinking their value is on the cusp of a big rise.  In short, this doesn't mean they are overspending to get them – instead, these are players Team DLF mentioned as players they'd be comfortable buying in accordance with their value based on rankings and ADP data.  Again, this needs to be understood in its context – these are not "buy at all costs" candidates.
The results were pretty interesting and we again had a lot of spirited debate in regards to many players.  Here was the list of players who were most popularly mentioned as buys:
John Brown, WR ARI
(ADP = 85, other players in that range include OJ Howard, Kenneth Dixon, DeSean Jackson, Rishard Matthews)
Brown was the player most mentioned when I asked the question this week. The Cardinals seem to be confident they have his sickle cell ailment under control and believe he's going to return to form this season. It was just 2015 when Brown posted 65 catches for 1,003 yards and seven touchdowns and he's still just 27 years old.  The Cardinals are going to be overhauling their receiver position over the next few years and a big year from Brown could keep him in the desert long-term. As Paul Perdichizzi stated, "Last year it was a challenge to buy him. Now, after just one year that featured him being hurt and dealing with his sickle cell issue, he can be bought for much lower. Michael Floyd is gone, Larry Fitzgerald is a year older and they only added a receiver from Grambling (Chad Williams) who is very raw."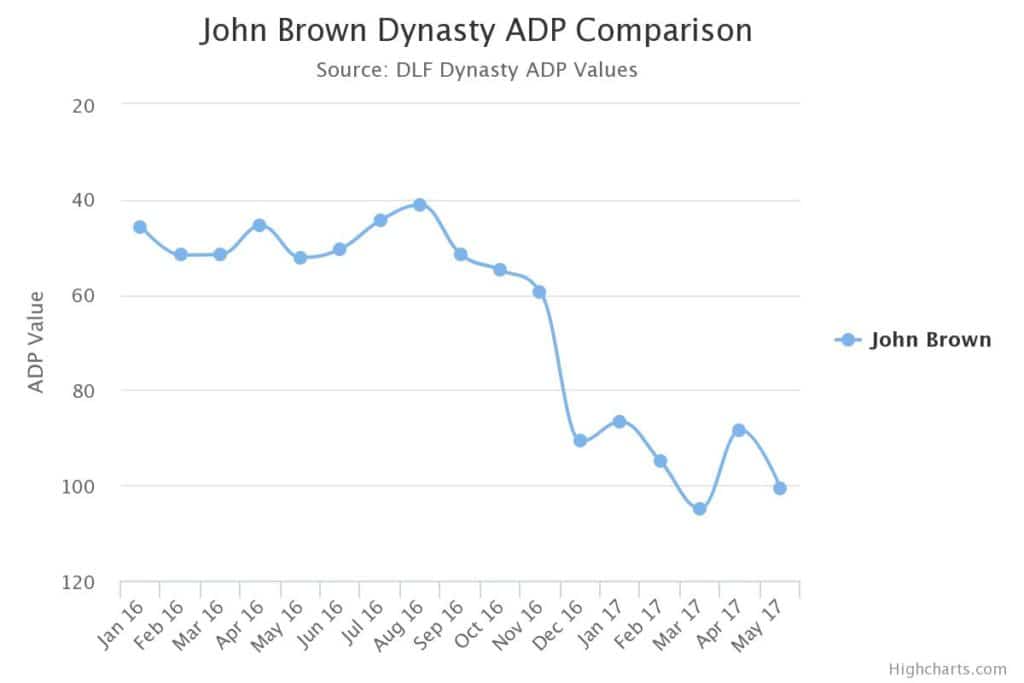 [am4show have='g1;' guest_error='sub_message' user_error='sub_message' ]
Quincy Enunwa, WR NYJ
(ADP = 127, other players in that range include Josh Gordon, Thomas Rawls, Adrian Peterson, Kyle Rudolph)
Enunwa came out of nowhere last year to record 58 catches for 857 yards and four touchdowns. With Brandon Marshall out of the picture, Enunwa could see even more targets this season.  Our own FFGhost stated, "His value reminds me of Doug Baldwin. He's overlooked for a so long but he really is a solid player." The Jets are going to have their share of quarterback challenges but Enunwa should get every opportunity in the world, especially if New York moves on from Eric Decker.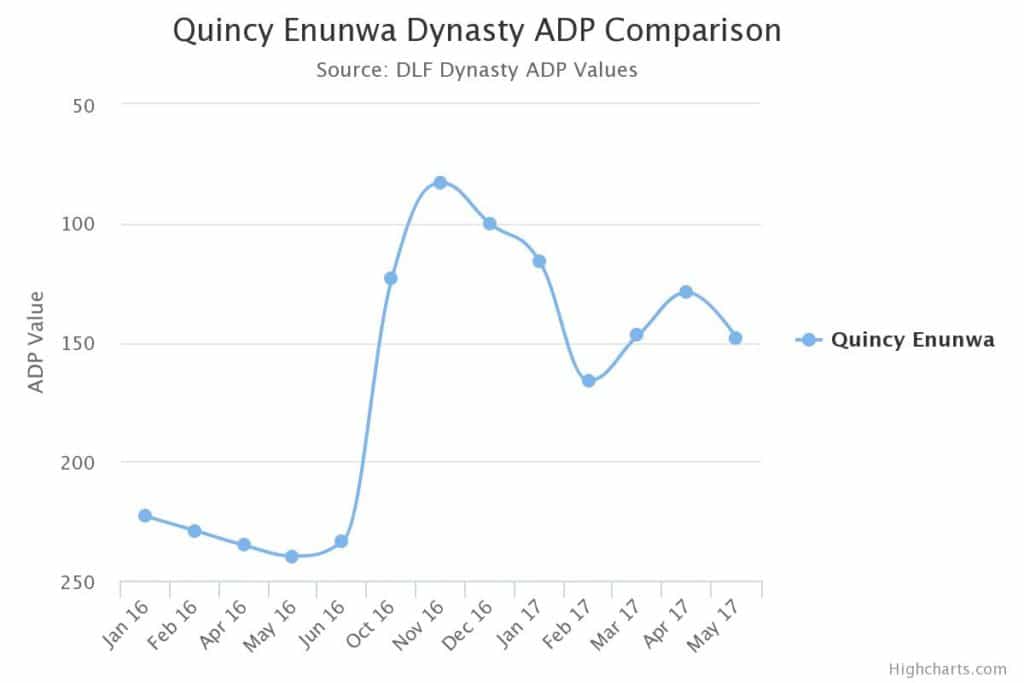 Ameer Abdullah, RB DET
(ADP = 82, other players in that range include Spencer Ware, Greg Olsen, OJ Howard, Kenneth Dixon)
You don't get too many legitimate, young starting running backs with an ADP of 82 but that's exactly where Abdullah sits at the moment. He has to get himself healthy but he's more talented than the other running backs on the Detroit roster.  There's a chance the Lions could still sign LeGarrette Blount, so you may need to proceed with caution.  Still, this is a player who is supremely talented and could be a steal at his current valuation.  It's a risk but one that could pay off mightily.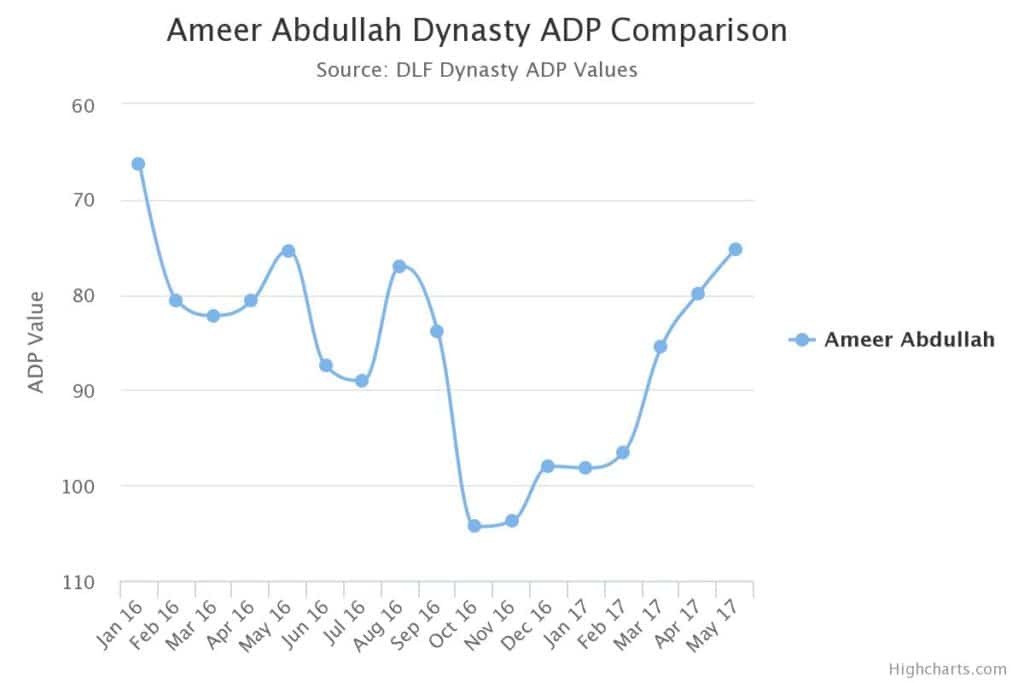 Melvin Gordon, RB LAC
(ADP = 20, other players in that range include Keenan Allen, Todd Gurley, Rob Gronkowski, Jarvis Landry)
Gordon had a great sophomore campaign and as you can see, he saw his ADP skyrocket as a result. He just missed out on 1,000 yards (he posted 997) and scored ten touchdowns after producing none his rookie season, all in just 13 games.  There are concerns about Gordon's 3.7 career yards per carry average and how he'll fare when Philip Rivers retires. However, this is a player who has 74 career catches in just two years, no real competition for carries and is just 24 years old – in short, there's a lot to like, even at a high ADP. If he can produce another similar year, that ADP number is likely to rise into the teens or better.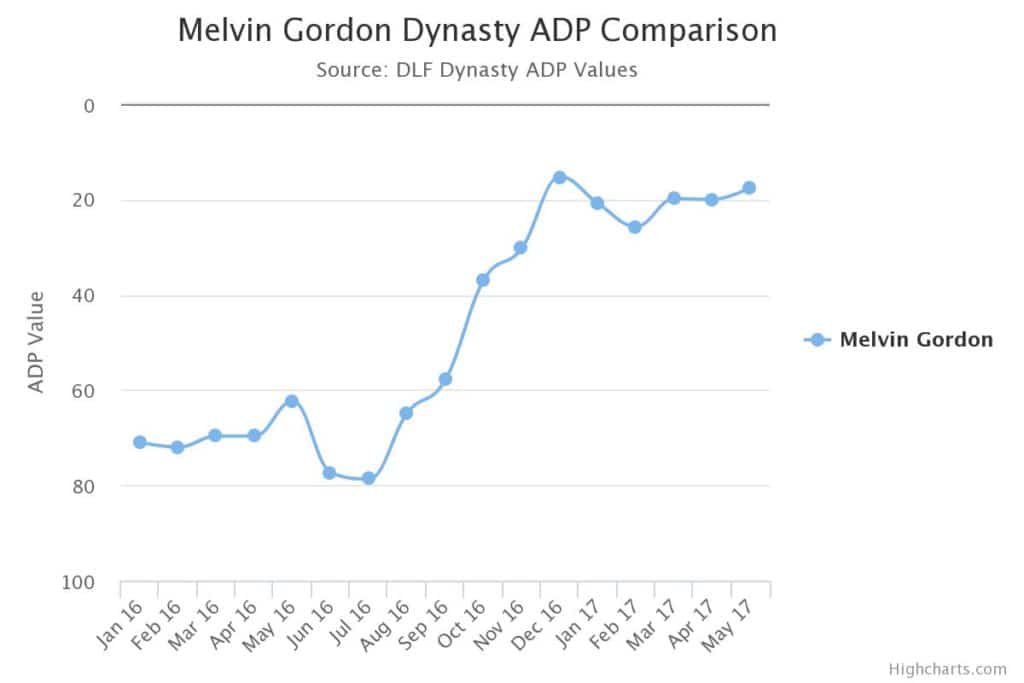 Jay Ajayi, RB MIA
(ADP = 37, other players in that range include Christian McCaffrey, Corey Coleman, LeSean McCoy, Lamar Miller)
After a forgettable rookie season, Ajayi (much like Gordon above), exploded for 1,272 yards and eight scores for the Dolphins last season, including back-to-back 200-yard games (and three 200-yard games in total) against Buffalo and Pittsburgh late in the year. Many owners are souring on Ajayi because outside of those three 200-yard games, he had just one 100-yard performance and a whopping 11 games with less than 100 yards rushing.  Still, his 4.9 yards per carry average is very healthy and the Dolphins didn't draft anyone to really challenge him this off-season. A case can be made (and it was) that Ajayi is a prime buy candidate.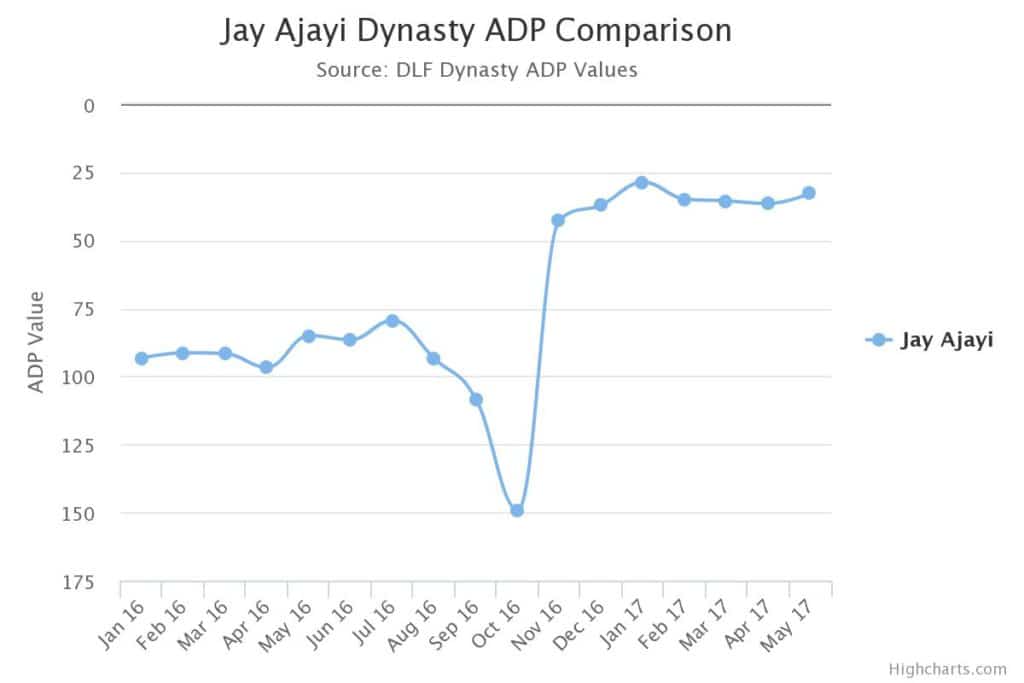 Paul Richardson, WR SEA
(ADP = 203, other players in that range include Julius Thomas, Deshaun Watson, Elijah Hood, Mohamed Sanu)
Richardson seems to be improving each season and we need to remember he had five catches for 83 yards in the Seahawks playoff loss at Atlanta last season. As Dwayne Brown said, "It's a small sample size but I loved what I saw out of Paul Richardson.  I've been getting him tossed into a lot of deals lately."  The last part of that statement really is key – Richardson can be sneakily thrown in to a lot of trades right now and provide you some nice value as a player your trade partner thinks is an "add-on" but is actually a primary trade target for you.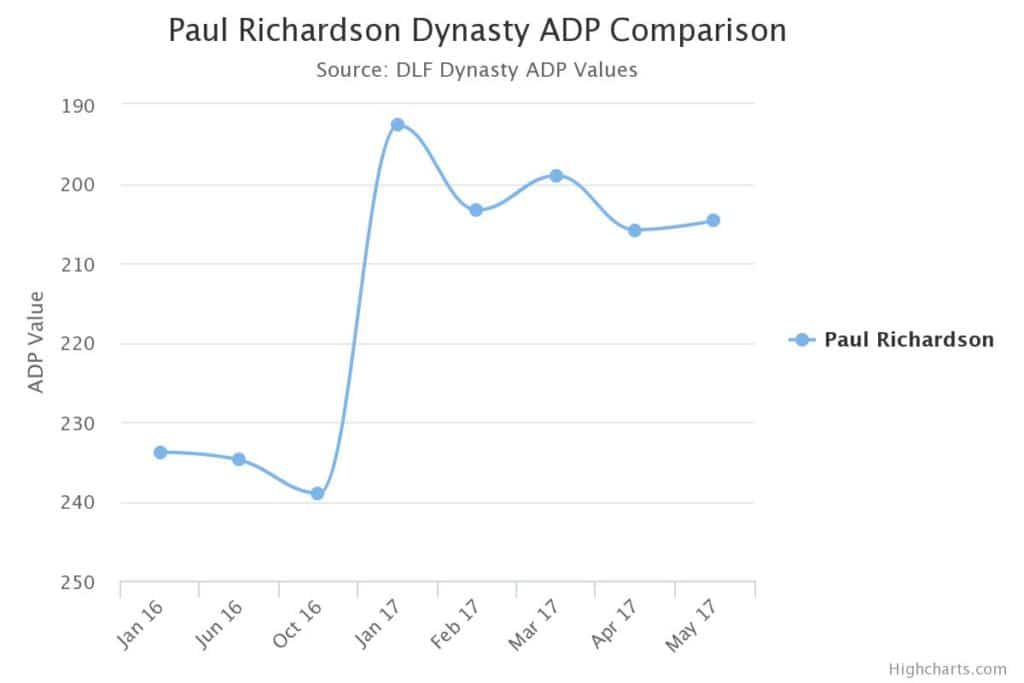 Cameron Meredith, WR CHI
(ADP = 74, other players in that range include Tyrell Williams, JuJu Smith-Schuster, John Ross, Willie Snead)
Meredith has been the source of major discussion in our Voxer room over the past two weeks. He took advantage of injuries last season and was able to amass 66 catches for 888 yards and four touchdowns for the Bears. After the Bears lost Alshon Jeffery to the Eagles in the off-season and cut Eddie Royal, it's clear they're comfortable with both Meredith and Kevin White as their primary targets this season. Unless Kendall Wright, Markus Wheaton or Rueben Randle somehow show signs of a career renaissance, Meredith is going to be peppered with a ton of targets.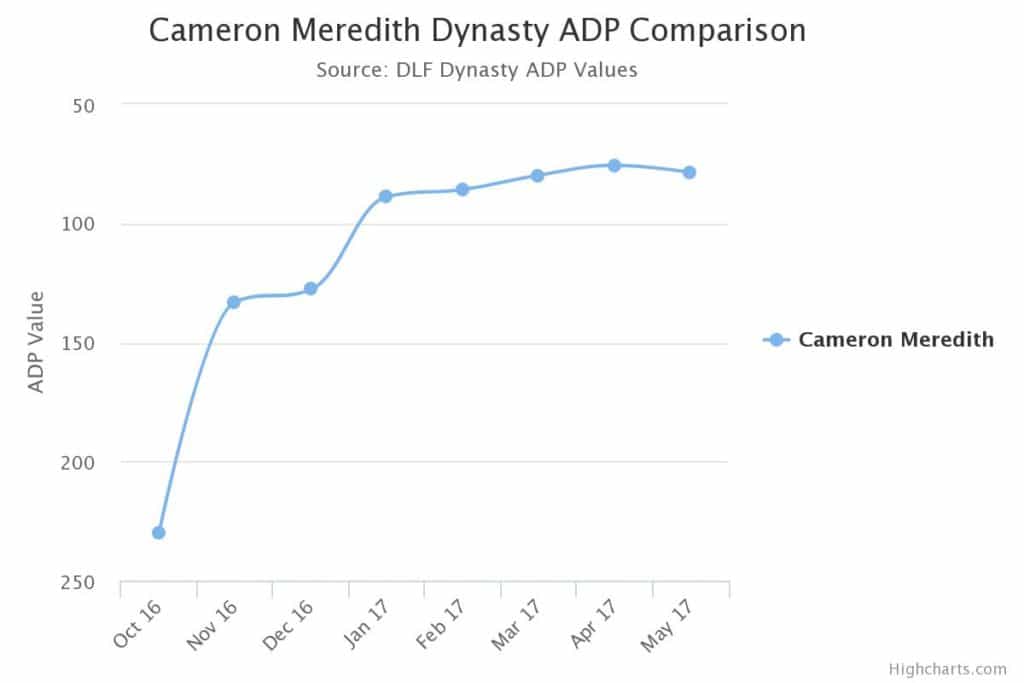 Kenyan Drake, RB MIA
(ADP = 241, other players in that range include Paxton Lynch, Braxton Miller, Jeremy Langford, Cameron Artis-Payne)
For those who aren't believers in Jay Ajayi, we bring you Kenyan Drake. In limited action last season, Drake averaged 5.4 yards per tote and looked more than capable as an athlete. With an ADP of 241 and an opportunity just one injury away, Drake could be a great target who could be added on the cheap.  If nothing materializes with him, you aren't going to be out much. If it does, you could look like a genius.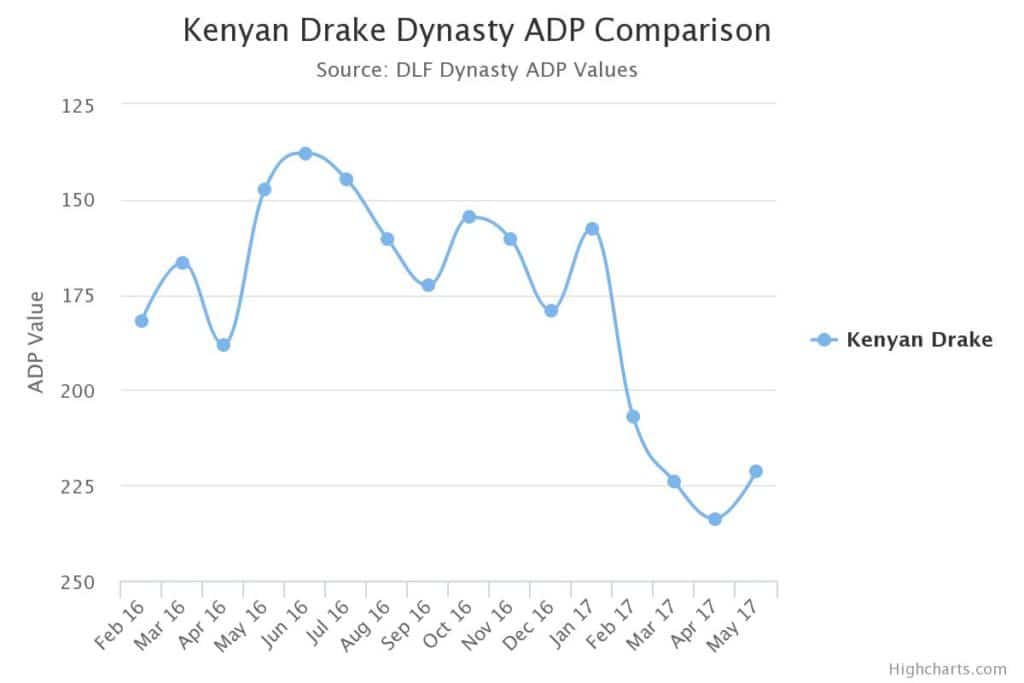 Leonte Carroo, WR MIA
(ADP = 188, other players in that range include Frank Gore, Ryan Tannehill, Eli Manning, Phillip Dorsett)
Carroo had an awful rookie season, highlighted by injuries, game day scratches and questions about his work ethic. He also finds himself buried on a depth chart with Kenny Stills, DeVante Parker and Jarvis Landry all ahead of him.  Still, Landry is going to be a free agent if they don't work out an extension, Parker has never been able to fulfill the promise that matches his talent and it remains to be seen if Stills can be consistently threatening or productive over the long haul. With all that in mind, it's not hard to see a path for time looming for Carroo.  With an ADP of 188, you can poach him for very little.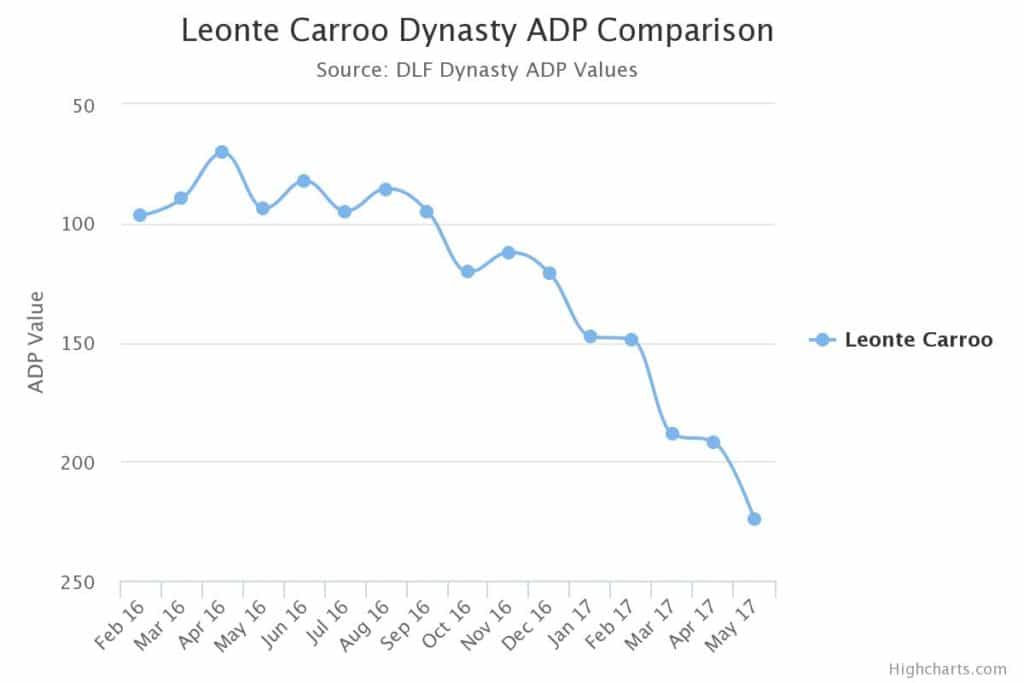 Eric Ebron, TE DET
(ADP = 111, other players in that range include David Njoku, Jeremy Maclin, Malcolm Mitchell, Larry Fitzgerald)
Ebron's ADP really nosedived in the off-season based on another somewhat lackluster season and the addition of so many promising tight ends coming into the league via the NFL Draft.  Ebron is said to be healthy again and the Lions did not address the position through the draft, showing they still have faith in his abilities.  His catches and yardage totals have increased every year and the case can be made that he could be on the cusp of a breakout.  You could likely fetch him for a second round pick in rookie drafts and that's a good price if you remain a believer in his talent and steady progression.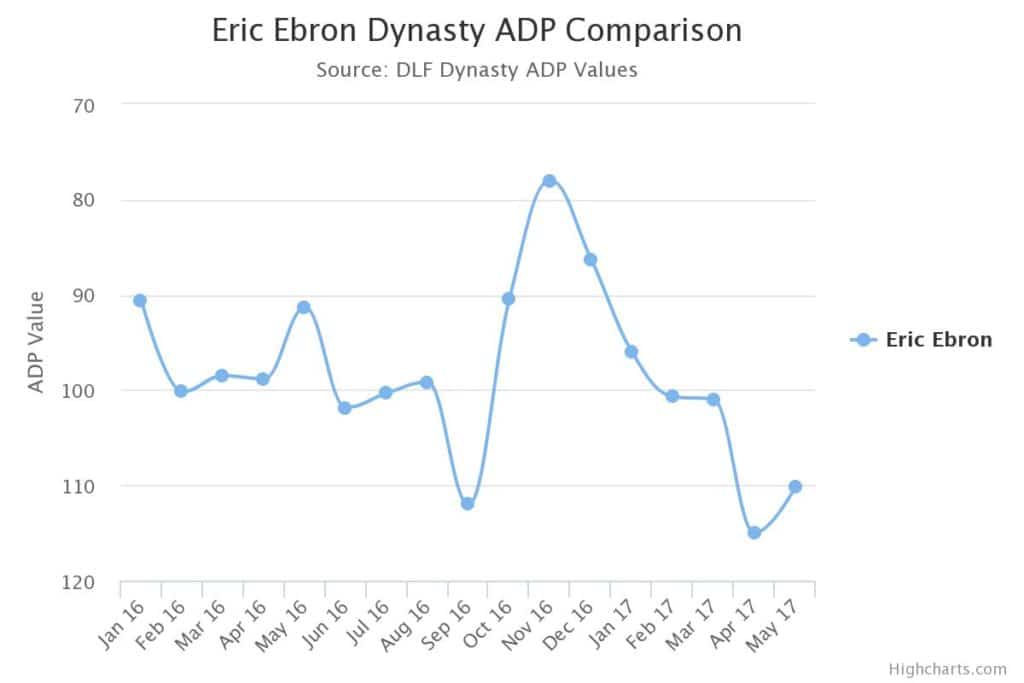 Pierre Garcon, WR SF
(ADP = 130, other players in that range include Adrian Peterson, Kyle Rudolph, Matt Stafford, Rob Kelley)
As our Matt Price put it, "He's basically free and going to get a million targets."  While a million targets is just a little bit of an exaggeration, it's true Garcon is going to be thrown to a lot.  While not a player most look at and feel fear in an opposing fantasy lineup, Garcon is just the type of veteran who is a perfect trade target for a contending team.  He's going to be productive and cheap – that's hard to beat.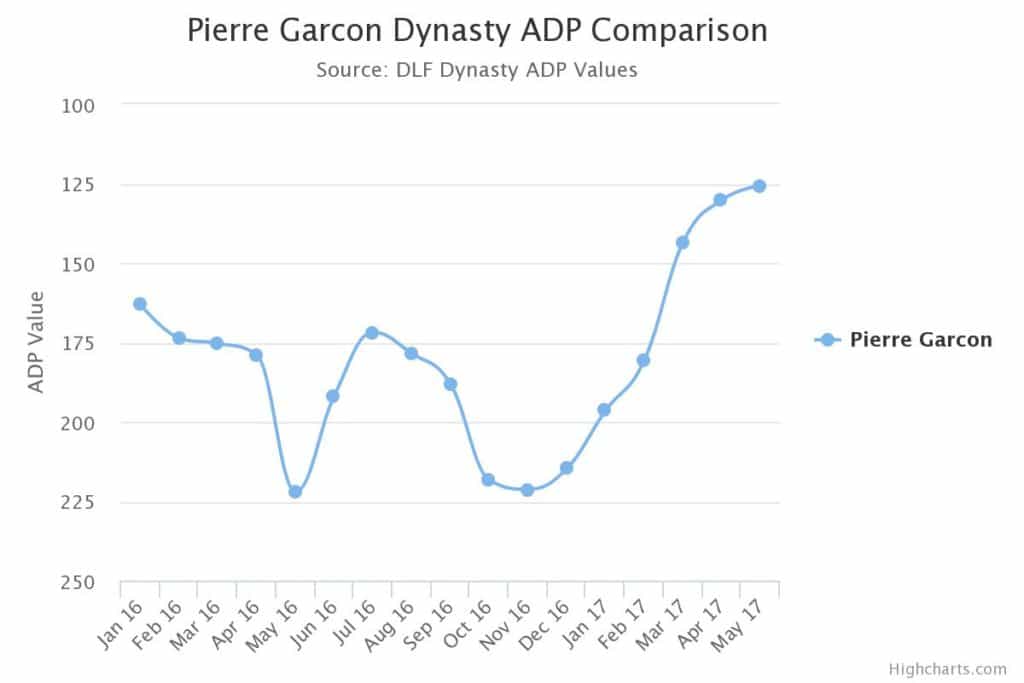 Josh Doctson, WR WAS
(ADP = 65, other players in that range include Emmanuel Sanders, Tyler Eifert, Derek Carr, Sterling Shepard)
Enter this year's lightning rod!  Doctson was mentioned in yesterday's article as a player to sell, so having him be mentioned here was a bit of a surprise. However, this clearly shows there are still many believers in Doctson out there and the opinions on him range mightily.  This is what I love about DLF – we don't give you group think and instead share opinions and give you information to make your own educated decisions.  Doctson should have every opportunity to succeed with Terrelle Pryor and Jamison Crowder as his main threats for targets.  Still, his Achilles injury is a concern and an ADP of 65 is nothing to sneeze at.  However, if you still hold firm in the thought Doctson will eventually be an explosive WR1, this is your chance to pay a WR2 or beyond bargain price for him.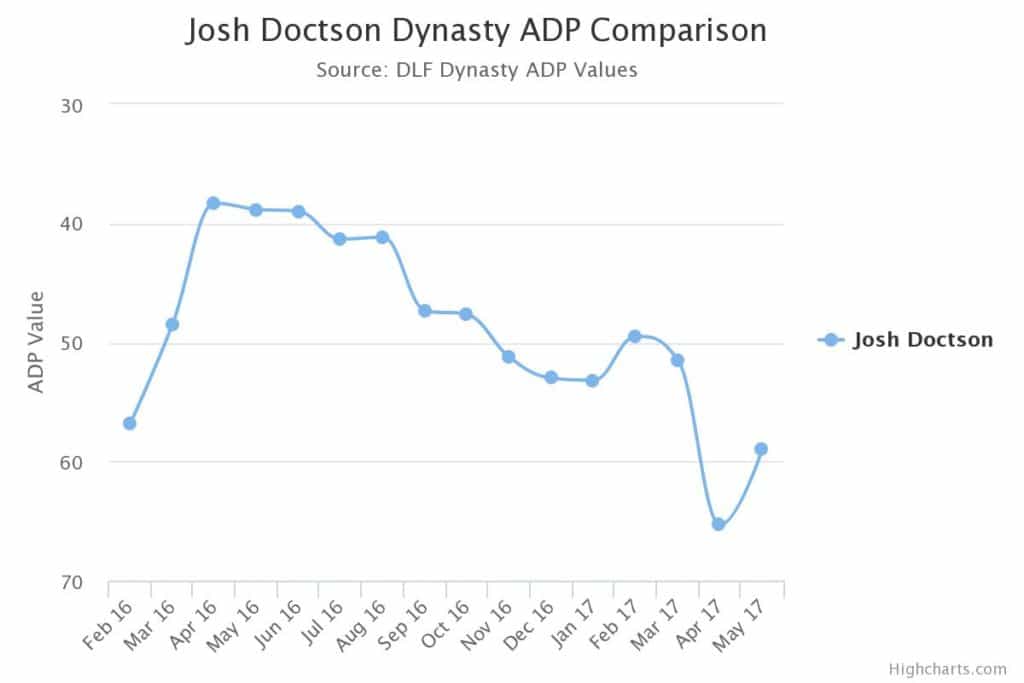 Kevin White, WR CHI
(ADP = 78, other players in that range include CJ Prosise Willie Snead, Marcus Mariota, Spencer Ware)
The second Bears receiver we had on our list was none other than Kevin White.  Like Doctson, he's a clear injury risk but one also with clear talent.  As you can see below, his ADP has gone from just below 20 to 78 over the past year. It's safe to say it won't stay there for long as it's either going to skyrocket as he proves his worth and health or plummet as he solidifies himself as a rookie draft bust.  Feel lucky?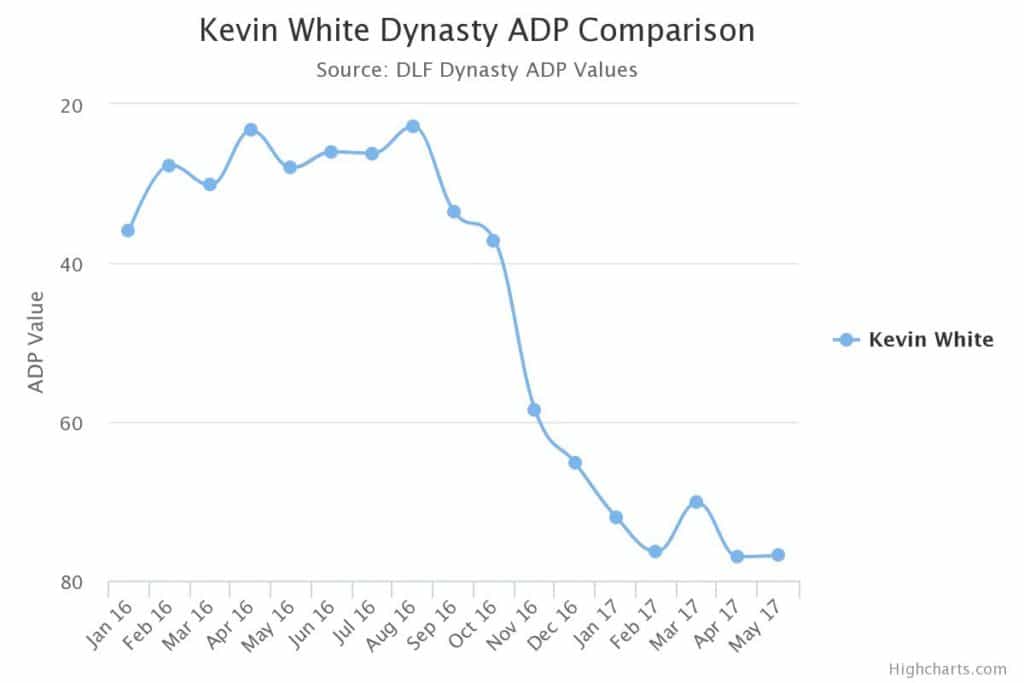 [/am4show]

Latest posts by Ken Kelly
(see all)