Voxer is an app that works like a walkie talkie for smartphones.  DLF uses this app to communicate with each other since the team is now spread out all across the world. Voxer is used to leave what equates to be short voice or text messages and we have the ability to create groups to talk about whatever we may want in a very quick and efficient manner.
Earlier this week, I brought you a Voxer Rookie Mock Draft , a Voxer Rookie Bust Mock Draft and a Vox Talks: Dynasty Sell Candidates for you to review.  Those articles were well received so we decided to keep the series going.  We can use the app to get a lot of information very quickly and formulate some great community discussion, so why wouldn't we!?!  With that in mind, I asked Team DLF another very simple question this week:
"Who are you buying right now in dynasty leagues?"
What I meant by that is which player(s) do you not have on your roster(s) who you look at right now and believe they may have bargain value, making you feel the need to test the waters to see if you can buy at or close to their current price, thinking their value is on the cusp of a big rise.  In short, this doesn't mean they are overspending to get them – instead, these are players Team DLF mentioned as players they'd be comfortable buying in accordance with their value based on rankings and ADP data.  Again, this needs to be understood in its context – these are not "buy at all costs" candidates.
The results were pretty interesting and we again had a lot of spirited debate in regards to many players.  Here was the list of players who were most popularly mentioned as buys:
John Brown, WR ARI
(ADP = 85, other players in that range include OJ Howard, Kenneth Dixon, DeSean Jackson, Rishard Matthews)
Brown was the player most mentioned when I asked the question this week. The Cardinals seem to be confident they have his sickle cell ailment under control and believe he's going to return to form this season. It was just 2015 when Brown posted 65 catches for 1,003 yards and seven touchdowns and he's still just 27 years old.  The Cardinals are going to be overhauling their receiver position over the next few years and a big year from Brown could keep him in the desert long-term. As Paul Perdichizzi stated, "Last year it was a challenge to buy him. Now, after just one year that featured him being hurt and dealing with his sickle cell issue, he can be bought for much lower. Michael Floyd is gone, Larry Fitzgerald is a year older and they only added a receiver from Grambling (Chad Williams) who is very raw."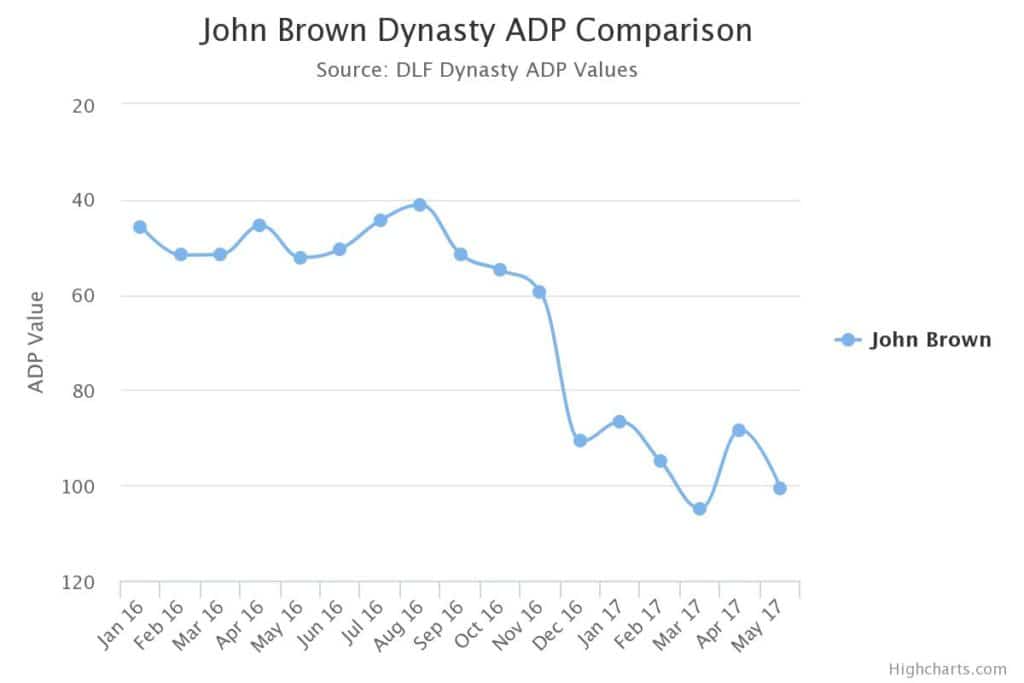 PREMIUM MEMBERSHIP REQUIRED
Gain Instant Access to this article and much more.
Join DLF with a Monthly Subscription or Annual Membership.
Or, open a FanDuel account for only $10 and receive a FREE DLF Annual Membership!
Join DLF Premium
Already a DLF Premium Member?
Log in now
Want more info about DLF Premium?
Find out more

Ken is a corporate trainer by day an a tireless editor of dynasty content by night. His passion for the World Champion Seattle Seahawks is second only to his love of fantasy football and the dynasty format.
Ken is on Twitter at
DLF_KenK

Latest posts by Ken Kelly (see all)