Fantasy Football Rankings Week 3
Travis Kelce | © Morgan Tencza-USA TODAY Sports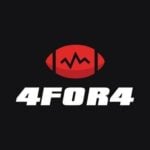 The 4for4 Team
Posted On September 21, 2023
Our Fantasy Football Rankings for Week 3 are brought to you by 4for4 Fantasy Football. These PPR rankings are static in nature, produced on Wednesday of each week. If you would like to see all of the 4for4 weekly lineup rankings which are meticulously updated throughout the week, and customized to your specific league scoring system, then we recommend subscribing to 4for4 and syncing up your league. Not only will you get custom, updated rankings, but you'll also get full access to all of their tools, articles, and more!
If you aren't yet a 4for4 subscriber, find out more about our partnership with Vivid Picks to get you full access to both DLF and 4for4 at a fraction of the regular price. Or you can subscribe directly to 4for4 right now using the coupon code DLF23RANKS to receive 25% off of the normal price of any of their subscription plans.
And now, onto the rankings!
SUBSCRIBE TO DLF PREMIUM!
Gain Instant Access to this resource and so much more!.

Premium membership provides access to all of our industry-leading dynasty fantasy football content.
You can also get a DLF Premium Membership for FREE! Find out how.
Fantasy Football Rankings Week 3