Participating in mock drafts is one of the most critical tools for fantasy owners to utilize when preparing for draft season. They will give you an idea of where certain players are going in drafts and, more importantly, help fantasy managers decide which players they will have to reach for if it's a player they really want on their teams in a given year.
It's also helpful to determine what kind of rosters you can build. For example, you might want to try zero-RB, late-round QB, or robust RB draft strategies this year. But after conducting a few mocks, you may hate how your teams have come together. It's better to know in advance that a strategy might not work out for you from a given draft slot.
About a month ago, DLF launched its very own mock draft simulator so dynasty owners can give themselves an advantage when their drafts roll around.
I recently conducted a series of mock drafts for 4for4.com, and now with the NFL season right around the corner, I'm doing a few more for DLF. In this draft, I went with the most "common" league settings; a five-round rookie draft in a 12-team league, superflex, PPR, without tight-end premium scoring. I was randomly assigned the third pick in the draft; let's see how it went.
Round One
With the third pick, the only player I knew would be gone was Breece Hall. Given the PPR scoring, I was already leaning towards receiver before I saw who would fall to me. Many people had Treylon Burks as their top receiver in this class, and he remains there for me. This was an easy pick, nobody else even crossed my mind as I'm not a Drake London fan and prefer Burks' landing spot over Garrett Wilson's.
Coulda, Woulda, Shoulda, Part One
It's hard to second-guess things with the third pick. I'm thrilled with Burks. I love me some George Pickens, and I'm hoping he makes it back to me in round two. If I had a team desperate for a quarterback, Kenny Pickett could've been a consideration.
Round Two
Whelp, I missed out on Pickens by one spot. Such is life. I'm higher on Dameon Pierce than most and felt like he's got the easiest path to significant playing time than any of the remaining running backs. I don't think he's more physically talented than Isaiah Spiller or Zamir White, but he's in a better spot, and I'm usually on "team landing spot > talent."
Coulda, Woulda, Shoulda, Part Two
I conducted this draft before the Cowboys lost James Washington, so Jalen Tolbert would have been a consideration for me here had the injury happened prior to the draft. He's starting on opening day opposite CeeDee Lamb on one of the NFL's better offenses, and no other players remaining in the draft are as locked into a role as Tolbert is. Spiller and White were considerations, but barring injuries ahead of them, I don't see either one flirting with fringe RB3 numbers. All these quarterbacks are garbage, and I'm surprised three of them came off the board in this round.
Round Three
I haven't seen Alec Pierce fall this far in a draft for a while. Especially in PPR leagues, I think he's got tons of upside as a heavy volume receiver right out of the gate. Will he ever be a league winner? Probably not, but a reliable plug-and-play, week-in, week-out PPR WR3 or flex option is definitely in play. I'm happy to have that consistency on my teams.
Coulda, Woulda, Shoulda, Part Three
Maybe Tyrion Davis-Price has a higher ceiling, especially in best ball leagues, but I opted for safety with Pierce. If Davis-Price was not in play, and I was desperate for a back, Tyler Allgeier has some intrigue. Unfortunately, the cupboard is getting bare quickly.
Round Four
There were slim pickings in round three, and round four is becoming a desolate wasteland. The Packers' Romeo Doubs has had a fantastic camp as a rookie and has as much upside as anyone remaining in this draft. There is a world where he emerges as Aaron Rodgers' favorite target on a team devoid of playmaking pass-catchers. In round four, I'll take my chances and roll the dice on that guy.
Coulda, Woulda, Shoulda, Part Four
Kyle Phillips is a name that has been generating some buzz recently. When discussing Doubs, I mentioned a receiver room devoid of talent, and Phillips is in a similar spot. However, with only unproven rookie Burks, recovering from injury Robert Woods, and nothing else ahead of him, Phillips could carve out a role early in the season. Aside from Phillips, it's a bunch of dart-throws at running back that I'm happy to take a pass on. Although had Hassan Haskins fallen to me, he would have been an easy pick.
Round Five
Did I just mention dart-throw running backs? Snoop Conner should have an opportunity to see the field early in the season. With James Robinson and Travis Etienne returning from significant injuries, Conner has a path to playing time while the team cautiously brings them back from injury.
Coulda, Woulda, Shoulda, Part Five
Daniel Bellinger is athletic and has little ahead of him on the Giants' depth chart to block his ascension if he shows the team anything. If this were a league with points for kick and punt returns, Bo Melton would have been my selection as the 4.34 speedster looks to have the inside track on returns duties in Seattle and is competing for the slot receiver role as well.
Who's Left?
I'm a little surprised to see Cade Otton still lingering. Considering seven tight ends were selected, you can't see he's the eighth best tight end in the draft class. With Rob Gronkowski's retirement, he's arguably in the best position to contribute in year one among all of the rookie tight ends. I also like Grant Calcaterra and Chig Okonkwo, so maybe I'm just a sucker for waiver wire tight ends.
I hope you enjoyed this look at my most recent draft using DLF's mock draft simulator. The complete draft is below if you want to look through it as a big picture. Overall, I'm satisfied with how this team came together. In some of my other mocks, I've left the draft room disgusted with myself and my team, so I'll consider this a win. You'll find mock drafts are incredibly important to prepare for real drafts. They're also a fun way to kill some time too. Thanks for reading, and be on the lookout for a start-up mock coming soon too.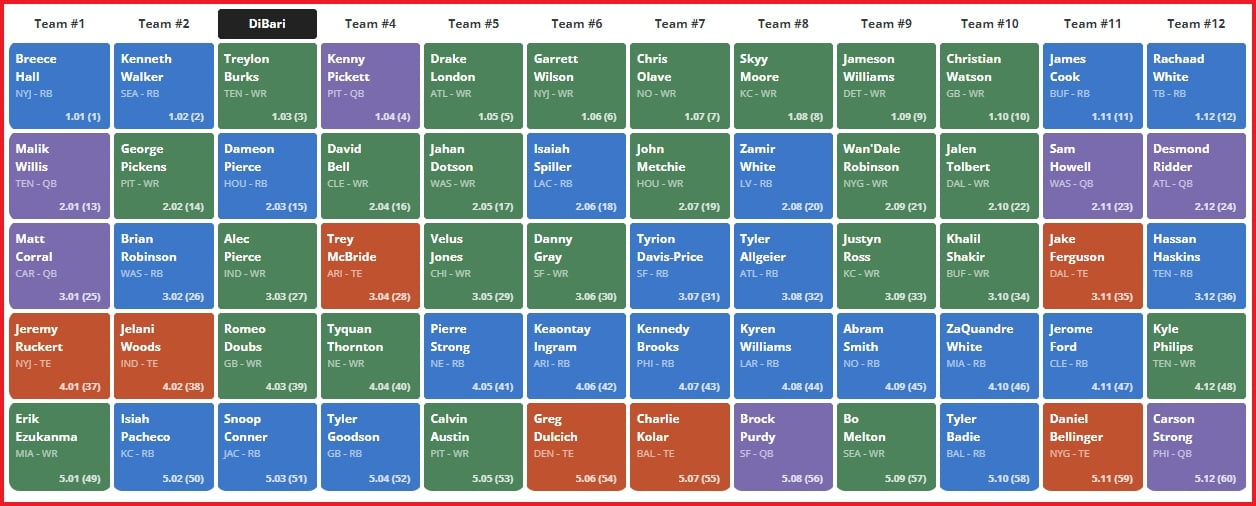 Latest posts by John DiBari
(see all)