2022 NFL Free Agency Blog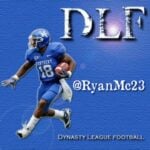 Ryan McDowell
Posted On March 23, 2022
We cover all the wheelings and dealings of free agency.
SUBSCRIBE TO DLF PREMIUM!
Gain Instant Access to this resource and so much more!.

Premium membership provides access to all of our industry-leading dynasty fantasy football content.
You can also get a DLF Premium Membership for FREE! Find out how.
2022 NFL Free Agency Blog
Related Items:
Aaron Rodgers, AJ Green, Amari Cooper, Calvin Ridley, Carson Wentz, CeeDee Lamb, Chris Godwin, Christian Kirk, Deshaun Watson, featured, Justin Jefferson, Kirk Cousins, Kyler Murray, Leonard Fournette, Matt Ryan, Michael Gallup, Mike Evans, premium, Rob Gronkowski, Russell Wilson, Tom Brady, Zach Ertz