Say "Hell Yes" To Kyler Murray In Dynasty
At 5'10″, Kyler Murray may not look like your typical quarterback, but trust me, he certainly plays like one.
Following the same vein as Oklahoma teammate Baker Mayfield, Murray was drafted number one overall by the Arizona Cardinals and was immediately given the keys to the starting quarterback job. The result: a 5-10-1 season, where the duo of Murray and Kliff Kingsbury kept Arizona in games despite one of the league's worst offensive lines and defenses.
The Cardinals are a severely flawed football team, and we knew this coming into the 2019. Roster construction was terrible. The team only finished 1-5 against the rest of the NFC West. For all of the holes in this team, though, Murray's presence warrants optimism. The Cardinals need to reward the 2019 Offensive Rookie of the Year with an improved surrounding cast, filling the pass protection, receiving corps, and defense.
Murray started all 16 games in 2019, throwing for 3,722 yards, 20 touchdowns, and 12 interceptions, while adding 544 yards and 4 touchdowns on the ground. In total he accounted for 4,226 yards of offense and 24 touchdowns. According to FantasyData he produced the ninth highest mark of fantasy points (285.28) among all players in 2019 – extremely impressive for a rookie quarterback.
We like to profile young quarterbacks that begin their careers in the league as generational talents or ones that have the potential to be special, and at times it can be a bit much.
Murray, however, seems worthy of such recognition, as he possesses a fantastic skill set that patches up much of the poorly constructed offense around him. In Kingsbury's scheme he's given the freedom to be himself, combining deadly mobility and scrambling ability with comfortable pocket and natural talent.
Despite playing in one of the league's toughest divisions, I recommend picking up Murray in your dynasty leagues awfully soon. To help explain why, let's go through his rookie tape and see what there is to like (spoiler: a lot).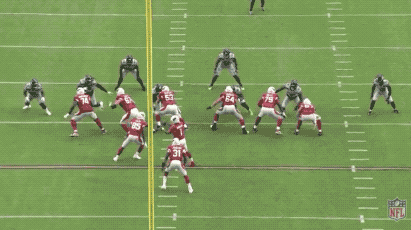 To the casual fan Murray is still an extremely exciting player because of his mobility. The quarterback oozes with style, and he's as dynamic an escape artist as they come. What makes his play more impressive is how he's able to combine his dazzling scrambling talents with control in the pocket, giving him a great foundation after just one season in the league.
Take this above play for example. Murray does not break down when his first read isn't open, and even when the edge pressure corners in on him he's able to juke the edge rusher, buy time and stay in the pocket. It's here that he notices another defender closing in on him as well as his checkdown option uncovered in the flat.
Instead of trying to force a pass above the defender, Murray instead sidearms this pass, preventing it from being disrupted as it safely arrives to his checkdown. Even if this is an extremely short throw, the escape ability and sidearm make it a spectacular play. But if that doesn't impress you let's look at a similar play except one of bigger length.
Murray shows the scrambling wizardry guys like Russell Wilson, Lamar Jackson, Patrick Mahomes and Deshaun Watson all possess and combines it with some of the magic of vintage Tony Romo. Though he was sacked a league leading 48 times last year, he was still very good at making defenders miss.
His left tackle gets beat immediately on the play, but the he remains poised, spins, and resets himself in the pocket. He's somehow able to come out of this without a single scratch, finding himself with a cleaner pocket as a result. He's then able to spot an open receiver, ripping this and capping off on yet another fantastic escape play.
Murray is known as a quarterback that often tries to escape pressure, but what can he do on plays where he can't escape? Fortunately, he has also looked very sharp as a pocket passer facing immediate pressure. Having the Cardinals offensive line will give you plenty of practice at that. Murray's superior mobility and vision has allowed him to avoid the pitfalls in which Josh Rosen (unfairly at times) found himself during his rookie season.
This throw looks significantly easier than it actually is. Being forced to slide left and stumbling when your aim is to throw to the right field should result in this pass being nowhere near its target. He is not only able to slide away from pressure, but also manages to get this throw off across his body to his receiver.
A very impressive play under pressure.
Another characteristic Murray flashed: his ability as an anticipatory passer, in his rookie season no less. Kliff Kingsbury was able to give Murray the perfect scheme to harness his incredible deep passing accuracy and scrambling, but this does not matter in the slightest if you cannot create plays outside structure and demand that your receivers get open before throwing to them.
Here we can see Murray throwing this ball well before his receiver creates separation. He does this not because he trusts his receiver to go make a 50/50 jump ball reception, but because he spots a weakness in the Bengals' coverage down the field. He recognizes that a quick decision will expose this soft spot, leading his receiver to a place where he can make the catch without getting jacked up by any defensive backs.
As a result, the throw and decision are both sensational from Murray. His placement and anticipation make this play, and this is one of many that is proof that he doesn't need to rely on script to be successful.
And it's not like Cardinals fans would want that anyway.
Rosen possessed an absolute cannon of an arm during his time in the desert, but what he lacked was the ability to make throws from all angles and all areas of the field. It's not all his fault, but Rosen simply lacks the mobility and advanced athletic ability Murray displays.
The offensive line fails to take into account the blitz off the edge, but as was true many times in his rookie season, Murray evaded the blitz and bought time outside the pocket. Instead of running past the line of scrimmage, he wisely stopped and detected an open receiver across the field. This cannon shot gets to the receiver in time, well before it can be disrupted by the incoming defender. Just another example of Murray's natural skills.
Whether it be in the red zone, deep passes, or short and intermediate passes, Murray showed incredible touch for a rookie quarterback. This touchdown against the Browns is one such example. He fires this with enough control and mustard that it arrives to his target safely despite entering in a small window.
Murray has a chance to become one of the league's most complete quarterbacks. You may scoff at this notion, but consider the steps Mahomes and Jackson made in year two of their respective careers. They didn't just improve, they transcended the game and became superstars and MVPs.
Murray's accuracy is phenomenal, especially on his deep passing, which has been tremendous. His poise is brilliant. He can play against both interior and edge pressure. He's a keen pocket passer, has an incredible arm, and could be one of the most exciting escape artists of our time. He will be a really damn good quarterback at full health, but the Cardinals need to build a quality team around him as quickly as possible so as to not waste a promising start to his career.
If you get Murray at, say, rounds 8-10 of your dynasty draft, congratulations, you're most likely getting a great value (assuming that the Cardinals front office doesn't screw up the off-season and let the offensive line kill him). If you already drafted him, congratulations, I assume you were waiting until later to select him and that means you've gotten excellent value.
The sky's the limit for the short king. Here's hoping the Cardinals give him a chance to survive and here's hoping you invest in Arizona's franchise signal caller for your dynasty benefits.
Latest posts by Johnny Kinsley
(see all)