Amari Cooper is Still a Dynasty 'Must-Have'
In the off-season, the Cowboys offered plenty of deals to ensure that their most valuable players were given long-term deals to stay in Dallas. Most notable were guys like defensive end DeMarcus Lawrence, linebacker Jaylon Smith, and running back Ezekiel Elliot.
Two of the bigger pieces to the team, however, have yet to be re-signed; Dak Prescott and Amari Cooper. Prescott getting a second deal can be saved for another time, but the lack of a new deal for Cooper is odd considering Dallas shoveled a first-round pick to the Raiders to get him! Some are of the opinion that Cooper should have been extended before Elliot, and I'd probably have to agree.
In 22 games with the Cowboys, Cooper has caught 123 passes for 1,779 yards (14.5 yards per reception and 80.9 yards per game) and 14 touchdowns. This season he's managed to catch 70 passes for 1,054 yards, eight touchdowns, and 81.1 yards per game. With 153.4 fantasy points according to Fantasy Data, Cooper is currently the fifth-ranked fantasy receiver for all of 2019 (only trailing Michael Thomas, Chris Godwin, Mike Evans, and Kenny Golladay).
Statistically, Cooper has seen a little slump. In his last four games, he's only caught 17 passes for 206 yards, one touchdown, and has averaged 51.5 yards per game. Coincidentally the Cowboys are also 1-3 in this stretch of games, and this has included play against tougher defenses such as the Patriots, Bills, and Bears.
Still, all things considered, don't let this slump concern you in regards to the quality that Cooper can bring to a dynasty team. He's in the last year of his rookie contract, and if he walks away from Dallas as a free agent he'll be one of the biggest prizes in the 2020 off-season.
So let's breakdown the tape to see just why Cooper is a must-have for those thinking of starting or joining new dynasty leagues in the off-season.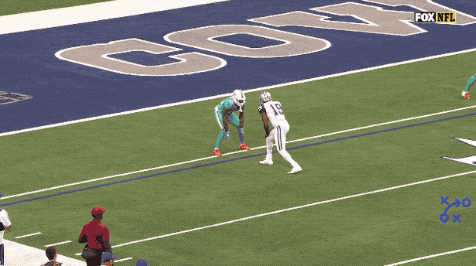 Those who have extensively studied Cooper have found that he's one of the league's absolute best route runners. He has a whole arsenal of attacks on display, making it easy to see why the Cowboys gave away a first-round pick to get him in the first place.
As such, Cooper has one of the deadliest double moves you'll ever see from a receiver in this day and age. One comparison people like to give receivers who execute the double move at a high level is former Packers and Raiders receiver Jordy Nelson, which is a huge compliment but one Cooper is worthy of.
The head fakes and flashy footwork Cooper shows on the snap above allow him to easy execute said double move, as he's able to snag the red zone touchdown pass.
Things get even better on this route at home against the Packers. Against Jaire Alexander, Cooper fakes a shallow crossing route before slashing Alexander with arguably the best route of his career. His quick hip movement and ability to change direction with big acceleration give him the upper hand against the second-year corner.
But that's not all from this play. Cooper also destroys more ankles on his way to a huge touchdown.
Cooper has always been a freak after the catch, in spite of the fact that he just barely cracks the top 50 in YAC through 13 games. Here he maintains perfect sideline balance after breaking through contact, then executes a spin move Lamar Jackson would be proud of that sends another corpse flying off the screen on his way to the end zone.
All in all, Cooper makes these routes look way too easy. He's up there with Stefon Diggs as some of the absolute best route runners in football. He moves very quickly and it seems like no one can stop him on double moves and pivot routes. His expertise in the former (as seen here) make him an enticing player on vertical routes, and in the latter category, he's also an attractive option on short plays.
In spite of what may happen in the off-season to both Dak Prescott and Amari Cooper, Cooper should still be highly sought after. He has elite route-running skills and YAC ability that far separate him from the garden variety receiver and it's a crime that the Cowboys haven't ponied up and paid him yet. Don't make the same mistake they made and let his talents go to waste in your dynasty leagues.
If you're looking to draft him (as opposed to already being a dynasty owner), a second-round pick would do just fine. He's been an elite dynasty player since joining the Cowboys, free from the shackles of his lower moments in Oakland. So I'd highly recommend using a second or third-round pick to invest in Cooper in the off-season's dynasty drafts, because he's worth all that and then some.
Latest posts by Johnny Kinsley
(see all)