Hi everyone and welcome to the fantasy off-season. It was a wild ride in 2017 and I'm still recovering, but there's no real off-season in the dynasty world. In the summer I made projections for every IDP in the league I thought would be relevant. You can go back and read all of the 2017 IDP Projections here.
I was right in some places. I was wrong in some places. But either way, it's important to be accountable and honest so I can figure out why and make adjustments in the future. I'll be going through every team and noting where I was right and where I was wrong. To do that I'll show what my projections were, how players actually performed, and how big the discrepancies were.
[am4show have='g1;' guest_error='sub_message' user_error='sub_message' ]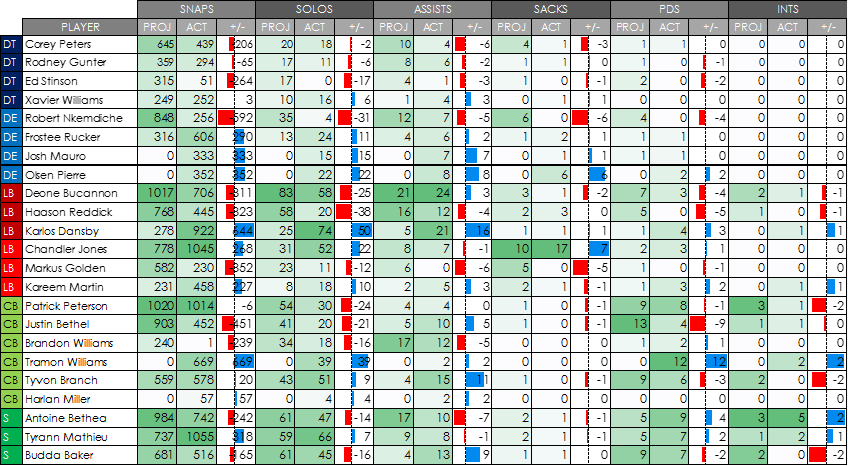 Defensive Line
This was a fairly odd unit all year really as it was such a committee approach. Seven separate big men were used a decent amount, with only one of them really playing a high amount – and even he was just 57th in defensive lineman snaps.
My big miss was Robert Nkemdiche. I was very optimistic and had him down for 848 snaps, 35 solos, 12 assists and six sacks. He only played 256 snaps and didn't get close to the sort of production I thought he would.
In my eyes, he's proved very little and does not have much upside left. A new coach might help but I see him as practically un-rosterable.
I also underestimated Frostee Rucker, Josh Mauro and Olsen Pierre as I thought there would be a much clearer starter/reserve demarcation here. I was wrong, but given none of them were reliable IDPs, I'm not too upset about it.
Linebacker
Injuries caused me problems here and I can't claim that any of the three players I included were that accurate.
Deone Bucannon was restricted to about 70% of the volume I expected with just 706 snaps. As a result, his solo tackles were also at about 70% of what I expected (58 compared to 83). Interestingly he still had more assists than I predicted so he was very efficient there.
Haason Reddick was a strange case. He was drafted to play inside but when Markus Golden was hurt he shifted back to the edge where he didn't impress and played a fairly low volume. As a result, he was way short in terms of tackles but actually had one more sack. I expect him to play inside next season.
With all those changes, Karlos Dansby played much more (644 snaps) than I thought. I thought he'd be nothing more than a role player at his age but he made the most of the opportunity and had a very solid season.
On the edge, Chandler Jones outperformed my expectations by a decent amount but he had huge volume with which to do so. Jones played 1,045 defensive snaps in 2017. Only 19 players had more than that at any position. Only one other OLB had more than 900 snaps (Justin Houston on 951). It was a fantastic season from Jones but I'm okay with not predicting the full extent of it.
Markus Golden was hurt and managed just 230 snaps. I strongly suspect this was a major part of why Chandler Jones was asked to play such a heavy load.
Cornerback
I'm fairly pleased with this position group. I realized that the Cards' opponents would likely heavily target the number two corner across from Patrick Peterson, but I just failed to see how much they'd chop and change. I had Justin Bethel down as playing most of the season and in reality, he was benched unceremoniously with Tramon Williams stepping in. As a result of this dynamic, Peterson underdelivered against my solo number. He was just rarely targeted and didn't have the tackle opportunities.
I did have Tyvon Branch in as the slot man, and his numbers were fairly accurate. He had nine more solos than I thought, and 11 more assists, but I was in the right ballpark.
Safety
Again, I'm broadly encouraged here. Antoine Bethea played less than I thought he would. Tyrann Mathieu played more. I was also pretty close to Mathieu's stats. He was fitter and more efficient than I expected him to be and given he was coming off the injuries he had, that seems an understandable underestimation to me.
I thought Bethea was a great value option in the off-season given how down people were on him. His lower volume meant he didn't manage the gaudy tackle numbers I predicted, but he did make significantly more coverage plays to make up for it.
Budda Baker also ended up fairly close across the season. I was out by 16 solos, nine assists, one sack, two PDs and one INT. I'm happy with that. Admittedly his stats come in clumps rather than spread across the season, but they were still close.
In summary
So, all in all, it was fairly middling here. I was badly wrong on Nkemdiche and not great on Bucannon, Jones, Reddick, Dansby, and Bethea. On the flipside, I was pretty good on Peterson and the defensive backs in general. The errors I made were mainly down to injuries – certainly at linebacker – although I underestimated how the linemen would be rotated.
The team is likely to change its defensive coaching staff over the off-season, so we'll need to take that into account for 2018. They are interviewing their defensive coordinator for the head coach role so maybe it won't be much of a change. If a new scheme is implemented then I expect the dynamic to change at corner, with a smaller chasm between Peterson and the other options. Whoever takes over will likely not use defensive backs in the same way. There's a decent chance that Mathieu and Baker's roles change significantly.
Thanks for reading.
[/am4show]
Latest posts by Tom Kislingbury
(see all)