Let's start this out with a little blind player comparison.
The title gave away one of these wideouts — Doug Baldwin — but the other two are a pair of football's top weapons and two of the more valuable dynasty assets out there. Without looking at the text below the table, see if you can guess who they are, along which player Baldwin is.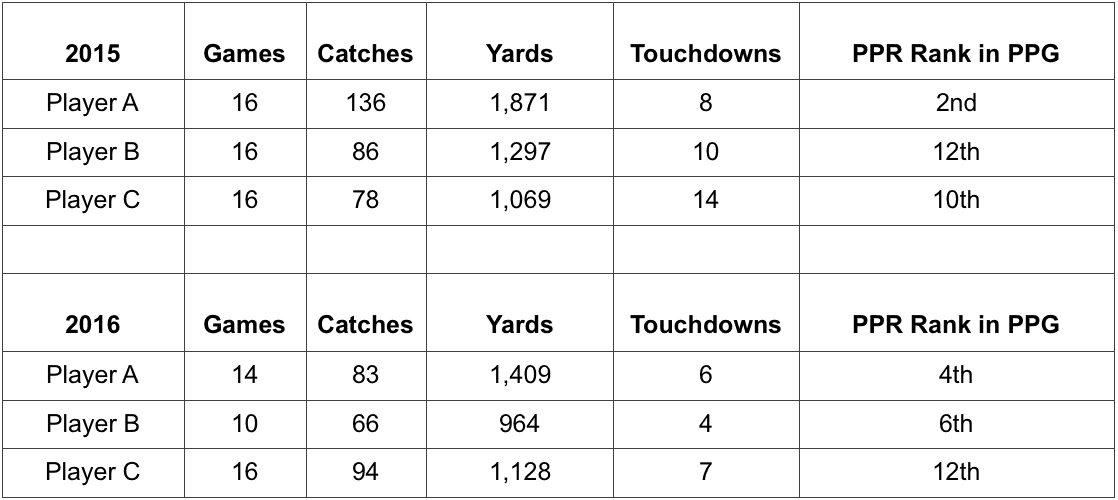 All in all, these three receivers have put up pretty comparable numbers over the past two seasons. They've ranked among the game's best in fantasy points per game, and all three of them are currently 28 years old. Despite that, Baldwin, who is Player C, isn't valued nearly as highly as Player A and Player B.
PREMIUM MEMBERSHIP REQUIRED
Gain Instant Access to this article and much more.
Join DLF with a Monthly Subscription or Annual Membership.
Or, open a FanDuel account for only $10 and receive a FREE DLF Annual Membership!
Join DLF Premium
Already a DLF Premium Member?
Log in now
Want more info about DLF Premium?
Find out more
Austan Kas is a husband and father, first and foremost, and then a devotee to receivers and Caesar salad. Almost to a fault, he is never satisfied with his dynasty teams, constantly and obsessively looking to tweak and upgrade his rosters. He is an editor and writer for numberFire. You can follow him on twitter at @AustanKas.
Latest posts by Austan Kas (see all)