Several years ago I began working remotely for a startup non-profit after spending most of my career in retail and corporate offices. As any quality researcher would do, I immediately began looking into tips and tricks of how to be successful working remotely. I stumbled across an article series by Lifehacker, called "How I Work," which essentially was a collection of interviews, focusing on best practices, workflows, workspaces, and gadgets used by successful business people.
This article series is a nod, or rather a direct copy of their idea, from a fantasy football perspective. I'll seek to interview the most interesting minds in fantasy football, procuring their secrets, routines, bookmarks, and more in an effort to pull back the curtains and provide you with resources and information. I hope you enjoy!
Your name
Christopher Harris
Your Twitter handle
CH: @HarrisFootball
Your location (city/state)
CH: Amherst, MA / Austin, TX / LA, CA
Current day job
CH: This!
Current fantasy job(s)
CH: Proprietor of Harris Football
One word that best describes how you play fantasy football
CH: Patience
Who is your favorite (non-current) NFL player? Why?
CH: Emmitt Smith was pretty good at football!
Current mobile device
CH: iPhone
Current computer
CH: Macbook
First of all, tell us a little about how you got your start in fantasy football. How did that evolve to what you're doing now?
CH: I entered a contest on TalentedMrRoto.com, wrote for them for a bit, got noticed by Yahoo, wrote for them for a bit, then was brought in to help rebuild ESPN Fantasy. Was with ESPN for eight years, and then left to build the Harris Football empire (insert EvilLaugh.mp3).
How many fantasy football leagues do you currently play in? What is your favorite league and why?
CH: I wind up in many (too many) experts leagues to which I mostly half-pay-attention. I'm fully invested in the two leagues for which I'm commissioner: a 16-teamer that started in '98 and a super-deep and complicated dynasty league I started in '10.
The dynasty league is called La Liga Lebowski and now has dozens of spinoff "clone" leagues. That's probably my fave, because we have franchise tags and player holdouts and tons of other minutiae that make it fun.
What's your best time-saving shortcut or fantasy hack?
CH: Um, don't do a podcast five days per week.
In order to be successful in fantasy football, you have to do at least one thing better than the average owner. What's your secret?
CH: I watch film of every game and tend to factor my talent evaluations of players into the mix more than many folks do. Situations and depth charts matter lots, but they also change year to year more than we like to admit. Drafting good players tends to be a winning philosophy more than any other.
What's your greatest weakness in fantasy football? Startup drafts, mining the waiver wire, making trades, lineup decisions? How do you make up for it elsewhere?
CH: I'm patient with players and slow to embrace less-talented players on hot streaks. This frustrates some listeners. Long term, I think staying focused on guys who have proven track records and/or eye-popping talent is the best way, but I also don't wind up embracing Nick Foles's freak season until it's too late.
How would you describe your fantasy football philosophy?
CH: Film matters. Talent matters. Data mining can be helpful, but only to a point. There are dozens of useless stats "experts" throw out as definitive, as though football were baseball. But it's not. The batter/pitcher interaction has unbelievably few variables relative to the 11-on-11 scrum that results on every football play. Yards Per Carry is a scourge upon the earth.
Walk us through what your week looks like during the season as a fantasy owner. When do you watch games, process waivers, propose trades, etc?
CH: Since I've been on my own making the podcast 5x per week, I have lamentably little time to manage my own fantasy teams the way I used to. I watch all the film for the show on Mondays, so I've got a good base of knowledge, and I usually remember to make waiver claims in the leagues I care about, but I don't make many trade offers these days. Often, I don't remember to check if I won or lost until Tuesday night.
What's your favorite article you've ever written? Why?
CH: I've probably written 2,000+. I honestly wouldn't know where to start.
Who is the best fantasy football owner you've ever played with and why?
CH: Andy Behrens of Yahoo Fantasy is in my 16-teamer, and he's won it five times. It's uncanny! We all know the fantasy playoffs are a crap shoot…SO HOW DOES HE KEEP WINNING??? It's a point of pride that I beat Andy in the finals this year. But it's only my second title. THAT JERK.
What's your current workspace (for fantasy football) like? Coffee shop with laptop and headphones? Home office with a standing desk?
CH: Definitely the laptop, and I guess mostly in the home office that doubles as my studio.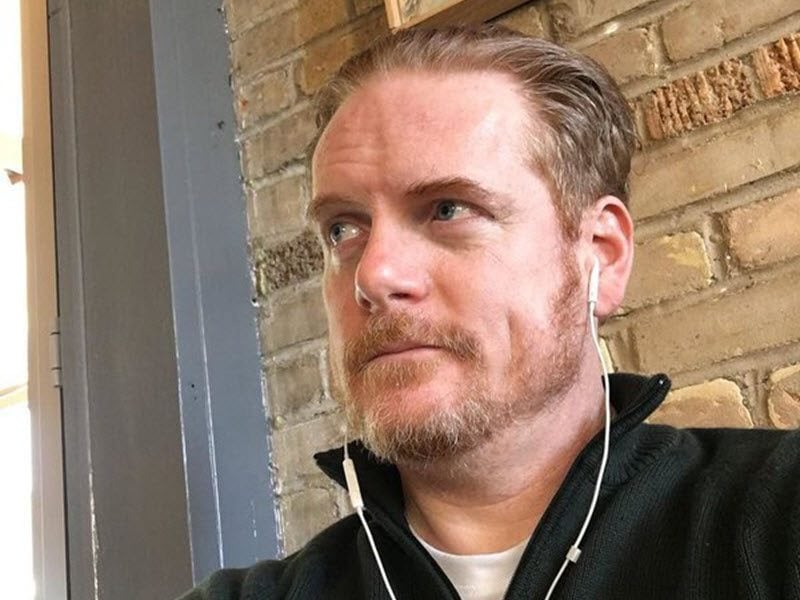 Besides your phone and computer, what gadget can't you live without and why?
CH: Wireless headphones. Amazing. Not rolling over wires is lovely.
What apps, software, or tools can't you live without?
CH: Safari, Excel, Word…and Audacity. That's how I put together the podcast. Also Skype (which is how I conduct interviews), because I'm a visitor from 2007.
What is your go-to site for your tough start/sit decisions?
CH: I honestly pay no attention to other people's ranks. It frustrates some listeners because I never know if I'm "high" or "low" on a player. But it's the way I keep my ranks my own.
If you could only read one website (other than those you contribute at) for the rest of your life, what would it be and why?
CH: Jeez. I guess Google News because I engage with world news exclusively on the web. Of course, I click links and read in depth on other sites, so I guess I'd be screwed there….
Take a quick peek at your bookmarked sites. What are the top 3-4 sites on the list?
CH: Google News, Twitter, Facebook
What podcast is currently queued up on your phone?
CH: Filmspotting!
What are you currently reading? A novel, comic book, website, magazine?
CH: The Savage Detectives by Roberto Bolano.
What do you listen to while you play? Got a favorite playlist? Maybe a podcast? Or do you prefer silence?
CH: Silence.
Do you have any superstitions on game day? Wear the same lucky T-Shirt? Always make homemade chili before the games?
CH: No superstitions, but the routine is engrained. I do a live streaming show at noon ET, finish up at kickoff, scurry over to the TV with my laptop, and begin the furious note-taking going back and forth (via DVR) between whatever full games are being shown in my area. I do this until the Sunday night game ends, because if I watch 'em stem-to-stern, I consider that game film "done" and I don't have to go back to watch those whole games again.
How do you recharge?
CH: It's basically become impossible during the season. Running the business and doing those five shows per week is all-encompassing. So when the season is over, that's really when I catch up: on sleep, on movies, hanging out with humans, etc. The past few years I've been getting out of the New England cold, flipping on the home alarm, and spending time where it's warm.
What's your sleep routine like? Are you a night owl or early-riser?
CH: During the season: both. During the off-season I'm somewhere in the middle. Not in bed before midnight, but not after 1, either.
Fill in the blank: I'd love to see _________ answer these same questions.
CH: Andy Behrens
What's the best advice you've ever received?
CH: Few decisions can't be undone, so don't be afraid to try.
The How I Play series asks writers, developers, editors, and fantasy football degenerates to share their secrets, bookmarks, routines, and more. Have someone you want to see featured, or questions you think we should ask? Email Eric Dickens or start a conversation with him on Twitter.