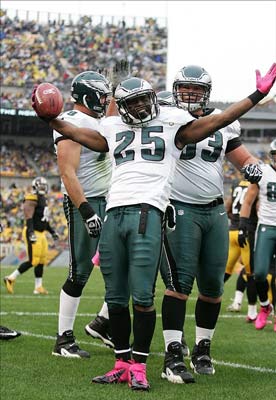 One of the biggest keys to a successful dynasty team is making sure you acquire young prospects, either through the draft or through trades and watch them mature into fantasy starters. In order to accomplish this, a savvy owner needs to be able to decide if a breakout season is coming or if it is time to cut bait and move on to the next prospect. This is the truly difficult part – how long do you wait on a quarterback before deciding they aren't worth it anymore? What about a running back or one of the other key positions?
This is the second in a four part series that will help to shed a bit more light on this subject. To learn more on the quarterbacks, click here.
In this installment, we will examine the beginnings of the careers of several current running backs. We will look at how many years it took for them to earn a starting role and how long it took before they reached the production level of a RB1 – this gives us another tool we can use to help decide when we should be expecting a breakout or be moving on from young running backs like Kendall Hunter as well as the 2012 rookie class.
For this study, the benchmark of RB1 level of production was determined by looking at the points for the 12th best running back in PPR scoring over the last few years using the following scoring: 6 points for rushing/receiving touchdowns, 1 point for 10 rushing/receiving yards, 1 point per reception, and -2 points for turnovers.
Ray Rice – Only 100 carries during his rookie year while acting as a backup. Started and produced at a RB1 level during his second season.
LeSean McCoy – 155 carries during his rookie year backing up Brian Westbrook. Carries increased to 207 the following year and he produced RB1 numbers off those carries.
Arian Foster – Undrafted in 2009 and ended up on practice squads. Only 54 carries as a rookie before exploding in 2010.
Michael Turner – Backup for the first four years then went to a new team in free agency. He produced RB1 numbers in his first year in Atlanta.
Maurice Jones-Drew – Primarily a kick returner for first two seasons. In a true time share in year three, he received 197 carries, but posted low-end RB1 numbers. Elite numbers ever since.
Marshawn Lynch – Low end RB1 in his second season before fading the following year. It wasn't until he found a new team in his 5th season that he returned to RB1 numbers.
Ryan Mathews – Started part time as a rookie and tallied 158 carries. It wasn't until year two that he produced RB1 numbers, though injuries have limited him a bit.
Matt Forte – Started week one as a rookie and has been a RB1 ever since.
Reggie Bush – Started eight games as a rookie and only posted RB1 numbers due to receptions and return yards. He didn't post RB1 numbers again until he changed teams in his sixth season.
Steven Jackson – 134 carries during his rookie year. Low end RB1 numbers in year two before exploding in year three.
Chris Johnson – Started early during his rookie year and produced immediately. Broke 2,000 yards rushing, but has struggled recently.
Adrian Peterson – Only started nine games as a rookie, but produced RB1 numbers on his 238 carries. Arguably the best back in football since then.
Darren McFadden – His only year as a true RB1 was his third when he earned the full time starting role. He has been on pace during several other years, but injuries have slowed him down.
Jamaal Charles – He's been a committee back for his whole career. Didn't produce RB1 numbers until his second year when he became the major part of the committee.
Ahmad Bradshaw – Worked almost exclusively as a kick returner for the first two years. He had 163 carries in year three which made him an RB2 before earning a major role in his fourth season and producing at a RB1 level.
Frank Gore – Only had 127 carries as a rookie before he earned the starting role in his second season and produced immediately.
Let's take a look at some of the trends that we see here:
Only seven of the 16 backs started more than half of the games during their rookie season
Four of those posted RB1 during those rookie seasons
12 of the 16 backs had fewer than 160 carries during their rookie seasons
Three of the backs needed to change teams before they produced consistently
13 of the 16 backs produced at a RB1 level in the first season that they earned the majority of the starts
So, what's the bottom line when it comes to younger backs and rookies?
Even with the impressive list of names up above, most of them didn't do a whole lot until their second season. However, once they earned the starting role, almost all of them produced immediately. In other words, once they were given the opportunity they produced. Only three of the backs took longer than two seasons to produce their first RB1 level year. One of those needed to change teams before breaking out while the other two were kick returners behind established backs.
This is bad news for those dynasty owners who are holding out hope that guys like Shonn Greene and Bennie Wells will one day turn into RB1s since they haven't done so, even with several years of being the starter. The only thing that might save them would be a change of scenery in hopes that a new team would rejuvenate them like it did Turner, Bush, and Lynch.
It isn't bad news for all backs.
In fact, this should reassure those of you with guys like Hunter on your roster that are still waiting for their shot as a starter, and especially for the owners of young rookies like Isaiah Pead. Many of the best backs today basically had a redshirt year with fewer than ten touches a game when they were rookies before earning bigger roles in later years. David Wilson's owners might need to be especially patient as he seems to be on the same track as his teammate was a few years back by being limited to a return role early in his career.
Don't be frustrated by the lack of production of the rookies and young backs because it is very normal to not see much out of rookies, especially early in the season. Very few rookie backs come strong out of the gate like Forte or Chris Johnson in the past or even Trent Richardson this year. If a league member is panicking about their rookies, now might be the time to buy them off of them at a discounted price.
Just remember to be patient with the rookies.
Latest posts by Jacob Feldman
(see all)