IDP Improvements: Moves to Make Before Week 11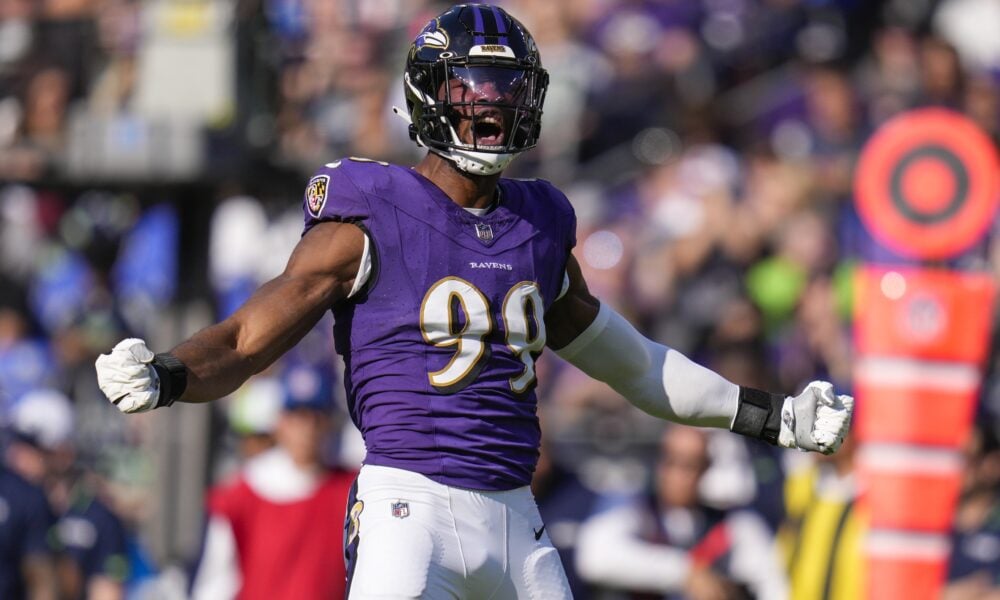 Odafe Oweh | © Jessica Rapfogel-USA TODAY Sports
Defensive linemen dominate my recommendations for the second consecutive week. I have nothing against the other defensive positions, but there have been fewer dynasty moves at linebacker that warrant mentioning. Defensive back is a relatively deep position, and the replacement value is so small that they should be streamed where possible.
Pace was already a dynasty stash candidate after impressing during the preseason. I nominated the undrafted rookie in an earlier version of this article, highlighting how he may have a more significant role next season because Jordan Hicks is only under contract through 2023.
In shallow leagues, you probably could have waited a few weeks to add Pace, but the injury to Hicks moves that timeline up. Pace had an 84% snap share in week ten, and fantasy managers will scramble to add him from waivers.
Pace is ranked sixth among all rookies in my DLF Dynasty Rookie Rankings, but we must remain patient with him for the rest of this season. Hicks' injury isn't expected to keep him out for long, and the Vikings added Anthony Barr as insurance.
Still, Pace has a small window to show that he deserves a more significant role in Brian Flores' defense, and if he plays as well as he did in the first few games of the season, he could seize the opportunity.
Vikings definitely have something in UDFA LB Ivan Pace Jr.

Good run fits vs. the Seahawks pic.twitter.com/f1KOVVYuwY

— Jordan Reid (@Jordan_Reid) August 11, 2023
Odafe Oweh, EDGE BAL – TRADE FOR
In the last two seasons, Oweh has shown glimpses of the talent that tempted the Baltimore Ravens to invest a first-round pick in him in the 2021 draft. However, until this season, he hadn't produced consistently.
The 24-year-old has performed markedly better in 2023. He only has 24 pressures and three sacks, but he missed four games due to an ankle injury.
Oweh's 15.9% pressure rate this season is a considerable improvement. He ranks just behind Maxx Crosby and ahead of Haason Reddick, Josh Sweat, and Brian Burns with a 23.1% win rate vs. would-be blockers.
Update of pass rush metrics for edge rushers pic.twitter.com/7CFze0COTq

— Timo Riske (@PFF_Moo) November 9, 2023
I'm encouraged by Oweh's progress and recommend trading for him in deep leagues or adding him in shallow leagues.

Greenard has been inconsistent since entering the league. He barely saw the field in his rookie season but was promising in limited time in his sophomore year, raising expectations for his outlook in 2022.
Unfortunately, he missed nine games last season, and when he was on the field, he struggled to perform well while playing in a heavy rotation.
2023 has been kinder to Greenard. He's remained healthy, has leapfrogged Jerry Hughes, and has been a disruptive force. In his last six games, the 26-year-old has recorded seven sacks and generated pressure on 14.3% of his pass rush attempts.
Greenard is due to become an unrestricted free agent in 2024. Whether he remains with the Houston Texans or finds a new home, his future looks bright.
Here is a recent trade from the DLF Trade Finder tool. I much prefer the Greenard side here:
Payne had a career year in 2022, generating 12 sacks and 57 combined tackles in the heart of an impressive Washington Commanders defensive line. His pressure rate wasn't stellar, but he was ever-present and played a whopping 907 snaps.
Unfortunately, Payne's performance has deteriorated dramatically in 2023. He's produced only one sack and 19 pressures despite rushing the passer 367 times.
A closer inspection of Payne's career statistics reveals he has never surpassed a 10% pressure. His tackle efficiency has always been respectable for an interior defensive lineman. Still, it's a worrying trend that his missed tackle rate has worsened in the last two years.
Despite his recent struggles, Payne still has name recognition among IDP enthusiasts. His position in the DLF Top-150 Dynasty Rankings has been dropping since the start of the year and will continue to fall. Explore possible trades while you still can.
Conclusion
If your team is deep at the defensive line position, consider trading a defensive tackle or edge rusher for a linebacker, provided you are confident your target will have a significant role in 2024.
I've mentioned Da'Ron Payne as one such trade candidate, but there are many others. I'll endeavor to include more examples in future articles.
Latest posts by Jason Abbey
(see all)