We all know the pain of holding onto that stud player too long as their production evaporates and your once highly-priced asset is essentially worthless. There are also plenty of cases of players being sold expecting that decline only to go on defying the odds. This series will examine what you should do as players approach these decision points.
Godwin has been one of my favorite players throughout his career. Since being a third-round pick out of Penn State, he has gone from strength to strength as a fantasy asset. He does all the small things well and, as a result, is one of the most complete all-round receivers in the league.
However, with Tom Brady retiring and Godwin now 27 years old, the question pops up what we should be doing with him in dynasty?
Previous Performance
As a rookie, Godwin didn't get a vast amount of usage playing time and was eased into the offense playing behind Mike Evans, Adam Humphries, and DeSean Jackson. He became an every-down player in his second season, and the fantasy production followed.
However, it was in his third season, paired with Jameis Winston, Mike Evans, and head coach Bruce Arians, that Godwin and the Buccaneers' offense blew up massively. Godwin finished the season as the fantasy WR2, averaging just short of 20 points per game. Since that incredible season, Godwin has been great when he's been on the field but has had several minor injuries meaning he hasn't played more than 14 games since.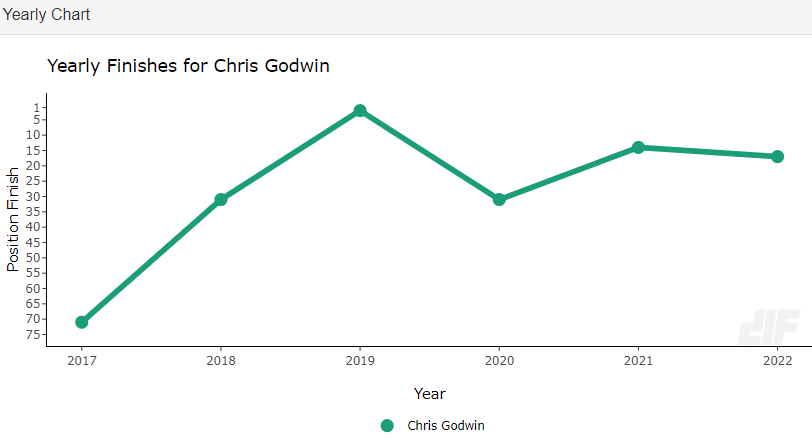 Situation and Usage
Situationally, Godwin is in a fantastic position. He is in a pass-first offense and sees a consistent target volume. No wide receiver in the league saw more targets on screens last year. While screens aren't the most high-value target as they are shallow in aDOT, seeing over two targets in a game where he has a catch rate of over 94% is a pretty incredible baseline with which to build consistent production.
This usage is likely to stay the same moving forward. However, what will change is who is throwing him the ball. After Tom Brady announced his retirement, there were significant questions about who would be under center for the Buccaneers. They eventually landed on Baker Mayfield, while it may not be the most exciting name after a troublesome last couple of seasons. Mayfield is a competent NFL quarterback who can run a functional NFL offense and deliver the ball consistently to his playmakers.
For this reason, I am not expecting too large of a drop-off in production for Godwin moving forward. If Mayfield can tap into the player he showed earlier in his career, it could be a massive boost for Godwin and this offense.
Injuries and Contract
One of the biggest knocks on Godwin has been the track record of injuries. Because of his physical playing style and his willingness to contribute in the run game, he has consistently missed time. Throughout his career, he has missed time for hamstring strains, a broken Finger, a concussion, and an ACL tear. Despite this volume of injuries, he has consistently gritted it out and played through some knocks, including missing only one game after breaking his finger.
These injuries are not as much of a concern as others. Yes, it would be great if he consistently played 17 games per season, but none of them are the type of injury that crops up repeatedly. The ACL tear happened in week 15 of 2021; Godwin was expected to be significantly hampered this last season because it is typically an 18-month injury to get back to full speed. However, he was a reliable fantasy option the second he returned to the field and will likely see a bump in physical condition heading into the 2023 season.
Contractually, he is in a fascinating position. Because the Buccaneers have mortgaged the future to build a contender around Brady, Godwin's contract has been pushed down the road. He only has a cap hit of $8.6m this year. However, that jumps significantly to $27.5m next season (26.3m of which is guaranteed). His contract is screaming for restructuring at some point in the next 12 months to reduce that 2024 cap number and give him some security long-term.
ADP and Trade Value
He is currently the WR21 in March ADP, and the Trade Analyzer has him worth around an early-mid-2023 first-rounder. Recent trades are below. Because there are a lot of player-for-player type trades with multiple pieces, it doesn't give him a direct reflection on his price.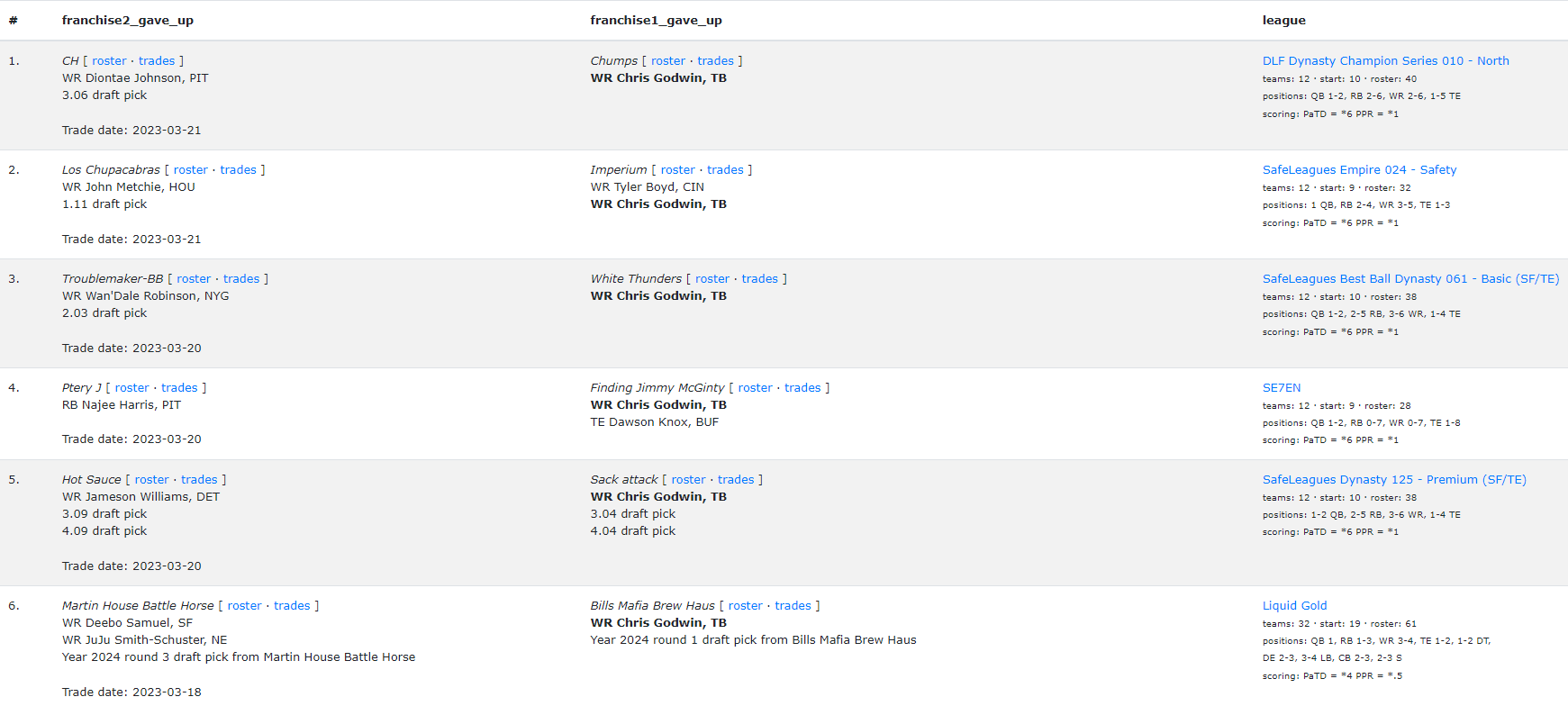 Conclusion
The concerns around Godwin are simple and obvious. Injuries plus a new quarterback is not exactly a dream scenario. Add his advancing age, you can understand people being nervous. However, As I mentioned, Godwin plays a unique role and has such a solid production base because of his usage. He has at least two or three, if not four, years of elite production remaining and is a player who, based on his play style, should age well beyond 30.
Godwin is a player any team in any scenario should be targeting. If you're rebuilding, he is an exciting player to target as he is undervalued currently and will increase in value during the season, which could return you a profit. If you're contending, he is a back-end WR2 in price who could produce top 12 numbers. This is before I have mentioned the possibility of Mike Evans being moved on or traded or even Godwin himself being traded into an improved landing spot.
Latest posts by Richard Cooling
(see all)