2019 DLF In-Season Schedule
The kickoff of Week One of the NFL season is now just one day away as NFC North rivals Chicago and Green Bay will face off to begin the 2019 campaign. With that also comes the beginning of a shift in the focus of our team here at Dynasty League Football.
While our eye is always on dynasty and the long-term outlook of our teams and yours', the beginning of each regular season forces dynasty players to play the game one week at a time.
With that said, here is a quick preview of what you can expect from our team in terms of written content.
Sunday
Sunday Six Pack
We've chosen an important pivot for our weekly preview article, released early each Sunday morning. Last season's Sunday Morning Huddle will now be known as the Sunday Six Pack, including a collection of six topics we'll be watching closely from a dynasty perspective. This article will be handled by a different team member each week, beginning with Josh Brickner in Week One.
Monday
Dynasty Waiver Wire
Are you looking for the next Phillip Lindsay or Damien Williams, a pair of running backs who spent parts of last season on the waiver wire and eventually helped dynasty teams win titles? You can't win a championship on draft day alone. It is necessary to monitor the waiver wire in your league and Levi Chappell will help you do that each week with the Dynasty Waiver Wire.
Dynasty IDP Waiver Wire
Everything I just mentioned about the importance of the waiver wire… yeah, that's even more true in IDP leagues with the unique scoring systems and starting requirements. Each Tuesday, Ryan Miller will share some defensive waiver wire targets for your dynasty team.
Devy Roundup
Kyle Holden will wrap up each weekend of college football action in his Devy Roundup. Each article will include the top performers from the previous weekend, along with poor performers and a rankings update. If you missed any of Saturday's action, this is an excellent way to catch up and always stay prepared for next year's rookie draft.
Tuesday
Dynasty Aftermath
Ken Kelly is back for another year in one of the longest running series at DLF, the Dynasty Aftermath. Check in each week to find the unbeatable lineup, the MVP and LVP and, my personal favorite, Ken's Gut Checks. I'd be worried if I missed a week.
Weekly Lineup Advice
Find another site that offers this! Each week, Jeff Haverlack offers personalized lineup advice to dozens, sometimes even hundreds of DLF subscribers. Have a tough decision, ask Jeff, but get your question in early!
Twitter Observations
When people ask me how I became a fantasy writer, the answer boils down to one thing… Twitter. Joining Twitter and making some great connections and friendships has been a game-changer for me. That won't be the path for everyone, but what Twitter offers for every dynasty player is a unique blend of advice from some of the top fantasy players and analysts, along with unparalleled access to NFL writers and reporters. If you're not reaping the benefits of Twitter, I suggest you sign up for an account today. Our Michael Moore will pick out some of the juiciest pieces of information found on Twitter and share them with you.
Wednesday
Dynasty Injury Report
Unfortunately, injuries are a key part of our game. Already this season, dynasty players have been impacted by injuries to Bengals wide receiver AJ Green and others. Austin DeWitt will cover the latest injury news and how dynasty players should be reacting on both a short and long-term basis.
IDP Snap Counts
As I mentioned earlier, IDP is a different animal in this fantasy football world. Player usage and opportunity is important across all positions but even more so for defenders. IDP guru Tom Kislingbury will highlight the key snap counts and explain how IDPers should be using that data.
Fantasy Stat Pack
My favorite article to write each week is the one that is most useful for me as a dynasty player. In the Fantasy Stat Pack, I'll recap the previous week and the season-to-date by listing the top performers. Most importantly, I'll use the season trends to find some enticing matchups for the upcoming week.
Thursday
Rookie Report Card
One of our most popular series comes as Dan Meylor passes out grades and digs in deep with a pair of rookies each week. This is an excellent look from both a film and analytic point of view at the top players in the class of 2019.
Target Share and the Value Beneath
Perhaps no dynasty analyst can do more with data than Peter Howard. In this series, started last year, he examines recent trends in target data, including risers and fallers and rookies of note, along with his thoughts on the key players. This series alone is worth a subscription.
Weekly Rankings
At DLF, we pride ourselves on rankings, including our dynasty top 200, positional, rookie, devy, super-flex and IDP. This year, we offer you a new set of rankings, weekly positional rankings to be used for your lineup decisions. It only makes sense that Michael Zingone, who was already creating yearly projections for his own benefit, would tackle this challenging topic for us.
Friday
Devy Stock Market
With the weekend approaching, we turn our attention to the college game. First, Nathan Powell will focus on the ever-changing value of college players for those dynasty die-hards playing in developmental leagues in his Devy Stock Market.
Cornerstone Report
In one of our new series for this season, Frank Gruber turns the idea behind our Cornerstone Rankings into a weekly column. He'll spotlight one or two players from both the current rookie class and the potential class of 2020, tracking their progress and current value.
Saturday
Draft Kings Bargains
We are well aware that dynasty is not the only show in town, even though it is our favorite. Each week, Bruce Matson will give you some of his favorite daily fantasy values for Draft Kings.
Developing Assets
In our longest-running Dynasty Scouts series, Ray Garvin will be previewing the top college games of the day including players to watch to prepare for dynasty rookie drafts. Wake up, ready this and turn on College Gameday!
Along with all of this weekly scheduled content, we'll also continue to bring you timely and actionable stand-alone articles, as well as covering any breaking news throughout the season. Enjoy and go win some dynasty titles!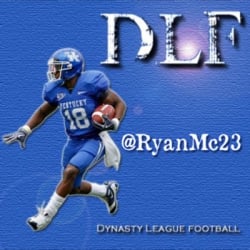 Latest posts by Ryan McDowell
(see all)