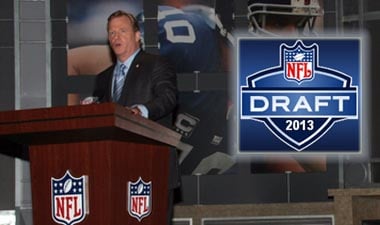 If you've followed me for any length of time, you know we're entering my favorite time of year.  Sure, I love new dynasty drafts, seasonal competition and the timely free agent addition, but nothing comes close to the excitement and intrigue present in the rookie combine and draft, along with the analysis and rankings that come with them.  I watch many of the rookies as High School Seniors and follow their careers with great interest as their respective values rise and fall until such time that they enter the draft.
Each draft has its own unique characteristics, strengths and weaknesses and each draft, regardless of how each expert breaks it down, will have its own surprises and out-of-nowhere performers that will be late round fantasy selections – or undrafted altogether.  It's a time to do your research, follow those who have a history of solid draft analysis and not be outworked by your fellow coaches.
It's very early for any preliminary rankings, but I'm certainly not unwilling to give you mine as it sits right now.  I'll give you my top five at each of the three main positions followed by this year's noteworthy tight ends and end it with my top twenty rookies in overall ranking.
Editor's Note: Over the following weeks and months, you'll see several sets of rankings and analysis from a variety of our writers. We won't all agree (especially early on), but that's what makes this time of year great.  We encourage you to read as much as we can deliver and use us as a great resource for your upcoming rookie drafts. In addition, you'll find the overall rookie rankings in our rankings section soon as well.
Let's get to the analysis.
10,000 Foot View
Terrible!
There, I said it.  And I won't take it back.  I've been doing draft research for quite some time now, and even longer if I add in the years before I was a serious fantasy player.  Like most who have followed the draft closely, it's usually easy to see the strength and weaknesses, at least on the surface, very quickly.  It doesn't take much in the way of rocket science to see the cream at the top.  To me, the most fun is always had in the third round or beyond of fantasy drafts.  But any way I slice it, this draft is terrible from a fantasy perspective.  Consider, too, the value of rookies falls dramatically after the NFL Draft in almost every case.  I hope you didn't sell out for 2013 draft picks.
That's not to say that there aren't going to be true gems to be had in the first round … or beyond.  The real issue when assessing a draft for fantasy purposes is how to slot the rookies based on talent, especially those at the top of the draft.  In a draft like we had in 2012, you could ask for little more. We saw as solid a top four as we have seen in a long, long time.  When looking at 2013, it's a very bad year to be a fantasy team in need with that coveted first pick, or a pick in the top three for that matter – it's simply not 2012.
Mark my words here, 2013 is going to be a total crap shoot.  But this type of draft increases the value of picks in the second half of your first round.  With so many evenly ranked players, there is little value differential between the first half and the second half of the first round.  There's a tremendous opportunity, relatively speaking from previous years, for the top teams in your league to end up with the best fantasy point producer from one of the last picks in the first round.
Getting back to my earlier statement about gems who will certainly provide a level of excitement at the pro level, first and foremost the numbers have told us that the surest bets are quarterbacks drafted extremely early, as well as wide receivers drafted within the first five picks.  On rare occasions, running backs grace the top five picks as well and usually produce well.  In 2013, there is zero chance of any running back or wide receiver being highly drafted.  In fact, I'll go as far as to say that we won't see a one drafted in the top 15 picks.  For the quarterback position, things are far more interesting.
Make no mistake, there is no Andrew Luck or Robert Griffin III in the 2013 draft class.  In fact, I don't think there's even a Russell Wilson in this year's rookie crop.  I've seen more than one comparison of West Virginia's Geno Smith to Robert Griffin and the comparison is flat-out ridiculous.  Looking at NFL team situations, there's a lot of need at the quarterback position, yet arguably no quarterback in this class is deserving of a top 20 selection.  What's a team like Kansas City to do?
With no sure-fire first pick quarterbacks, in addition to a ho-hum grouping of running backs rising to the top, fantasy drafters should be anything but excited.  This year's intrigue exists with the wide receivers.  While no receivers in the mold of A.J. Green, Calvin Johnson or Larry Fitzgerald are readily evident, this year does possess a predictably good size-to-speed quotient.  Which receivers will be the gems from this group is anything but obvious, but the first round looks to hold at least three notable players.
The tight end position is a difficult position to ever get excited about.  Every once in a great while we'll get an athlete such as Kellen Winslow Jr. or Vernon Davis, but not often.  2013 has likely one first round selection at the position.  With tight end playing a more prominent role in the new-look NFL, we could see a second player slip into the first, but I'll be surprised.  And I'm not seeing a later round Jimmy Graham type of tight end in 2013.
Let's move on to my positional rankings.
Quarterbacks
There's talent here in 2013, but not enough for me to get overly excited about.  The big question remains "What will Kansas City do with their first pick?" With Andy Reid at the helm, I fully expect the selection of an offensive left tackle or quarterback.  Quarterback is, by far, the biggest need for the Chiefs, but without that guaranteed face-of-the-franchise slinger headlining the draft, Reid has his work cut out for him in deciding whose name to call.  Put me down in the camp that when you have a great need, you take the best fit for that need, even if you have to overdraft to fill it.  KC's quarterback need is simply too great for them to pass on a quarterback unless they can fill it via free agency.  Free agent left tackle Brandon Albert could be resigned, he's young and capable.  I think the choice must be quarterback, but we'll see.
1.  Geno Smith – West Virginia
2.  Matt Barkley – USC
3.  Mike Glennon – North Carolina St.
4.  Tyler Wilson – Arkansas
5.  Tyler Bray – Tennessee
Running Backs
The 2013 class of backs won't turn heads in any one category.  In fact, the group is largely disappointing and frought with risk for fantasy coaches needing a running back at the top of the draft.  I firmly believe early picks in 2013 should be traded for known production, but I also understand the allure of having a top pick.  There's potential with this group, but I could make a strong argument none of these backs should be taken in the top four picks in PPR formats.  When Gamecock Marcus Lattimore fell to injury for the second time in two years, both of the season-ending knee variety, there's no way I can keep him highly rated and over some of the other backs in this class.  He's a high risk, high reward player and he's got the work ethic to return strong, but I would not be selecting him with a pick in the top half of the first round.  I do like the size of this year's backs compared to previous years.  This group is going to be overdrafted in fantasy by teams forcing the pick.  It's going to be a great year to be sitting in the second half of round one.
1.  Eddie Lacy- Alabama
2.  Montee Ball – Wisconsin
3.  Giovani Bernard – North Carolina
4.  Marcus Lattimore – South Carolina
5.  Joseph Randle – Oklahoma State
Wide Receivers
The cream of this year's crop exists in the wide receivers.  But while the talent level is above average across the top four or five, there doesn't exist the elite receiver that top picks demand.  There's not a name in the grouping that is a sure thing and fantasy teams needing a quarterback will have a difficult decision to make at the top of the draft.  There's a strong argument to make this year that any player taken in the first three picks is a reach considering talent level.  At least at receiver, there's depth to carry the selections deep into the first round of fantasy drafts.  Enough so to create some real intrigue with risk-reward selections and trades.
1.  Keenan Allen – California
2.  Cordarrelle Patterson – Tennessee
3.  DeAndre Hopkins – Clemson
4.  Robert Woods – USC
5.  Terrance Williams – Baylor
Tight Ends
Notre Dame's Tyler Eifert continues to rise on draft boards and he'll have a following at the combine.  I'm not overly optimistic about either of these tight end prospects and I see both as later second round selections in fantasy, though they likely won't be taken there.    
1.  Tyler Eifert – Notre Dame
2.  Zach Ertz – Stanford
Top 20
A top 20 rookie ranking in February is a fool's folly.  It's well known the value of rookies falls dramatically immediately following the draft.  More accurately, the values fall during the draft as teams with depth or lesser needs step up to take higher profile rookies.  It happens every year and this year, with the rookie class being much thinner at the top, the fall could be dramatic and precipitous.  With the NFL Combine still to come, expect these rankings to make major shifts.  Additionally, I'll be watching much more tape with far more scrutiny – stay tuned on that front.
I'm ranking with an emphasis on PPR formats.  Adjust receivers down and running backs up marginally for non-PPR formats.
1.    Eddie Lacy, RB Alabama
2.    Geno Smith, QB West Virginia
3.    Keenan Allen, WR California
4.    Cordarrelle Patterson, WR Tennessee
5.   Montee Ball, RB Wisconsin
6.   Giovanni Bernard, RB North Carolina
7.   Marcus Lattimore, RB South Carolina
8.    DeAndre Hopkins, WR Clemson
9.    Robert Woods, WR USC
10.  Matt Barkley, QB USC
11.  Mike Glennon, QB North Carolina St.
12.  Terrance Williams, WR Baylor
13.  Joseph Randle, RB Oklahoma State
14.  Christine Michael, RB Texas A&M
15.  Aaron Dobson, WR Marshall
16.  Stepfan Taylor, RB Stanford
17.  Tyler Eifert, TE Notre Dame
18.  Zach Ertz, TE Stanford
19.  Tyler Wilson, QB Arkansas
20.  Tyler Bray, QB Tennessee
I'll say it again.  It's extremely early to be hanging draft slots on rookies that have yet to play a down in the NFL, let alone being drafted into it.  Use this listing as a first look at the names on my top 20 draft board.
At least it's that time of the year again!

Latest posts by Jeff Haverlack
(see all)