Here is the fifth part of an eight-part series highlighting three dynasty players in each division on the value hot seat leading up to the NFL Draft, complete with actionable pre-NFL Draft dynasty advice
(Note: for purposes of this article series, assume a 12-team superflex, full PPR scoring format).
NFC North
Exactly two years ago, very few had Tarik Cohen on their radar.  The former fourth round pick in the 2017 Draft brought very little fantasy expectation into his rookie season and until breaking on the scene in the pre-season, was unlikely to be found anywhere but the waiver wire.  He flashed incredible explosiveness and weekly upside in just 139 touches as a rookie.  He followed that up with an RB13 season last year and did so playing only 48.8% of the Bears' offensive snaps.  Questions about Cohen's size have owners wondering if he can handle more opportunity.  Dynasty owners seem to have bought in as Cohen checks in as the RB20 in April's ADP.  The Bears traded Jordan Howard to the Eagles and signed veteran Mike Davis in free agency, but the NFL Draft has Cohen (and Davis) owners treading very lightly. If Chicago adds an early-down running back as they have been linked to, Cohen and Davis would seemingly battle for touches and it likely solidifies Cohen as a limited usage asset in the eyes of Matt Nagy. Cohen's size and profile doesn't leave much room for his usage profile to expand that much more than he showed a season ago and doing so would be a historical outlier.
Chill's Take? I've been on the sell train with Cohen all off-season. Nothing about his production is sustainable and at his current price, post-Howard trade, there isn't a more obvious sell in dynasty. I'd sell him for a 2020 first-round pick plus and not look back. Even if Cohen's snap share and touches remain the same, the Bears added Davis, Cordarrelle Patterson and already have a market share that is spread very thin. Another big window for Cohen may open if the Bears don't add much during the draft and if you haven't already sold, be prepared to do so in the upcoming weeks.
Jones finished as a WR1 in 2017 after posting a career-high 1,101 yards and out-pacing receivers like Brandin Cooks, Mike Evans and Doug Baldwin.  The Lions had been historically one of the more pass-heavy teams and after logging over a thousand snaps, Jones seemed like a very safe investment.  Things unraveled in 2018 as the Lions got a very poor season from Matthew Stafford, traded away Golden Tate and featured Kenny Golladay as their primary receiver.  Dynasty owners are now wondering if they can trust Jones moving forward and his current WR45 ADP reflects that lack of faith.  To date, only Danny Amendola has been added to the depth chart and while he may eat some of the available targets, Jones still produced previously with Golden Tate in the slot.  The real threat to Jones' opportunity comes in the draft and if the Lions address the receiver and the tight end position early.  Addressing wide receiver early could be the writing on the wall for Jones' future in Detroit as his contract becomes very cut-friendly after 2019.  The 2019 tight end class also offers a few options that could come right in and take more opportunity away in the passing game. Finally, new OC Darrell Bevell's historical usage in the passing game is not ideal for any of the receiving weapons and any additions to the offense would only lessen the slice of an even smaller pie available for Jones.
Chill's Take? I'm buying Marvin Jones and contrary to the context above, he doesn't produce in fantasy because of volume.  He's produced a WR1 and three more top 30 seasons over those four years, did so with an average of 97 targets per season.  He should be able to carve that out in Detroit for at least one more season and at his current WR45 price, he's a screaming value right now.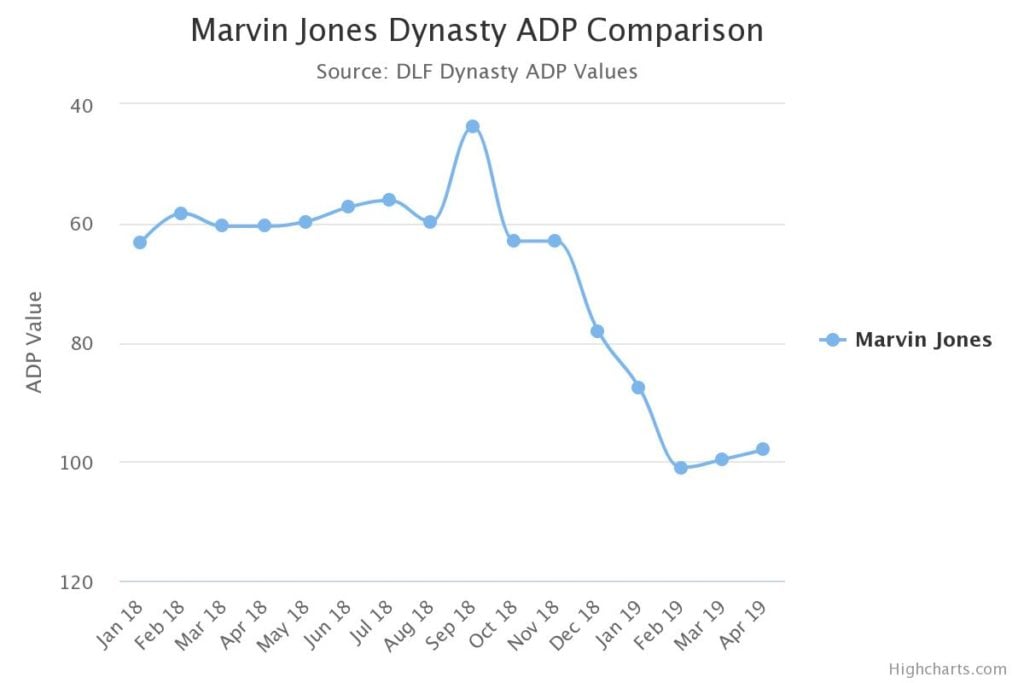 The fall from grace has been a swift one for Rudolph who currently stands at TE18 off the board in the April ADP rankings.  Only a season ago, he checked in at TE8 and the dynasty community hoped he would be able to return to the 132-target, 13.3 PPR points per game that he logged in 2016.  The bounce back never happened.  The production for 2018 was the exact same as 2017 and with the influx of new tight end talent from the last rookie class, Rudolph's ADP has plummeted.  The Vikings threw the ball at the sixth highest clip in the league in 2018 but the emergence of Adam Thielen alongside Stefon Diggs means the targets through the air are more difficult to come by.  The Vikings have been linked to some of the tight ends in the 2019 class and, from all accounts, like what they got from last year's fifth round pick Tyler Conklin.  Rudolph is an unrestricted free agent after the 2019 season and his current contract would allow Minnesota to cut him without any dead cap for the upcoming season.  Although it's unlikely Rudolph isn't the Vikings starting tight end in week 1, the writing on his future starting job and dynasty value might be on the wall.
Chill's Take? At this point, the value on Rudolph is extremely depressed and when a player I like is in this situation, I'm buying.  Rudolph is worth paying a late second or early third round pick.  There is a real chance the Vikings address the position in the draft and Tyler Conklin is a sneaky back-end-of-roster add in leagues.  Plan to buy or hold Rudolph now and sell him during the season if there is a needy team.  His window as a fantasy-relevant starter is likely shutting.
Latest posts by Scott Connor (see all)