The 2018 Rookie Draft Cheat Sheet is now available for download! Every year DLF provides this printer-friendly version of our dynasty fantasy football rookie rankings for use in your dynasty league rookie drafts. We know many of your rookie drafts are starting soon or already under way, and this 2018 Rookie Draft Cheat Sheet can be a valuable tool in helping you win your draft.
[am4show have='g1;'][/am4show]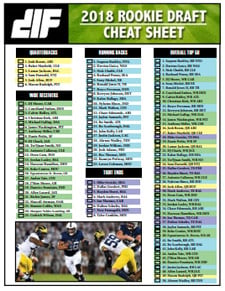 [am4show have='g1;'][/am4show]
Keep in mind the following:
1.) The rankings used are for common scoring systems and lineup requirements.
2.) The rankings are set for PPR leagues so please adjust accordingly for non-PPR leagues. The list won't be dramatically different.
3.) These top 50 rankings do no include any IDP players.  We'll handle the IDP side later.
The Cheat sheet contains deep positional rankings, including some undrafted free agents, as well as an overall top 50, all on one convenient color-coded draft ready sheet. We'll update the cheat sheet after minicamps have concluded and more free agents have signed. 
In the meantime, you can always check our 2018 dynasty rookie rankings rankings for the most updated dynasty rookie ranking information.
Also be sure to check out the DLF 2018 Rookie Draft Guide for the most current, up to date rookie draft resource in the industry!
Just click on the link below and enjoy!
[am4show have='g1;' guest_error='sub_message' user_error='sub_message' ]
Download the 2018 Rookie Draft Cheat Sheet!
[/am4show]

Ken is a corporate trainer by day an a tireless editor of dynasty content by night. His passion for the World Champion Seattle Seahawks is second only to his love of fantasy football and the dynasty format.
Ken is on Twitter at
DLF_KenK

Latest posts by Ken Kelly (see all)