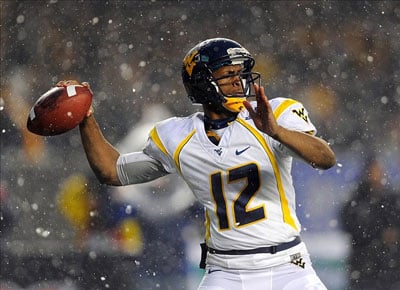 It's that time of year when I turn my focus to the college bowl games to gain insight. I will do my best to find some draft eligible players who could improve your dynasty teams. This article intends to start conversations and encourage continued thought throughout the entire draft process. These are my observations based on the bowl games, unless otherwise indicated. I am listing these players alphabetically.
Tavon Austin, WR WVU
Austin is an impressive looking athlete. He caught only two passes, but also ran the ball twelve times. Some runs were misdirection sweeps from the slot, but surprisingly the majority of his carries were from the half back position. He is so dangerous with the ball in open spaces. Austin possesses amazing vision that he uses to set up his blocks and takes the best angles to avoid contact. His best run of the night was a delayed handoff in which he was behind the line ten yards and he fought through six defenders to get back to the original line of scrimmage. He showed toughness in traffic, used a few sweet spin moves, and laid wood blocking for his quarterback and down the field for his fellow wide receiver Bailey. Austin should be a top ten rookie pick regardless of format.
Stedman Bailey, WR WVU
Bailey was the playmaker for the West Virginia offense as he scored 12 of their 14 points. Not only is he a deep threat, but he can take a short crossing pattern, break a tackle and take it to the house. This wide receiver catches the ball at its highest point, shows great lateral movement getting in and out of breaks, and busts out a hurdler's jump if he sees the chance to score. He had a 59 yard pitch and catch that reminded me of Demaryius Thomas, which is quite a feat since Bailey is much smaller at 5′ 10″ and 190 lbs. His passion to make a play was clear when Bailey out-muscled his coverage on his second touchdown of the game. He could be a plug and play dynasty WR3 if he lands in a situation like Houston or Miami.
Le'Veon Bell, RB MSU
Bell is not the most athletic running back who may come out for the draft, but he could be the toughest. He lined up ready to smash into the line and knock around the TCU front seven. The young running back reads his blockers well, always falls forward, and does a great good at taking what the defense gives him. If he can grind out three yards on a play, he happily takes it. I liked his devastating stiff-arm and subtle spin moves to eke out extra real estate. Bell has good downfield vision, shows good lateral moves (including a jump cut), and runs inside to out. Hopefully, he can learn how to pick up his feet as he got tripped by too many ankle grabs. He got stronger as the game went on and finally saw his first pass target with less than three minutes to play. Bell could become a workhorse runner in the right situation.
William Gholston, DE MSU
With a name like Gholston, you have to be careful. There were some things to like about him as the defensive end was an anchor on running plays. He did not give up ground; however, Gholston was slow to react to runs on his side. He used his brute strength with little technique to get past offensive linemen. I was not impressed with his motor as he would show monster effort play and then seem to care less the next. He lined up in all four defensive line spots and even rushed from an inside linebacker spot on one play. He did have a crucial batted pass and sacked the quarterback in the fourth quarter after applying good pressure throughout the game. I would peg him as a rotational pass rusher to begin his NFL career.
Marquise Goodwin, WR TEX
This former Olympian long jumper was something special to see against Oregon State. Goodwin's night began with a disaster as he sprinted past his cornerback in the end zone, but he lost the pigskin in the lights. The next time he touched the ball was on a reverse that he darted 64 yards for a touchdown. For the first ten yards, all the players were in camera shot. By the end of his run, he was all by himself like DC Comic's "The Flash." His ability to get to world-class speed in a few steps makes him a dangerous weapon. Goodwin used the sidelines well and made tough contested catches between two defenders. He redeemed his first target mishap with a 36 yard touchdown catch with less than 2:30 in the fourth quarter to take and keep the lead for the Longhorns. Goodwin seems raw, but he has the gifts to become an NFL starter in a year or two.
Alex Okafor, DE TEX
Okafor demanded my attention from the start of Alamo Bowl. This defensive end was lightning quick off the edge and manhandled any blocker that got in his way. With each passing strike he delivered to QB Cody Vaz, you could see the defender get faster and stronger. Okafor punished the entire Beaver offense as he recorded nine tackles, four and a half sacks and a forced fumble. He was not as effective against the run because he was more concerned with the quarterback than maintaining his position on the line of scrimmage. I would rank him as a top seven rookie defensive end.
Geno Smith, QB WVU
Smith had a rough game against Syracuse and with some of his warts on display. His arm strength was greatly affected by the snow and the wind as his passes had almost zero zip to them. The young quarterback did well when his first passing option was open, but struggled when he had to go elsewhere. Of all the quarterbacks I have seen in this class, Smith is the one that is most reliant on his wide receivers to make plays. Most of his passes were short to intermediate throws. He was hurt by the way the coaching staff used Austin as more of a running back instead of as a receiver. Smith scored two safeties for Syracuse, one was a strip sack in the end zone and the other was an intentional grounding penalty. He lacks a sense of pocket pressure and seems very emotional, which is very troubling for a potential leader of men. Despite his bowl game, Smith is still a top three quarterback in this weak draft class.
Markus Wheaton, WR ORS
Wheaton was the heart and soul of the Beaver offense. He mostly lined up in the slot, but also carried the ball on a few reverses to keep the defense honest. The wide receiver was very quick/agile and he took good angles to squeeze as much yardage out of his touches. He plucked the ball at its highest point or lowest point (he looked like a shortstop scooping up a ball two inches off the ground). I liked his toughness as he was a willing blocker, took a few big shots and kept competing. Wheaton seemed to get frustrated with his quarterback's propensity to throw some passes behind him. He wasn't without his warts, either, as he missed a pass that should have went for a touchdown early in the game. Much like Goodwin, Wheaton also lost a long pass target in the lights. I'm not sure how fantasy relevant he will become, but the talent is there.