As part of the premium content package, we're not only releasing exclusive team capsules (complete with commentary), but also focusing on one sleeper from all 32 teams in the NFL.
These sleepers all have varying levels of "sleeperness," but all merit a little more talking about than we had room for in the dynasty capsules for each team. Some of these players are deep dynasty sleepers who could merit a spot on your bench in a deep league, while others are players who may contribute a little faster than the deep prospects, but deserve more attention than they may be getting. By definition, a sleeper could mean something a little different to everyone, but we're simply doing the best job we can to unearth one player from each team who fits the category in some way, shape or form.
We'll just never insult you with a comprehensive list of "sleepers" that includes such names as Demaryius Thomas, Ryan Mathews or even someone like Stevan Ridley. You're all too good for that.
While many of these players will undoubtedly fizzle, we figure there's value in looking more closely at these deeper prospects and players. We invite you to keep an open mind and even re-assess your value on those who may be rostered in your league. You may even consider adding a few of these deeper prospects we focus on this Summer who are free agents in your league – after all, some are destined to pan out, too.
Josh Cooper, WR CLE
Age: 23 (1/8/89)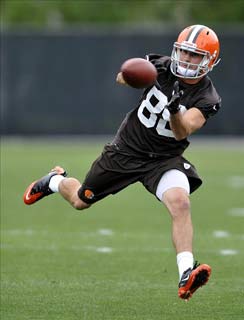 There are sleepers, there are deep sleepers, then there is Josh Cooper. Admittedly, this is one of the most violent stabs we'll make all off-season by putting Cooper on this list.
There are two reasons behind this idea.
First, the Browns depth chart doesn't really have a ton to get excited about outside of the obvious choices of Trent Richardson and Greg Little. The rest of the roster is filled with players who have disappointed owners or simply don't have a really high amount of upside. Many of those players have been chosen as sleepers before and have disappointed throughout the years, so it's about time to go in a different direction and a wild one at that!
The second (and more important) reason is that Cooper is really starting to make his mark in Browns OTAs. As our Thomas Casale recently noted in his Hidden Treasures piece, the fact that Cooper wasn't drafted was a surprise, but the fact he gets to play with his former quarterback in Brandon Weeden can really help him making the team – so will continuing to perform as well as he has in practices.
Cooper was certainly overshadowed by Justin Blackmon during his time at Oklahoma State, but he was still productive, nonetheless. Over the past two seasons, he caught 139 passes and averaged 726 yards and four touchdowns per season. While those numbers aren't jaw dropping, it does prove he has some ability. The 139 catches are specifically noteworthy since he projects to be a slot receiver for Cleveland. He also has some special teams ability, as indicated by his 54 punt returns over the past two seasons.
He's not a big player at just 5'10" and 185 pounds and his 4.65 forty isn't going to scare Carl Lewis out of retirement for a race, but he's said to be fearless. In addition, the Browns depth chart is littered with players who aren't exactly household names. Mohamed Massaquoi is a constant disappointment and the combination of Jordan Norwood, Travis Benjamin and Carlton Mitchell, though young in their own right, isn't exactly making Ray Lewis and Ed Reed run for the hills as of yet. Greg Little needs some help and Cooper could provide just that and has a legitimate chance to compete for a roster spot when you consider how thin this receiving corps is.
If there's one word that we've found that describes Cooper, it's "reliable."  The challenge he's going to have is attempting to separate from the very talented secondaries he's going to face. However, he's said to be a polished route runner with the ability to make tough catches. He can also create plays for himself by improvising if the play breaks down.The Browns could use a little bit of that in a big way and Weeden could find chemistry with Cooper very early on based on their experience together.
While Cooper is most likely headed to the practice squad this season, he's worth monitoring when training camps officially open up. If he flashes early like he did in OTAs, there's a legitimate chance he could climb the depth chart quickly. As with many of our sleepers, put him down on your list and monitor their progress. Having these names down and getting to know these players will be extremely valuable when you make your roster decisions later on this Summer.
Stay tuned for the entire team capsule of the Browns.

Latest posts by Ken Kelly
(see all)