The DLF Dynasty Trade Analyzer is more than just another dynasty trade calculator. It's a complete tool intended to help owners make well informed trade decisions, with as much relevant context as possible. The goal of the dynasty trade analyzer is less about telling an owner "Yes make this trade" or "Don't make this trade, it's a bad deal", but more about providing the owner with all of the info needed to make a intelligent trade decision.
Go to the
Dynasty Trade Analyzer
!
This is the first iteration of this tool – there is much more to come.  Below you can see some sample results from the trade analyzer.  More data can be seen on the actual page.
The Trade Analyzer will remain free through July 31st, as we work through any initial bugs and continue to expand the features, before going behind the paywall on August 1st – the date of the Hall of Fame Game.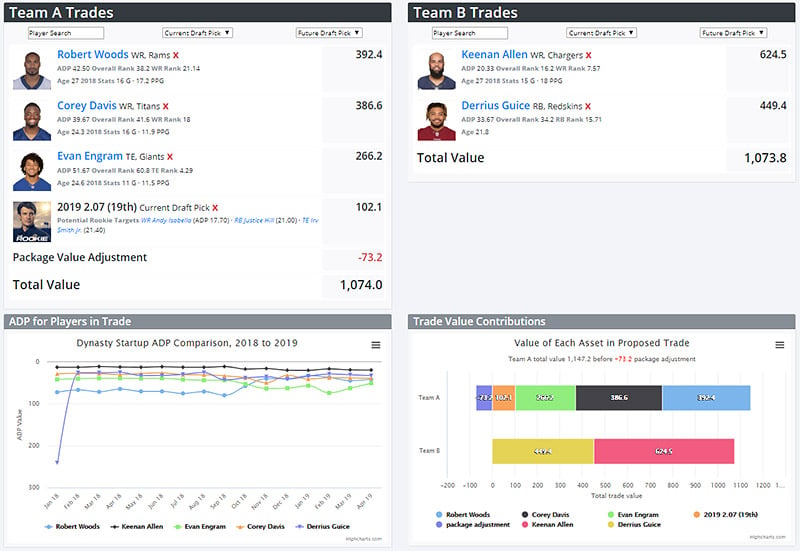 Here are a few notes to consider when using the dynasty trade analyzer;
Our dynasty trade analyzer FAQ's page will answer most of your questions regarding the trade tool.

Player values are drawn from Rankings, ADP, as well as recent trade data to help shape player value.

You can select either 1QB or 2QB/Superflex league trade scenarios.

Currently IDP players, Kickers and Devy Players are not available as trade options. We are working on it, though!

The rookie pick value adjustment slider is intended to give an owner the ability to nudge rookie draft pick values a bit in one direction or another depending on specific league or team considerations, like a league or owner which over-values or under-values draft picks; or if an owner who is in win now or rebuild mode, etc.

The Package Value Adjustment is designed to mitigate the effects of 'spamming' one side of a trade with a bunch of players or draft picks (assets) in order to make up value of a more valuable player on the other side. Generally speaking, the greater the asset differential, the larger the modifier.

The Related Dynasty Trades keys on trades involving the most valuable asset from either side of the trade. Sometimes it will not find a matching trade, but we do include a link out to the trade finder to search for more trades.

We pull up to three of the most recent news items and dlf articles for each player in the trade so owners can make sure they know the latest news before making a decision.



No dynasty trade calculator is going to be perfect. The dynasty trade analyzer is no exception. You are certain to find trade results you may not agree with, as well as player or pick values you may not agree with. But hopefully those are few and far between, and the disagreement not significant.

Player values are directly tied to market value and as such can change daily. In addition, we provide additional contextual information to help you understand all facets of the trade – current ADP and ranking values, historical ADP trends, recent similar trades, and recent news items from all over the industry for all involved players. All of this information is provided to help you make quick, well informed decisions.