The NFL Draft is behind us, rookie drafts are taking place, and as dynasty managers we are looking ahead to the upcoming season. In our Dynasty Rookie Post-Draft Update series, we break down all the incoming fantasy-relevant rookies, looking at their profiles and where they fit. The basis of the rookie profile involves the usage of STORM analysis, focusing on five key components: Situation, Talent, Opportunity, Risk, and Market.
SITUATION
Name: Anthony Richardson
Position: Quarterback
Pro Team: Indianapolis Colts
College Team: Florida
Draft Status: Round one, fourth overall
Landing as a top four draft pick, on a team that recently appointed new head coach Shane Steichen and as the first pick of the new regime is the perfect situation for Anthony Richardson in dynasty. Steichen has previously worked with elite QBs Justin Herbert and Jalen Hurts – aiding their overall development and tailoring the offensive scheme to maximize their abilities. The Colts' offense is built around cornerstone RB Jonathan Taylor – ideal for Richardson in order to relieve the pressure of pass game expectations early on in his career. Michael Pittman and Alec Pierce provide big-bodied targets on the outside, in addition to a TE room with a plethora of size. The offensive line is solid overall – anchored by all-pro left guard Quentin Nelson, pro bowl center Ryan Kelly and offensive tackle Braden Smith. Both Taylor and Pittman are unrestricted free agents in 2024, but we should expect them both to be re-signed as the foundational pieces of a Colts offense surrounding Richardson. There's plenty to like about Richardson's situation, with room for further growth in the future.
TALENT
Anthony Richardson Combine Results:
Height: 6' 4"
Weight: 244 lbs
Arm: 32 ¾"
Hand: 10 ½"
40-Yard Dash: 4.43 seconds
10-Yard Split: 1.53 seconds
Vertical Jump: 40.5"
Broad Jump: 10' 9"
Richardson is an absolute freak of nature, like a modern-day Frankenstein, displaying an unreal size, speed, and power combo with 96th percentile weight and 98th percentile 40 yard dash. Physically gifted, Richardson is an extremely dangerous dual-threat QB – both on designed runs and whilst scrambling from the pocket. He possesses a bazooka for an arm, demonstrating an ability to make every throw, plus the bonus of being an excellent passer on the run. Richardson has underrated pocket awareness, leading to an elite pressure-to-sack rate (10.1% as per PFF) – the lowest rate of any QB in the 2023 class. He displays flashes of an unbelievable ceiling for dynasty – with further growth through experience, his talent level for dynasty is sky high, he could develop to be a top five dynasty QB.
Earlier on in the draft process, my expectation or process play was to consider Richardson as the market considered rookie Trey Lance – a raw enticing prospect with mega upside and requiring time to make an impact on your dynasty team. The post-draft buzz from Steichen suggests Richardson could start sooner than expected though – which short-term will make him a more appealing asset in dynasty. My actual pro comparison for Richardson is a faster version, less refined Cam Newton, as a prospect. We know Newton was a major fantasy weapon for several years, with Richardson possessing similar, if not greater upside.
OPPORTUNITY
Indianapolis Colts Depth Chart:
The consensus pre-draft was that Richardson would be best sitting behind a veteran QB in the short term. These thoughts were quickly dispelled by Steichen, who post-draft has been suggesting Richardson has a legitimate chance to start day one over Gardner Minshew and mentioned playing time will aid his development as an inexperienced player. No doubt in my eyes that when Richardson is ready he will get the opportunity to start and have a long leash to grow as a QB.
Any player with early round one draft capital and a rookie contract with a fifth-year option has long-term security, provided the real-life performance level is to a good standard. The fact that Richardson is tied to his new head coach Steichen, as the first draft selection of a new era for the Colts will provide him time to develop without the need for immediate results on the football field. The long-term opportunity and appeal are there for Richardson.
Overall, the high-end draft capital and optimal situation provide an elite opportunity for Richardson to maximize his dynasty value, with a strong likelihood he is receiving significant playing time as a rookie.
RISK
Richardson is raw as a passer, inconsistent, and frustrating at times. It's to be expected though – with less than 400 career pass attempts across 13 starts at Florida. There's still plenty of work in the passing game and whilst he is a physical freak as a runner, it's the efficiency as a passer that will need to improve to keep an NFL starting job long-term. The completion percentage is worrying and the college QB rating is below average at 48th percentile via Player Profiler. In terms of the last ten years, the only notable QBs with less than 50th percentile college QB rating are Josh Allen and Daniel Jones – the rest of the list includes players like Josh Rosen, Kenny Pickett, Jordan Love, Jacoby Brissett, and fellow rookie Will Levis – not an ideal group of dynasty QBs.
The good news for Richardson is the archetype and playing style are conducive to fantasy success – making him an appealing target for dynasty managers. The dual-threat ability means as soon as he enters your starting lineup he has a higher floor and ceiling than fellow rookies Bryce Young, and CJ Stroud. Look at the recent examples of Lance and Justin Fields. With Lance, he barely played as a rookie and his dynasty value remained excellent. Fields had a poor rookie season by standards and only saw a small dip in value. Richardson is insulated due to the draft capital and QB archetype.
Realistically, the only major threat to Richardson is a lack of progression as a passer, leading to him losing the starting job for the Colts. Based on the draft capital and upside he would get an opportunity to start elsewhere if he did fail in Indianapolis. From a pure scoring fantasy points perspective I think Richardson is low-risk, it's all about him being good enough in real life to maintain his role in the starting lineup.
MARKET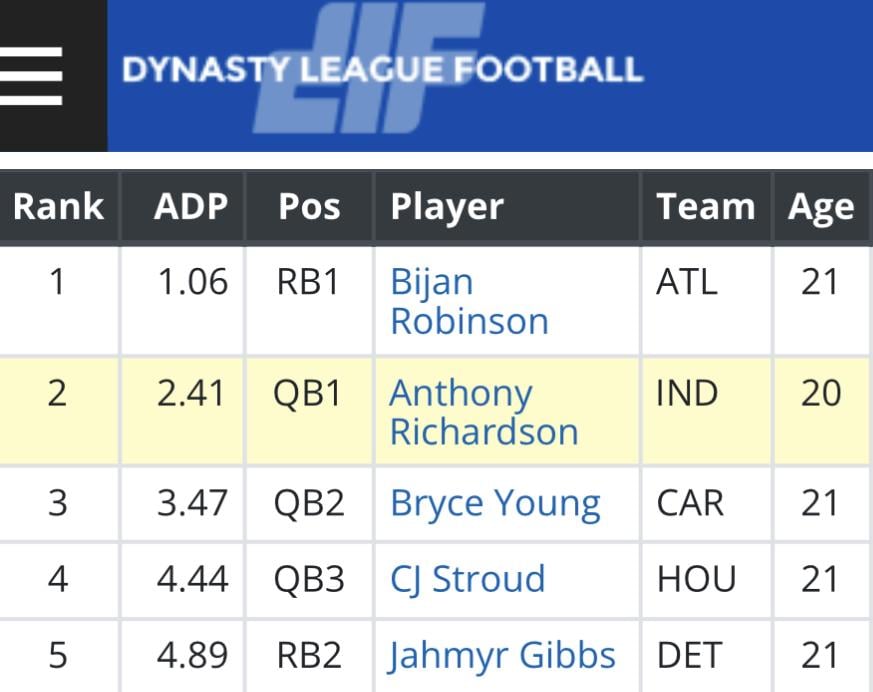 Richardson is locked in as the dynasty rookie QB1, based on the latest data at My Fantasy League (MFL) – the second ranked player in rookie drafts. The market has the three QBs: Richardson, Young, and Stroud in the same tier, with Richardson rising to the top as consensus.
Thinking of the bigger picture in the dynasty landscape, Richardson is valued closely with QBs Tua Tagovailoa, Stroud, and Deshaun Watson. I would be comfortable taking him over the lower ceiling players in Tagovailoa and Stroud, however there is a pause with Watson – a player who has finished as a top five QB in each full season he has played. Richardson is valued similarly with exciting young WRs Chris Olave and Amon-Ra St Brown – I can tell a story where that is an interesting trade for both parties to make straight up. Also, Richardson would be an excellent, upside pivot option from an RB like Breece Hall or Christian McCaffrey – especially for a rebuilding team.
Richardson is already the QB9 at KeepTradeCut – the market rookie QB1, above proven veterans such as Kyler Murray, Watson, and Dak Prescott. Pre-draft he was QB14 overall, plus the QB3 of the rookies – showing the overall market loves the draft capital and landing spot with the Colts.
As a potentially fantasy elite, dual-threat QB with excellent draft capital, Richardson will have no shortage of suitors in superflex dynasty leagues. He is appealing for any team, regardless of team build or current situation within the dynasty cycle (rebuild / contender). With Richardson now the rookie QB1, there will be certain league formats where he is the 1.01 in rookie drafts. Also, there will be dynasty managers who reach and take him over superstar RB Bijan Robinson – where the team isn't ready to hold an elite RB asset through a rebuild.
Overall, Richardson has seen his market value rise and solidify throughout the draft period. He is viewed as the next breakout superstar dynasty QB. Richardson comes with risk from a real-life point of view, but the potential reward is extremely enticing for dynasty managers – an excellent asset to be rostering in dynasty right now.

Latest posts by Kevin White
(see all)