The NFL Draft is inching closer which means the Twittersphere is heating up. Some players are on the move, some players want to be, and others just want to retire. Below are a few tweets that caught our attention this week.
Over the Hill
𝗨𝗣𝗗𝗔𝗧𝗘: #Dolphins WR Tyreek Hill he's retiring from the NFL at age 31 after the 2025 season.

Hill: "I'm gonna finish out this contract with the Dolphins and then I'm gonna call it quits. I want to go into the business side. I want to do so many things in my life, bro." pic.twitter.com/qZYzemqzeP

— Dov Kleiman (@NFL_DovKleiman) April 6, 2023
It's courteous for Tyreek Hill to give the Dolphins (and his dynasty manager) an end date to his career. Surely the Dolphins are disappointed but as dynasty managers know, fighting the uncertainty of how much longer a veteran can contribute is half the battle in dynasty leagues.
If Hill does retire, he'll have produced one of the most statistically prolific careers of his generation. As a Chief, Hill turned in four 1,000-yard seasons in just six years while making the Pro Bowl six times and being named a First-Team All-Pro three times. He then defied popular opinion by producing his best season without the help of quarterback Patrick Mahomes. This last season, he totaled 119 receptions for 1,710 yards and seven touchdowns and finished as a top-three fantasy receiver yet again. His (eventual) retirement will be a huge loss for the NFL and fantasy leagues alike.
Dynasty Impact: Hill's dynasty value doesn't yet reflect this news so, according to the DLF Trade Analyzer, he still shows the worth of an early first-round pick. Some might take it down a notch with this retirement talk but is that correct? If Hill keeps his word, he has three more seasons and will be 31. We're not talking about Tom Brady wanting to play until he's 45 but a receiver, that is still in his prime and will be a year or two from now. Hill is coming off, literally, the best season of his career at 29 years old. It's debatable if he's getting better but he's certainly not declining.
If your dynasty team is ascending and you're targeting a playoff berth this year, I would still pay a high price for Hill. He's one of the few WR1s out there and could even be a league winner. And while there are enticing receiver prospects in this year's draft (and beyond), none of them can produce like Hill immediately and maybe not even in any of those three years. Don't let retirement scare you; start lowballing Hill managers and see if you can get a steal.
Close But No Lamar
Ravens GM Eric DeCosta was asked if taking a QB in the first round was a consideration this year.

"Depends on the board," DeCosta said.

He added that, because the Ravens have QBs ranked among their top 31 players, that it is a possibility.

— Jamison Hensley (@jamisonhensley) April 5, 2023
Hoo boy. The off-season's biggest story doesn't show any signs of going away, especially after the comments above. Lamar Jackson and the Baltimore Ravens have been in a standoff for months now with Jackson holding out for a new contract and the Ravens resisting with every fiber of their being. Jackson believes that a former MVP quarterback in his prime is worth close to a quarter of a billion dollars and either fully or mostly guaranteed (depending on who you ask).
Baltimore is one of the few teams who have gone down this road with a franchise quarterback who is about to hit free agency and rolled the dice. They lost when you consider the success (or lack thereof) after re-signing Super Bowl winner Joe Flacco. It's entirely possible the brain trust, largely the same from that Super Bowl year, doesn't want to go down that road again. Thus the comments about drafting a quarterback in the first round this year.
Dynasty Impact: There's no doubt the most valuable fantasy player on the Lamar Jackson-led Ravens is Lamar Jackson. The offense, in its prior form, wasn't exactly distributive which means no Ravens position player will ever be a league winner. It got worse after Jackson was hurt when it comes to their dynasty value.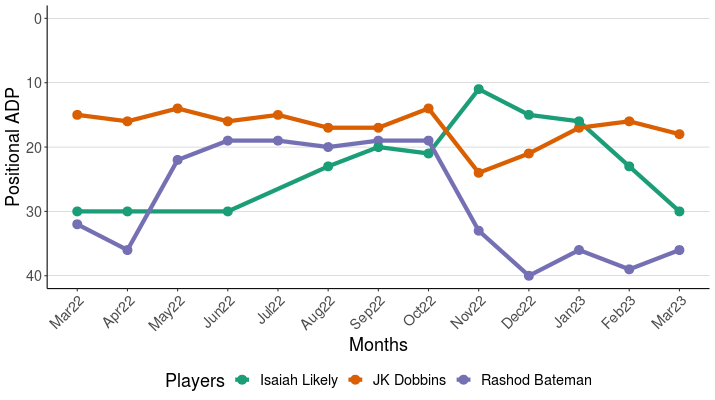 A Ravens team led by a first-round quarterback, or worse, wouldn't fare any better. For Baltimore, and their dynasty prospects, it appears to be Jackson or bust. If you're a current Ravens manager of the players above, you'll have to wait a little longer for some clarity before deciding what to do.
Give Them Moore
New #Browns WR Elijah Moore putting in that work getting ready for the team's first off-season workout via @e_moore03 on Twitter 👀. pic.twitter.com/2jx1GEJ77x

— Faithful Dawgs Podcast (@FDPodcastCLE) April 7, 2023
After a frustrating start to his career in New York, Elijah Moore was traded to Cleveland where he's never looked better. He gave his stans video proof that he's ready to be the receiver many thought he'd be coming out of college in the tweet above. It was only two seasons ago when the Jets took him 34th overall and one round after their first-round pick, quarterback Zach Wilson. Initially, it was thought that Wilson and Moore would help the Jets offense take off (horrible pun intended) but neither fulfilled the expectations bestowed on them. In Wilson's case, he's proven to be so bad in such a short amount of time that the Jets are already aiming to move on to veteran options (see: Aaron Rodgers).
For Moore, the end came even sooner. The Jets took highly touted Ohio State receiver Garrett Wilson tenth overall just one year after taking Moore. The dropoff in Moore's production was evident when he totaled fewer yards (446-538) and fewer touchdowns (1-5) in 2022 than in 2021 despite playing in five more games. He wasn't quiet either and it seemed the Jets were listening when they swapped picks with the Browns to ship him out of New York. Moore will now get a fresh start where he'll still be considered the WR2 behind Amari Cooper. But at least he'll be in a place that wants him.
Dynasty Impact: The move to Cleveland has allowed Moore's dynasty value to be re-evaluated. If he were to stay in New York, even if Rodgers is the quarterback in 2023, Moore was stuck on a crowded depth chart where he wasn't a coaching favorite.
And while he will see plenty of opportunities as a Brown, is he worth it to make a move? Using the DLF Trade Analyzer, you can see what players carry a similar dynasty value.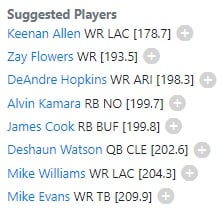 Except for Zay Flowers, all of those other players are proven veterans who could help your team now. Moore has the talent (just watch the video!) but hasn't produced in his two pro seasons. He's yet to top 1,000 yards – over 27 games – and has scored just six times.
He now steps into the WR2 position in the Cleveland offense which, if he were to take over completely, could be fruitful for dynasty managers. Last year's WR2 – Donovan Peoples-Jones – finished the season with 61 receptions for 839 yards. Moore managers should be thrilled with those kinds of numbers. But they're not better than what the players above can do in 2023. And that's assuming Peoples-Jones doesn't keep some, if not most, of that production for himself.
I would take advantage of the new team glow surrounding Moore and swap him for a veteran that can help you now. The Browns offense doesn't scream explosive and Moore isn't the top target.
Latest posts by Michael Moore
(see all)