Our NFL rookie profile series continues with this analysis of 2023 NFL Draft Prospect Rakim Jarrett, WR from Maryland. We will continue to provide you with these in-depth rookie profiles and a ton of other fantasy football rookie analysis right up through the NFL Draft. Stay tuned, and stay ahead of your league.
Just about every player in the draft has a story. Some are more compelling than others. Rakim Jarrett's story is one that we come across every few years. He was once a five-star recruit who had big expectations coming out of high school. During his tenure at Maryland, he did just enough to receive some buzz but not enough to live up to the five-star pedigree.
Now it's time for him to enter the draft. Can he make the leap and develop into a productive NFL player? Or will he be another draft prospect who lived off their high school pedigree and couldn't put it together? This is a story we are going to have to watch play out over the next few years.
THE STATS

Courtesy of Sports Reference.
Maryland played just five games in 2020 and finished the season with a 2-3 record. The team only had one game with over 300 yards passing. With that being said, it's very hard to grade Jarrett's freshman season. His best game came against Penn State when he caught five balls for 144 yards and two touchdowns. We thought the breaking out was happening for Jarrett, but Maryland had three canceled games and didn't go to their bowl game due to issues with the pandemic.
Jarrett technically broke out during his sophomore season. He started the season with 122 yards and one touchdown against West Virginia. With Maryland averaging 304.6 passing yards per game that year, it was an up-and-down run in the box score for Jarrett. His 62 catches and 829 yards led the team. He owned a 46.84 percent share of the team's passing production. However, it wasn't grandiose since he only racked up three 100-yard performances.
There was a lot of hype going into his 2022 season. There were rumors that he was posting ludicrous workout metrics during the off-season. He opened the season with six catches for 110 yards against Buffalo. Then the rest of his season was anticlimactic. He did post an 82-yard and one-touchdown performance against Northwestern. Unfortunately, he didn't live up to the hype. He finished the season ranked third on the team in receiving yards and second in catches.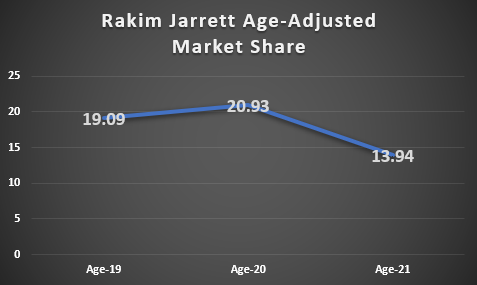 Jarrett has a very wonky production profile. He came close to breaking out with a 19.09 percent market share of Maryland's passing production during his freshman season. There's a good chance that he would have surpassed the 20 percent threshold if his team could have finished the season. When he led the team in receiving during his sophomore season he posted a 20.93 market share along with 1.7 yards per team pass attempt. This counts as his breakout season. However, he just barely got there and wasn't exceptional.
THE FILM
If you want to talk about a player who is nothing but upside and is backed with no insurance policy, then you want to look at Jarrett's game. He is very explosive after the catch and will eat big chunks of yards when he gets the ball in space. We saw him do this multiple times against Penn State during his freshman season. He is also very quick and will put defensive backs on skates if they are not ready. He's also very aggressive after the catch and when the ball is in there.
Unfortunately, his route running is very underdeveloped. There's a lot of drifting in his breaks. We need to see him be more nuanced for him to compete at the next level. He'd go broke if he was receiving commission for his salesmanship because nobody is biting on those routes. It's also not good that he recorded eight drops in his final season. Jarrett has a lot of talent, but he was not able to fully tap into it during his collegiate career.
THE MEASURABLES
Courtesy of DLF's Historical Combine Data App.
The big rumor coming from Jarrett's camp was that he was going to blow the doors off at the combine. We heard a lot of rumors about his 40-time over the years while he was in Maryland. Even though his 4.44-second 40-yard dash was good, it did not live up to the hype. His 35.5-inch vertical was average. His 64th percentile speed score is a little bit better than average.
In a way, his combine performance compares to his collegiate career. We had the hype of him being a five-star prospect. We get a little taste of what he can do, but when everything is said, everything is left anticlimactic. With that being said, he is more than athletic enough to compete at the NFL level. His athleticism should allow him to get some looks with his NFL team. He will just need to develop his skillset to be able to take the next step forward.
DYNASTY VALUE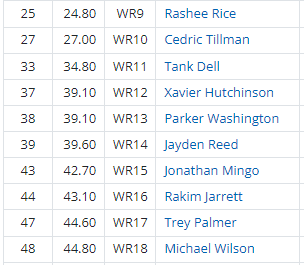 Courtesy of DLF's Rookie ADP.
You are not going to have to pay much for him in rookie drafts since he's falling into the fourth round. He is being drafted on average as the 44th player off the board. Players who are being drafted directly ahead of him are Jonathan Mingo, Eric Gray, Tucker Kraft, Mohamed Ibrahim, and Jayden Reed. He is being taken in the part of the draft where there's no longer any sunk cost and you just grab the players you want to speculate on.

Courtesy of DLF's Dynasty ADP Comparison tool.
The market isn't always right but more times than not it will give you the answer. Over the course of the last seven years, the WR16 in rookie draft ADP hasn't given dynasty gamers a return on the investment. It makes sense, considering 15 other wide receivers were drafted ahead of them in rookie drafts. Almost all of these wide receivers had something in their prospect profile that made them a "fun" late-round prospect. Whether it was their prospect profile, athleticism, or landing spot. You can say Jarrett's fun trait was his five-star pedigree combined with his athleticism. We should expect the wide receivers we are drafting in the fourth round of rookie drafts to have a low hit rate.
Latest posts by Bruce Matson
(see all)