Our NFL rookie profile series continues with this analysis of 2023 NFL Draft Prospect Roschon Johnson, RB from Texas. We will continue to provide you with these in-depth rookie profiles and a ton of other fantasy football rookie analysis right up through the NFL Draft. Stay tuned and stay ahead of your league.
Sometimes in college football, a team with a storied past is able to recruit so much talent that a player who would be a star at 99% of schools is relegated to a backup role. It's a scenario we see play out frequently with the Alabama Crimson Tide and that's what happened to Texas in 2022. The buzz in rookie draft season has been primarily focused on Texas running back Bijan Robinson but he wasn't the only stud running back in the Texas backfield. His running mate Roschon Johnson is also a skilled rusher who seems destined for NFL stardom.
The majority of college running backs would have faded into oblivion behind Robinson, but not the ultra-talented Johnson. Instead, he forced his way onto the field early and often, turning the Texas backfield into a timeshare of sorts. That is an impressive feat when you consider that Robinson is considered a generational running back on par with Saquon Barkley.
If his backfield mate is the consensus RB1 in the class, then how should we value the other half of the duo who was equally as impressive in a somewhat smaller role? There is little reason to think that he can't be the RB3 in this rookie class when all is said in done, his talent is simply that phenomenal.
THE STATS
Courtesy of Sports Reference.
The born and raised Texan was a four-star recruit out of Port Neches- Groves High School before joining the Longhorns.
In 2019 as a freshman, he appeared in 13 games as the Longhorns' starter. In his lone season without Robinson on the team, he rushed for 649 yards and seven touchdowns while adding 23 receptions and 158 yards receiving, good for a stat line that would mirror that of Robinson's rookie production. His best game came against West Virginia, where he racked up 121 yards on 21 carries. He went on to lead Texas to a win at the 2019 Valero Alamo Bowl against Utah, putting up a modest 49 yards on six carries.
He saw his bell-cow role turn into a timeshare in 2020 but he was still productive in ten games. The highlight of his season came in the season finale against Kansas State where he rushed for 139 yards and three touchdowns, all on only 13 carries. The Longhorns won their second consecutive Valero Alamo Bowl, this time against Colorado. He finished the 2020 campaign with 418 yards rushing and six touchdowns – modest but impressive totals for a running back in a timeshare.
In his junior season in 2021, he played in 12 games, rushing for 569 yards and five touchdowns. He once again went nuclear against Kansas State in the season finale, this time rushing for 179 yards and one touchdown. The Longhorns failed to make a bowl game in 2021 but the star junior opted to remain in Texas despite the program being on a downturn.
His final season at Texas saw him used less than in his previous three seasons as the legend of Robinson had fully taken over. Johnson still managed to rack up 554 rushing yards and five touchdowns on just 93 carries but could have been a first-round pick had he left Texas for a more plentiful opportunity. His high mark on the 2022 season was an 81-yard game against the UTSA Roadrunners.
Despite only being the true starter for one of his four seasons at Texas, he still managed to put up respectable numbers. He rushed for 2,190 yards which place him in the top 20 all-time in Longhorns' history.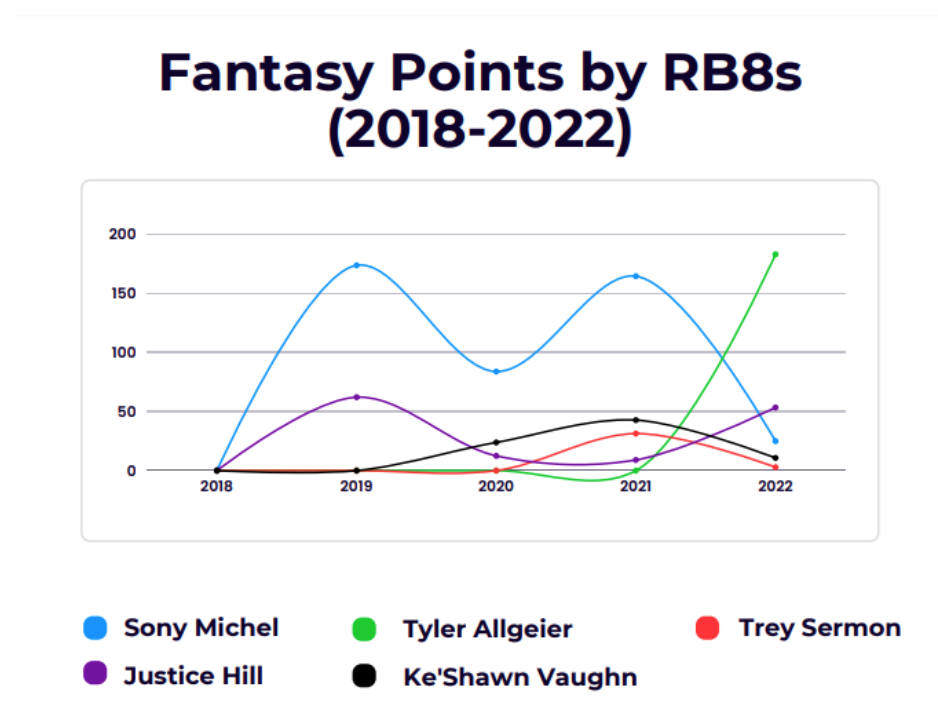 Most dynasty managers will be unfamiliar with Johnson. Several mock drafts have even seen him go undrafted in three-round rookie drafts. This will not be the case in any league that I play in – he should be taken with confidence in the second round. He will never climb into the upper tier with Robinson and Jahmyr Gibbs but there is little reason to exclude him from the large collection of running backs that make up the second tier. Zach Charbonnet, Zach Evans, Sean Tucker, and Tank Bigsby are all going ahead of him in rookie drafts and he has just as much upside as any of them. He currently goes off the board as RB8 which typically puts him in the third round of rookie drafts, where he will be the steal of the year.
As you can see from the above table, RB8s typically do not offer much upside and are usually day-three backs who produce one good season before fizzling out. That's not the case with Johnson. If he continues to go off the board as RB8 in the third round, draft him in every league you can. At that price he is the steal of the decade, there is little reason to believe that he can't be a three-down workhorse at the next level if he is able to find a solid landing spot and day two or better draft capital.
There isn't much else to say except target him everywhere at his current price. It's free money!
THE FILM
The clip above is from the 2022 season finale against Baylor which saw him rush for 77 yards and two touchdowns. He has vision, quickness and elusiveness that are elite and will allow him to easily transition to the NFL game. He wasn't used as a kick returner in college but shows kick returner-level elusiveness in the backfield, quickly sliding in and out of tackles and dodging between defenders to hit the gaps with speed and power.
Johnson is a large back – he routinely sheds tackles and requires multiple defenders to bring him to the ground on most occasions. His size and speed are complemented greatly by his decisiveness. Very rarely does he dance behind the line – instead he makes one move and powers through to the open field. He uses his vision and decisiveness to quickly explode out of the backfield. He is past the line of scrimmage and into the next level of the field before defenses even realize he has the ball.
He's fast, but not game-breaking fast. Once he gets into the open field he is tough to track down from behind but he is still vulnerable to being caught by defenders from time to time. Perhaps his greatest strength is his ability to break tackles in the open field. If he gets time and space, the sky is the limit and he has the ability to take any play to the house.
As a blocker, he is more than sufficient to remain on the field in blocking situations. It may not be the strength of his game and he often relies on chip blocks, but he is competent enough that he won't lose playing time to a better blocking running back.
In his one season as a lead back in Texas, he showed everything you would want to see, and had he transferred to another school where he would have been allowed to operate as the starter for the remainder of his career, it's entirely possible he would be in the conversation with the tier one running backs of this class.
THE MEASURABLES
Johnson participated in every test at the 2023 NFL Combine with the exception of the 20-yard shuttle and the bench press. During his weigh-in, he measured 6'0 1/4" and 219 lbs which puts him in the up echelon of running backs with regards to size. His 40-yard dash time was solid but not spectacular, registering a 4.58, while his vertical jump came graded out poorly at 31 1/2".
His unique combination of size and speed gives him a high ceiling in the NFL. If he were to get day two draft capital and a solid landing spot with no incumbent starter, there is no reason he couldn't become a top-ten asset for fantasy managers.
DYNASTY VALUE
Courtesy of DLF's March Superflex Rookie ADP.
He currently checks in as RB8 and pick 2.08 in superflex rookie drafts according to DLF's Superflex ADP for March. His relatively quiet and unspectacular NFL Combine will likely lead to his ADP continuing to be suppressed, which is a gift for any savvy dynasty manager out there. There was nothing in his measurables or testing that indicates anything besides upside. He is a well-rounded running back who checks all the boxes and barring his landing spot or draft capital significantly changing his ADP, he will continue to go on the 2/3 turn and that's like stealing in dynasty.
Coming into the 2023 NFL Draft he is one of the few prospects with a fully loaded resume. His lone blemish was being relegated from starter to backup but given who he lost his job to, I doubt many teams will hold that against him. It's entirely possible that the Texas Longhorns will provide us with two RB1s for future seasons.

Courtesy of DLF's ADP Comparison Tool.
The chart shown above provides us with a look at the past five RB8s. As you can see there is little to no sustained success for running backs that deep into fantasy drafts but as I've stated before, I believe he is being hugely undervalued. Tyler Allgeier appears to be the prize of the RB8 chart above but there is little reason to doubt that Johnson will surpass his rookie production with ease. This time next year we will be showing this chart again and it will include a whole new level on the graph to show the rookie production of the undervalued Longhorns back.
The combine didn't produce much ADP movement at the running back position as no one really jumped out at you. This is going to go a long way to keep the second and third tier of running backs muddied and clustered together. Take advantage of this tier uncertainty and jump all over him in the late second round and early third round. If fantasy managers took a true look at his talent level, he would likely be going as a top 12 rookie player.
If he manages to avoid any disastrous falls at the NFL Draft, this is going to be the career low point for his dynasty value. He may not be a Saquon Barkley-level talent in the NFL, but he gives every indication of being able to produce at a fantasy level similar to that of early-years Kareem Hunt, given the right capital and opportunity.
Latest posts by Aaron St Denis
(see all)