The NFL Combine is upon us. Drills begin on March 2nd and a complete list of 2023 invites can be found here. We wanted to give you some insight on navigating a couple of tools that utilize data from the annual event held at Lucas Oil Stadium in Indianapolis. We will also point out other apps that we offer to help you evaluate prospects before your rookie drafts.
Colllege Market Share App
First up, we have the college market share app. You can use this app to explore player production while in college. Use the Custom baseline Filters option to refine your search criteria further.
For more information, please read our detailed explanation of how to use the CFB MS App.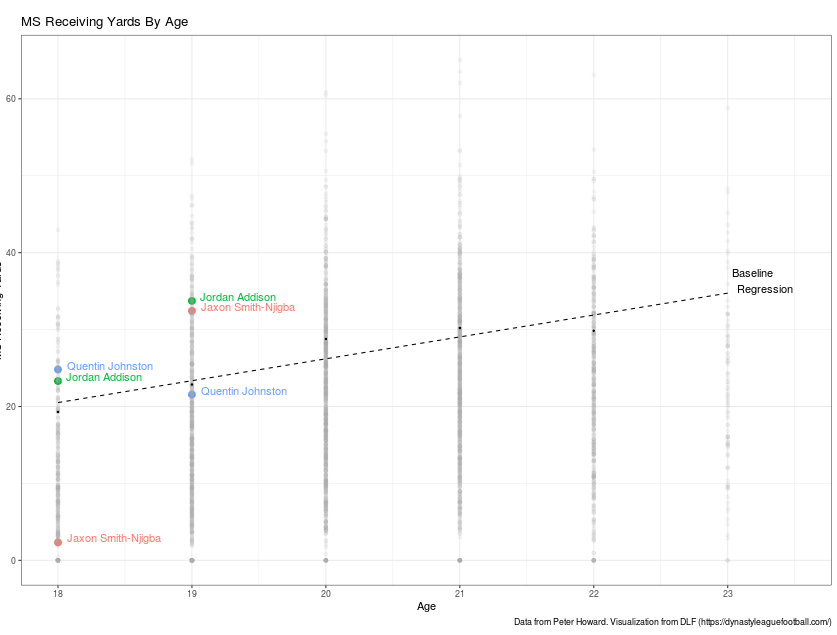 Data Courtesy of DLF College Market Share App.
Here we have chosen the top three ranked wideouts and compared MS receiving yards by age. If you were ranking based on this stat alone, Jordan Addison would be the lead dog, not the number one-ranked Jaxon Smith-Njigba. You can select a host of other stats to chart, including MS receptions, MS touchdowns, and much more. Click the link above for a complete tutorial.
Historical Combine Data App
Next on the list is the historical combine data app. With this tool, you can explore results from the NFL Combine over the past 20 years in all areas of drills and measurements. This gives you the ability to toggle the following columns and filter down to just the data you require:
Height
Weight
Body Mass Index (BMI)
Speed Score
40-yard
Vertical
Bench Press
Broad Jump
Three-Cone
Short Shuttle
Along with selecting the specific metrics you want to explore, you can also toggle by year (all the way back to 2000), position, and then the columns, as mentioned above.

Data Courtesy of DLF Historical Combine Data App.
From the choices you make above, you will be presented with the following data table:

Data Courtesy of DLF Historical Combine Data App.
Moving the slider to the right gives you the remaining columns you are looking for, including the three-cone and shuttle drills.
NFL Prospect Videos App
Up next, we have the NFL prospect videos app. This is a collection of NFL Draft Prospect videos. Disclaimer: DLF is not responsible for the content or music contained in these videos. They are curated from various sources on the web and offered for NFL draft prospects and fantasy football research.

Data Courtesy of DLF NFL Prospect Videos App.
You can select a year back as far back as 2015 as well as the position you wish to scout. We have selected the 2023 class for demo purposes and have them sorted by name. Feel free to click on any heading to filter by that column header. You are taken to the player video page by clicking the player name.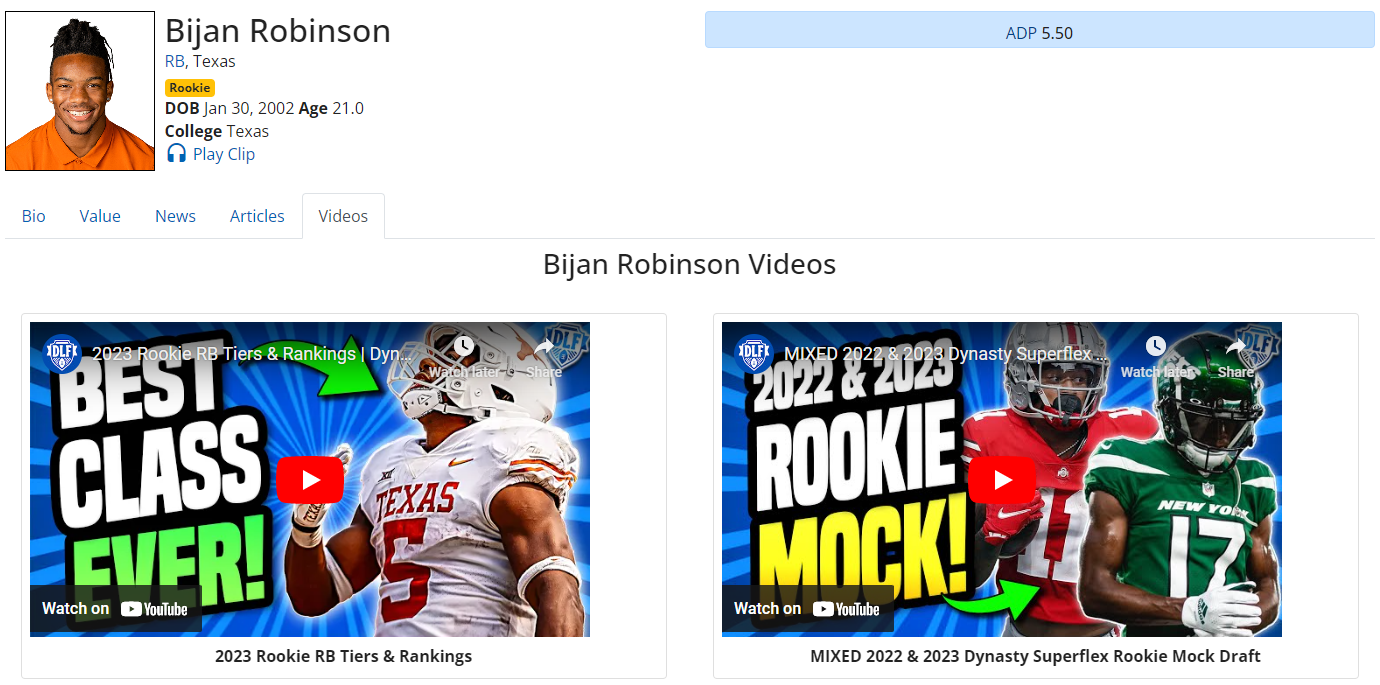 Data Courtesy of Bijan Robinson DLF Player Page.
Once on the player page, you can select the video you want to watch to scout said player.
Prospect Analytics App
Finally, we have the prospect analytics app. This app shows historical rookie prospect analytics for every running back and wide receiver class since 2005. It includes normal wide receiver analytics like target share, dominator rating, and breakout age while also including other metrics from David Willsey and Peter Howard.

Data Courtesy of DLF Prospect Analytics App.
If you look to the right of the table tab, you will see the glossary. We highly recommend reading that to fully understand the table and what each category represents regarding prospect scouting. You can search by year (going back to 2005) or by running back and wide receiver.
WRAPPING IT UP
These are just a few of the 25-plus tools and apps that DLF provides to help you along your dynasty championship journey. For access to all of our tools, please click here. Don't forget we also offer ADP data, and rankings are updated regularly on the site.
Latest posts by Jeff Smith
(see all)