NFL offenses are often somewhat consistent from year to year. For example, as long as the Kansas City Chiefs have Patrick Mahomes, they will likely be a high-powered offense with a dynamic passing game. In contrast, the Ravens with Lamar Jackson will focus on running the ball, as he gives them a massive advantage on the ground.
Of course, it's also easy to see that some teams are weaker on offense. The Texans have been a laughingstock for the past two seasons without Deshaun Watson, and they likely won't dig themselves out of the hole entirely until 2024. Additionally, it's pretty clear that teams like the Commanders, Jets, Falcons, and Panthers lack quarterbacks and won't turn it around until they find a franchise quarterback.
However, some teams feel like they're in flux or, most excitingly, on the rise. In this series, I'll look at offenses poised to soar in 2023, whether based on new personnel, new coaching, or improving talent. With that said, let's jump into the Jacksonville Jaguars!
Background
The Jaguars' current offense began to take shape in 2021 when they drafted Trevor Lawrence first overall and hired Urban Meyer as their head coach. However, their 2021 campaign turned into a complete disaster rather quickly. Their other first-round pick, running back Travis Etienne, suffered a season-ending Lisfranc injury during the preseason, leaving the offense short-handed.
Holdover veteran wide receiver DJ Chark broke his ankle after only four games, and Marvin Jones and Laviska Shenault led the team in targets. Their next three target leaders were journeyman veteran Laquon Treadwell, trade acquisition Dan Arnold, and running back James Robinson. Of course, the Jaguars were a joke in 2021, as they had a 3-14 season, earned the first overall pick once again, and the team fired Meyer after only 13 games as head coach.
Luckily, almost none of those offensive pieces continued on the team for 2022. The Jaguars brought in Doug Pederson as their new head coach, and he helped overhaul the offense. They signed high-priced free agents Christian Kirk, Zay Jones, and Evan Engram to fill out the roster. Additionally, they decided to let Chark walk in free agency, trade Shenault to the Panthers, and trade Robinson to the Jets in-season, leaving those three free agents, Etienne, and Marvin Jones as the core offensive pieces for Lawrence.
2022 Results
Most notably, Lawrence completely turned around his play from 2021 to 2022.

Chart courtesy of Pro Football Reference.
As you can see, Lawrence improved in all passing categories, especially his completion percentage and touchdown to interception ratio. He also threw for significantly more yards per game and more yards per attempt. Additionally, he scored five rushing touchdowns, improving his overall fantasy value.
Charts courtesy of DLF Player Scoring History App.
He vaulted from the QB22 in 2021 to the QB6 in 2022, playing all 17 games in both seasons. Per game, he improved from 13.06 fantasy PPG in 2021 to 18.57 fantasy PPG, ranking eighth among quarterbacks.
To get a further idea of Lawrence's overall performance, let's look at his weekly results in 2021 compared to 2022.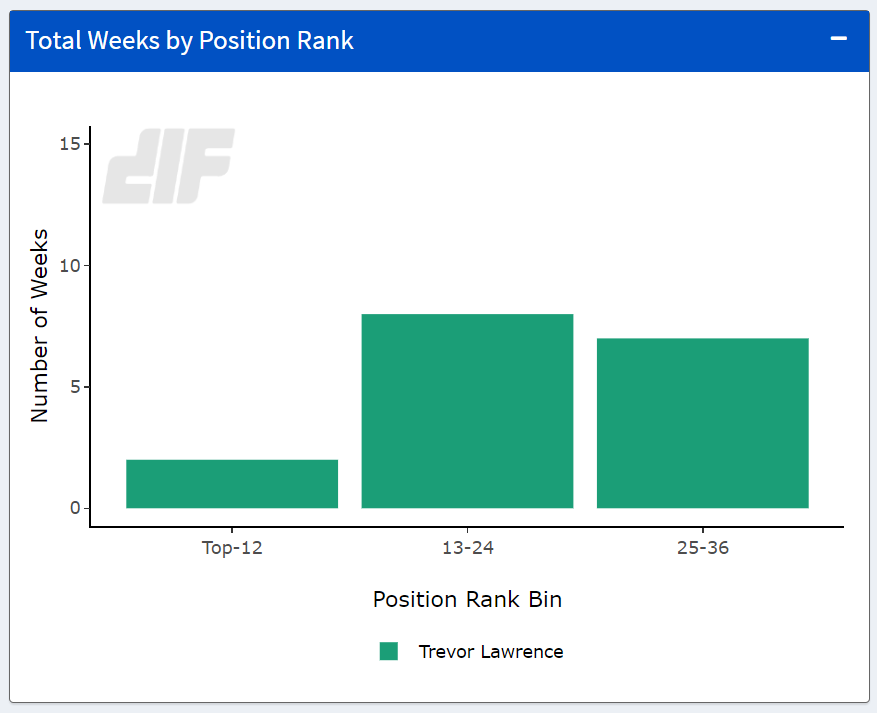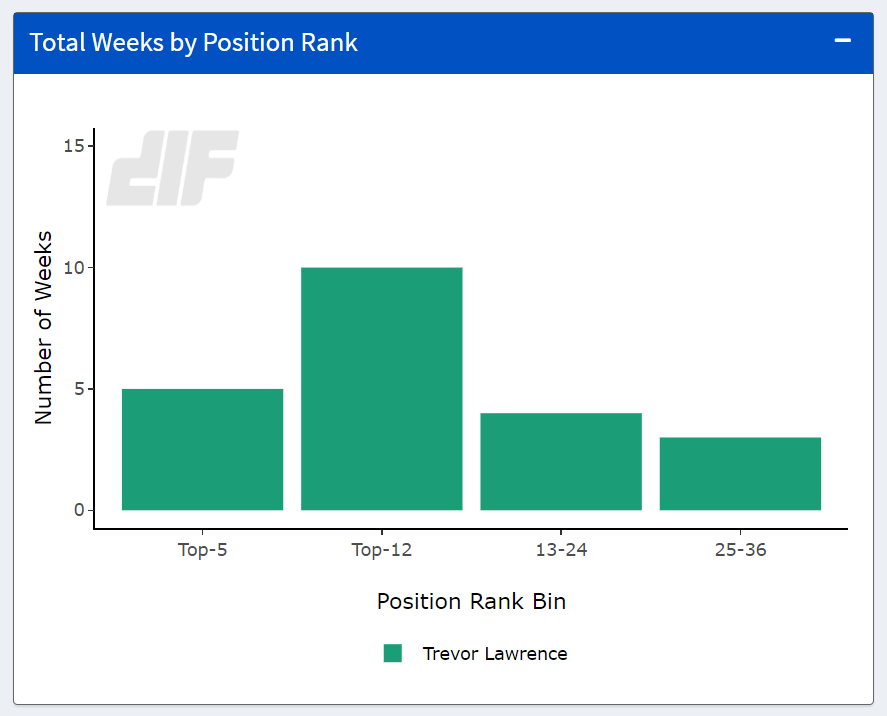 The top chart shows Lawrence's fantasy distribution in 2021, with zero top-five performances and only two games inside the top 12. Somehow, he managed to finish outside the top 24 quarterbacks in seven of 17 games, even though there's a maximum of 32 starting quarterbacks in any given week.
Luckily, Lawrence's 2022 plot looks much better, as he finished in the top 12 ten of 17 times. He was a top-five quarterback five times, and he only crushed you by finishing outside the top 24 on three occasions throughout the year. Nevertheless, he provided a high floor and ceiling for his fantasy managers in 2022. Due to his play, he's now the QB8 and ninth overall player in DLF's superflex ADP.
Beyond Lawrence, Etienne was the biggest riser in the Jaguars' offense throughout the 2022 season, especially once the Jaguars traded Robinson.
Chart courtesy of DLF Player Splits App.
Etienne started to break out even while Robinson remained on the roster, but he became their workhorse back after the trade. Considering that he only averaged 12.9 carries per game over the entire season and only scored five total touchdowns, he has room to rise for fantasy. But either way, his strong play helped lead the Jaguars to the playoffs.
During the 2022 off-season, the Jaguars received criticism for the massive contract they handed out to Kirk, who received $37 million in guaranteed money. At the time, I felt Kirk was an undervalued wide receiver, both in fantasy football and the NFL, but I didn't think he deserved such a massive contract.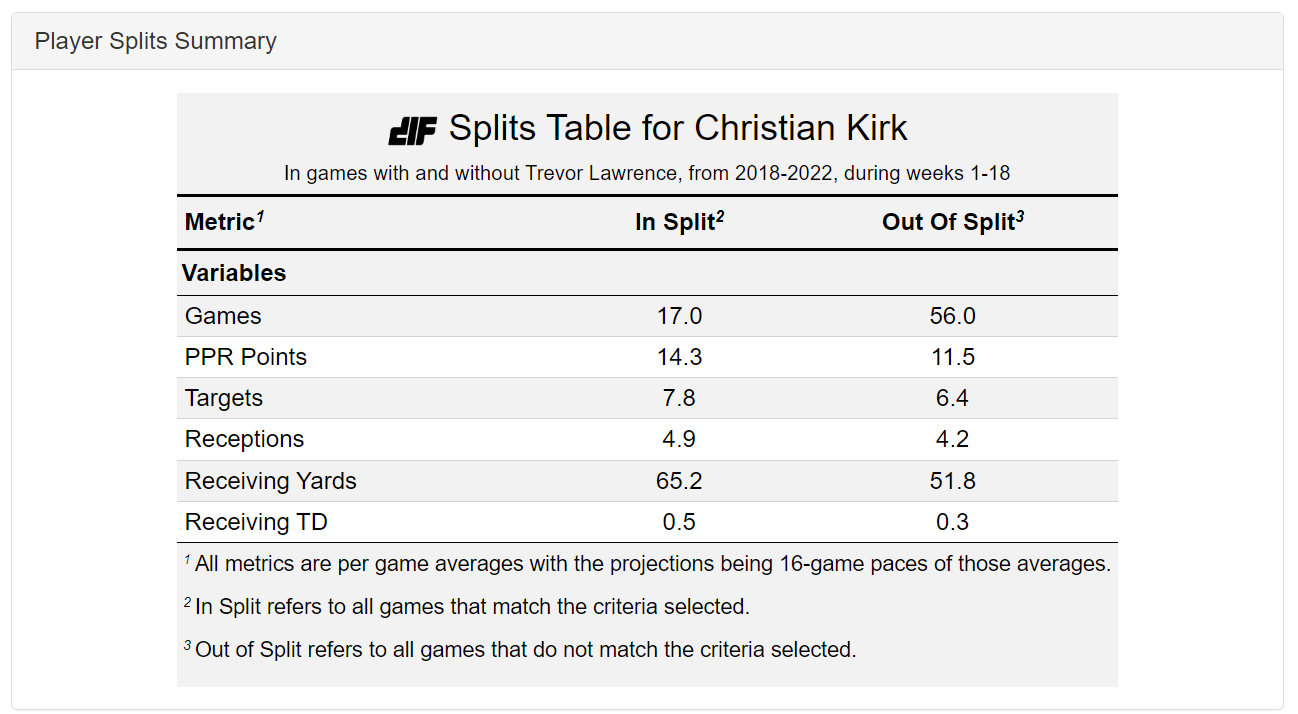 Chart courtesy of DLF Player Splits App.
However, Kirk mostly proved me and most analysts wrong, as he had a stellar season in 2022. As you can see, he improved in all receiving categories upon moving to the Jaguars, averaging 14.3 PPR PPG. He finished as the WR12 and 17th in fantasy PPG. Even if he didn't directly provide enough value for his contract, Lawrence benefited from having a competent WR1, allowing him to have his second-year breakout.
Beyond Kirk, the Jaguars' other receiving options also provided value.

Chart courtesy of Pro Football Reference.
Zay Jones had more receptions per game than Kirk, although he averaged far fewer yards/reception and scored fewer touchdowns. Therefore, he only averaged 12.26 fantasy PPG, putting him at WR26 and 31st in fantasy PPG. Engram also had a strong season, as he was the TE5 and seventh in fantasy PPG among tight ends. Finally, Marvin Jones was a solid veteran presence and provided some clutch plays here and there, even if he looked washed up at times.
2023 Outlook
Going into 2023, most of the Jaguars' offensive pieces remain under contract. Kirk and Zay Jones remain in the guaranteed portions of their free-agent contracts, and Etienne and Lawrence remain on their rookie deals. Engram is a free agent, but I'd be surprised if the Jaguars let him walk. They will probably use the franchise tag to retain his rights while negotiating a long-term extension.
Marvin Jones is also a free agent, but the Jaguars traded for Calvin Ridley mid-season to replace him. Ridley should be eligible to play to open the 2023 season, and he provides the Jaguars with a second high-end receiving weapon to complement Kirk. The main question with Ridley is how he adjusts to the NFL after his struggles with mental health, sports gambling, and more than a year and a half off.

Chart courtesy of Pro Football Reference.
From 2018-2020, Ridley emerged as an ascending wide receiver, finishing as the WR5 in 2020 despite only playing 15 games. However, he had issues with mental health in 2021 and had a few injuries, performing as one of the least efficient wide receivers in his five games in 2021. I don't expect him to return to his 2020 form, but I also think he can improve on his 2021 performance on a far superior offense compared to the 2021 Falcons.
No matter what, any version of Ridley represents an upgrade over 2022 Marvin Jones. He will raise Lawrence's ceiling and floor by providing another solid passing-game weapon, although his arrival may make it more challenging to project the receiving weapons for fantasy. Assuming no significant additions, I expect Kirk to serve as a fantasy WR2, Ridley in the WR3 range, Zay Jones as a boom/bust WR4, and Engram as a low-end TE1.
Overall, though, the Jaguars will likely be one of the top-scoring offenses in the NFL as Lawrence enters Year 3. I want to target weapons on this team, even if it's not necessarily clear how the pecking order falls. But I believe it's time to think of Lawrence as a floor-raising quarterback for his weapons, similar to how the dynasty community views Joe Burrow or Justin Herbert.
Latest posts by Tyler Justin Karp
(see all)