There is always a hotly contested debate in the dynasty community about whether or not a wide receiver can succeed from the slot. Can they move out of the slot? How productive can one player really be while lining up in the same spot? Well, let's take an in-depth look at Josh Downs, who played solely in that position, and see how we feel!
RECRUITMENT
Downs was a fantastic recruit coming out of high school. He was the 95th national prospect and the 17th-ranked WR (via 247 Sports). He was a three-sport athlete in high school, and not only did he excel in football and basketball, but he finished third in the state for the triple jump and fourth in the state for the long jump. The dude is a stellar athlete.
Jean Ralphio (for all my Parks & Rec fans) may have been flushed with cash, but Downs was flushed with division one offers. Don't hold your breath on this list… He received offers from Tulane, N.C. State, Boston College, App State, Georgia State, Georgia Southern, Cincinnati, Kentucky, West Virginia, Iowa State, Michigan, Louisville, Oregon, Temple, Georgia Tech, Arkansas, Tennessee, Penn State, and yes, North Carolina. Phew, we made it through that.
He actually visited North Carolina ten times for visits, camps, etc. before finally signing his letter of intent and enrolling.
COLLEGIATE CAREER

Courtesy of Sports Reference.
If you are one who likes college production, then Josh Downs may very well be your guy. He played sparingly in his rookie year for the simple fact of the weapons they had on their team in 2020, which included Javonte Williams, Michael Carter, and Dyami Brown.
In 2021, Downs really broke out as a sophomore, posting an incredible 101 catches for 1,335 yards and eight touchdowns. But even after that season, he wasn't getting a ton of buzz. You might hear the drawbacks around him – his size, his talented QB, he plays in the slot. All of those might have been true… but he also just posted 101-1,335-8.
He missed a couple of games at the beginning of his junior year, and then went on a tear. He put up another impressive stat line of 94-1,029-11 over just 11 games. He opted out of North Carolina's bowl game in order to prepare for the NFL Draft.
Despite a bit less yardage, you could say he grew into a larger role from his sophomore year to his junior year. He went from 7.5 receptions, 103 yards, and 0.6.TDs per game to 8.5 receptions, 94 yards, and 1 TD. As a somewhat smaller WR that is used in the slot, seeing a TD per game is a huge upside. Downs has clearly cemented himself as a top WR in this upcoming draft class.
ATHLETIC PROFILE
There are definitely reasons to be very excited about Downs and his athleticism, but there are also some concerns about his overall profile. You love that he was a top-tier high school track star. When you watch the tape, his explosiveness jumps off the screen. He recorded a 4.47 40-yard dash and a 42-inch vertical… in high school. I would be surprised if he doesn't run in the high 4.3s or low 4.4s. My guess is he will be a riser after the combine on testing alone.
The concern will be his frame. 5 '10" and 180 lbs is definitely on the lighter/smaller side for WRs. But if a team can utilize him correctly, I think he can excel.
STRENGTHS
Dynamic athlete
The ability to change speeds is one of the best in this class
Effortless speed
Separation from DBs exceptionally
Production
Dominated the target share at NC
High-points the ball well
Great in space
Leverages DBs at the top of his routes
Hand-eye coordination looks great on tough catches
WEAKNESSES
Played almost exclusively in the slot (good or bad?)
His frame may limit "where" he can be successful on the field
Due to his speed, he didn't see a ton of press coverage in college… so not sure how he will handle getting off the line against that, at the next level
Relied on his speed instead of technique at times
Occasionally loses the ball in the air
DRAFT VALUE
Courtesy of NFL Mock Draft Database.
Downs isn't quite in the same realm (at least not yet) of buzz and prospect status as the top three WRs in this class (Quentin Johnston, Jaxon Smith-Njigba, and Jordan Addison), but he may very well end up creeping into the first round of the NFL Draft with a solid showing at the combine.
If you take a closer look at some mock destinations from the database, you can see some possible intriguing landing spots.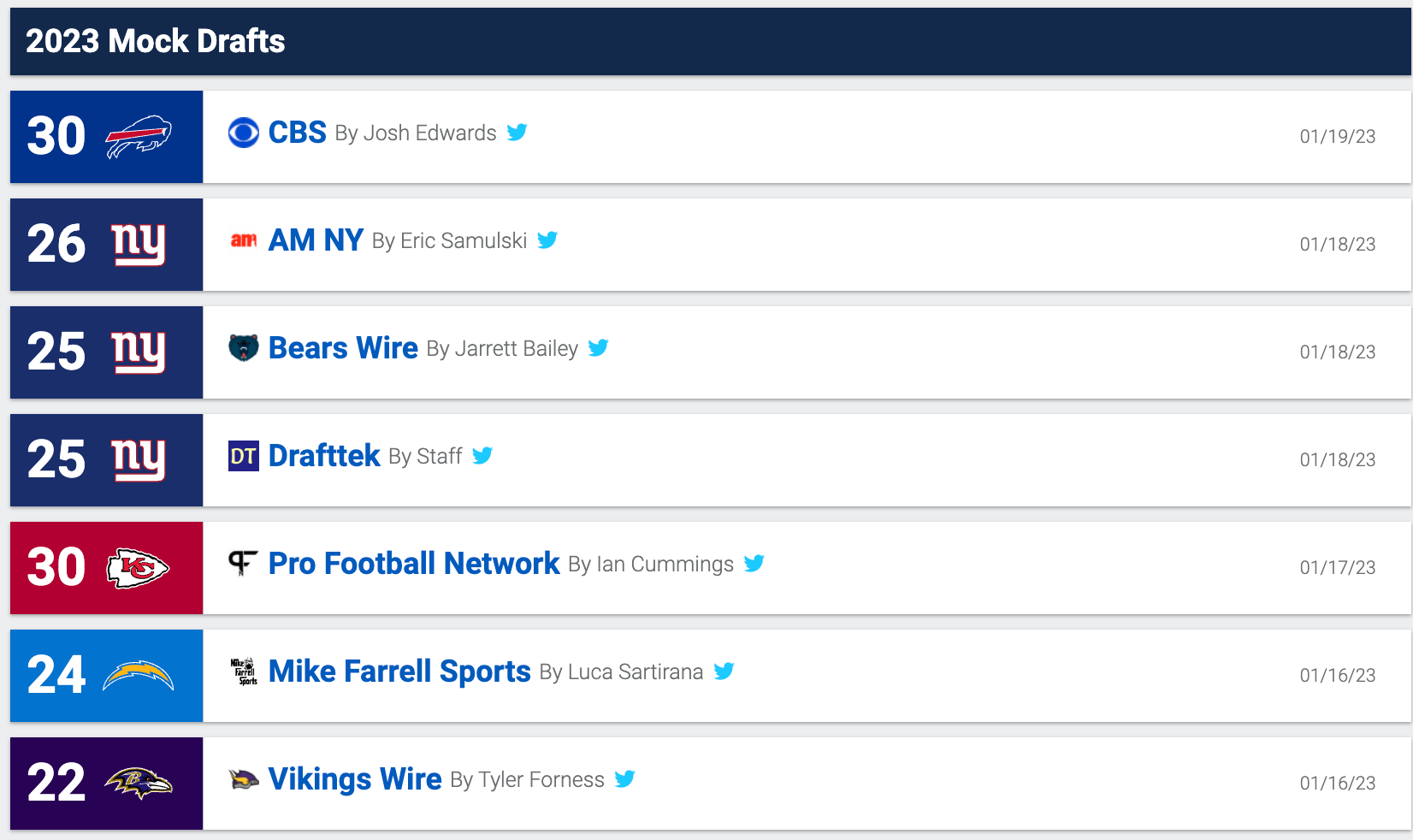 Could he slot in and possibly fill the speedster role in Baltimore? Maybe he ends up on a high-flying offense like Kansas City, Buffalo, or the Chargers? Time will tell.
I would be somewhat surprised, not shocked, but surprised, if any other wide receiver went ahead of the "top three", but Downs is good enough to make it happen. I think he is pegged around the 20th pick, and could drop to the top or middle of the 2nd depending on how the NFL Draft board shakes out.
DYNASTY OUTLOOK
The most important part of the article… What does this all mean for us as fantasy managers? I'll break this into two parts depending on the type of league you are in, superflex or 1QB.
In a superflex league, you are probably looking at the three QBs going before Downs unless any of them drop significantly. So let's assume Bryce Young, Will Levis and CJ Stroud are all picked. You then have Bijan Robinson and Jahmyr Gibbs who will go before Downs as well. Lastly, I would expect the top three receivers I mentioned above to most likely go before Downs as well. But after that, it's really a toss-up. You have a mix of RBs and WRs who could be interchanged just based on preference. At the very highest, I could see Downs being the 1.09 in an SF draft, I could also see him being around the 2.01-2.03 (assuming a 12-team league).
Using that same logic in a 1QB league, Downs will most likely go before any QB, which would put him around the 1.07-1.12 range. According to DLF's 1QB Dynasty Rookie Rankings, Downs is slotted in at 10th overall. Much of it will depend on his testing at the combine.
For an NFL comparison, he reminds me a bit of two NFL players, the first being TY Hilton. Both of their strengths are/were "track speed", and their main weakness is/was "frame or strength". Both are shifty with the ball in their hands and a big play waiting to happen.
The other player he reminds me of is Jahan Dotson. His hands and route running are what separated him apart, even as a smaller player. Both are comfortable in the slot, and can make an impact if schemed correctly.
It should be fun to watch Downs' athleticism be displayed at the combine!
Latest posts by Levi Chappell
(see all)