Welcome to movers and shakers, an in-season series from DLF. Each week we choose a different ranking category; top 250 (one quarterback and superflex), devy, and IDP. We then review players from that group who may have risen or fallen substantially from the past month's rankings and alert you to any relevant changes. Let's get right to it.
QUARTERBACK
Despite reports that he was struggling in training camp, there was optimism that Jones could build on the promising rookie campaign that saw him voted to the Pro Bowl. The early signs have not been good; the sophomore quarterback played poorly in the first three games, two of which the Patriots lost, with Jones throwing two touchdowns and five interceptions.

Jones then suffered a high ankle sprain that kept him out for three games. In his absence, the Patriots turned first to Brian Hoyer in week four and then to Bailey Zappe for weeks five and six. Zappe, a 2022 fourth-round rookie, provided a spark for the Patriots, helping them to wins over the Lions and the Browns in his two starts.
In week eight Jones returned as the starter. Unfortunately, he played even more poorly than he did at the start of the year. He completed only 3 of 6 passes for 13 yards and an interception. It was enough to prompt the Patriots to replace Jones with Zappe mid-game.
Zappe struggled in relief of Jones, but the change was a clear indictment of Jones' play, demonstrating that he is on shaky ground.
Jones' position in DLF's rankings has already started to dip.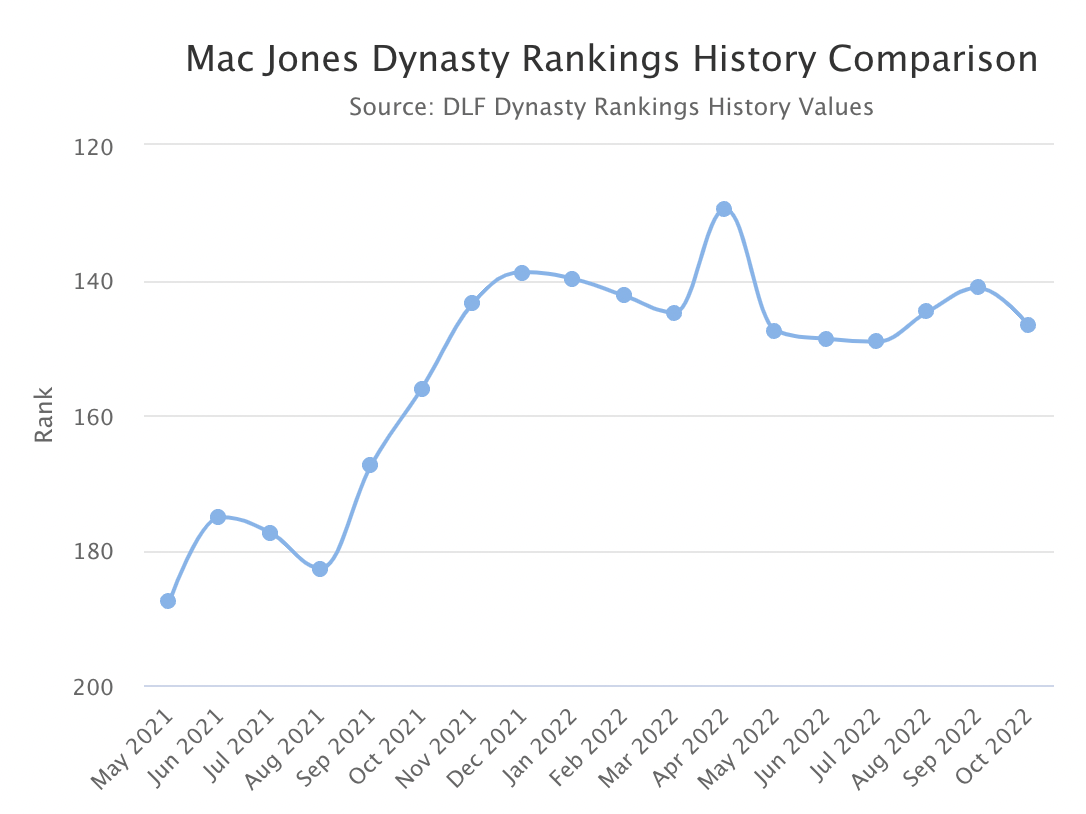 Data courtesy of DLF Ranking History Comparison App.
His ADP is also heading in the wrong direction.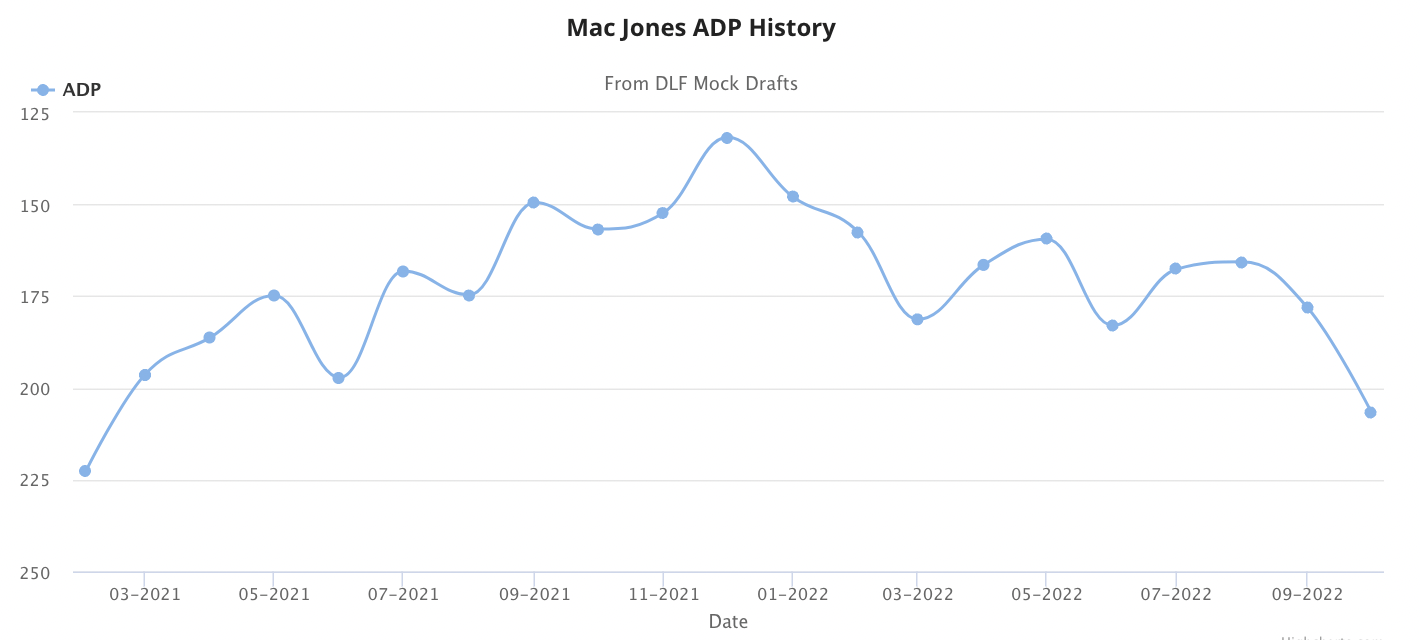 Data courtesy of DLF Dynasty Value App.
Jones will reportedly start in week eight against the Jets after dominating first-team snaps in practice. Still, it will take a series of good performances to quell the noise surrounding the rumored quarterback competition. However we slice it, his fantasy value is in trouble.
Should Move Behind:
He has already moved below Tua Tagovailoa, and unless Mac Jones picks things up in the next few games, he's in danger of being surpassed by Daniel Jones.
RUNNING BACK
Pacheco was a preseason favorite of the fantasy community. The hype looked justified after he earned 12 touches in the Chiefs' opener against the Cardinals. He made the most of the opportunity, rushing 12 times for 62 yards and a touchdown.
Pacheco's ADP spiked: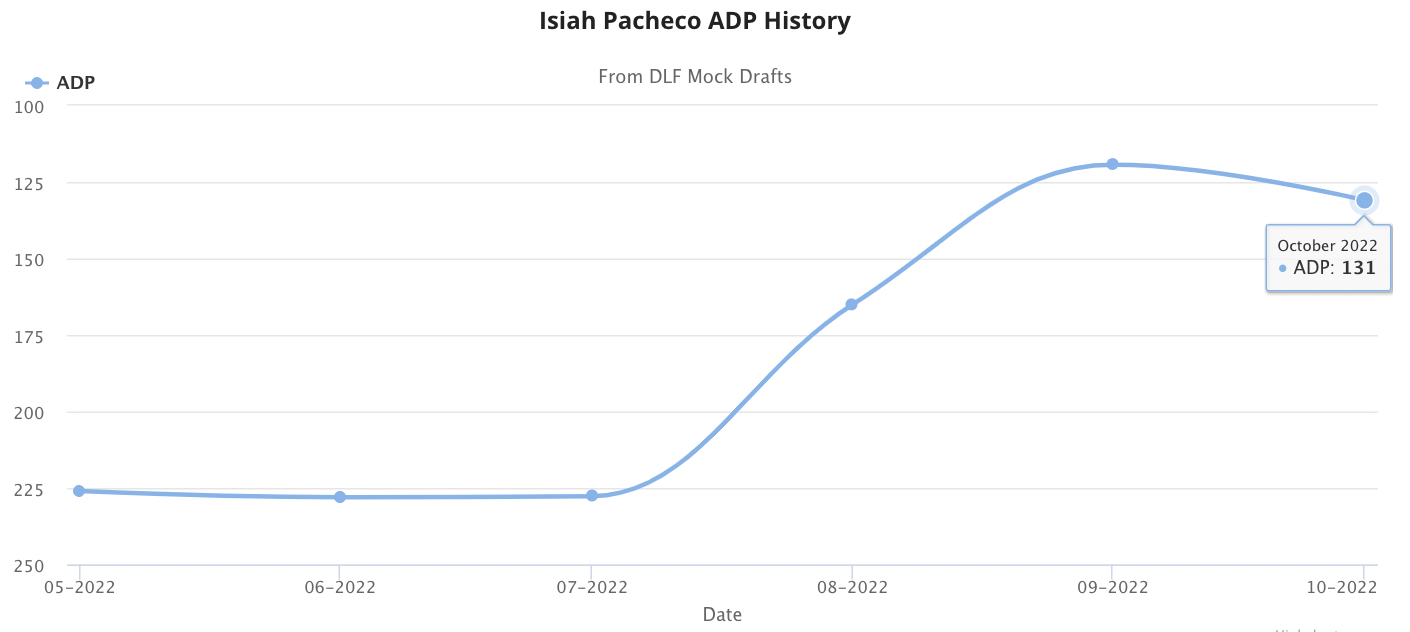 Data courtesy of DLF Dynasty Value App.
Then reality hit, and Pacheco only saw only 21 touches over the next five games.

Data courtesy of DLF Player Stats.
Clyde Edwards-Helaire was seemingly unwilling to hand the keys to the rookie upstart, averaging 4.4 yards per carry and out-touching Pacheco 69 touches to 29. Pacheco appeared to be consigned to a backup role as a fantasy handcuff.
However, Pacheco was handed first-team reps in practice ahead of week seven, and the Chiefs officially named him the starter. It was an unexpected move but one welcomed by shrewd fantasy managers who stashed the 23-year-old awaiting his opportunity.
The immediate returns weren't obvious against the 49ers last week, as the Chiefs tend to involve more than one running back in their game plan. Still, Pacheco had a season-high 30% snap share compared to Edwards-Helaire's season-low of 27%. Pacheco ran the ball eight times for 43 yards, while Edwards-Helaire had six totes for 32 yards.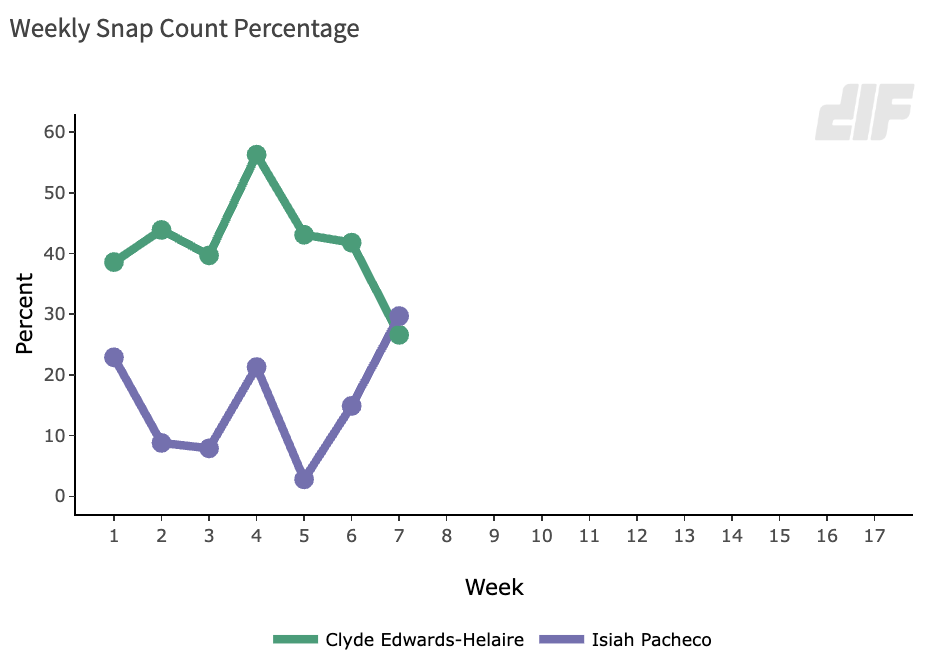 Data courtesy of DLF Snap Count App.

Pacheco is shooting up DLF's rankings and will continue to do so while he remains heavily involved in one of the NFL's most high-powered offenses.
Data courtesy of DLF Ranking History Comparison App
The future appears bright for the 2022 seventh-round pick.
Should Move Ahead of:
Alexander Mattison, Melvin Gordon, and possibly Chase Edmonds.
WIDE RECEIVER
The Saints' rookie has had an excellent start to his NFL career. Through the first seven weeks of the season, he has been targeted 53 times and has 32 receptions for 495 yards and two touchdowns. The fact that he had only three targets in the season opener makes his production even more impressive.

Data courtesy of DLF Player Stats.
Olave has quickly become the focal point of the Saints' passing offense, earning more than double the targets of the nearest Saints' wide receiver or tight end. He has achieved this despite a QB swap from Jameis Winston to Andy Dalton.
His position in the rankings has climbed steadily since the summer.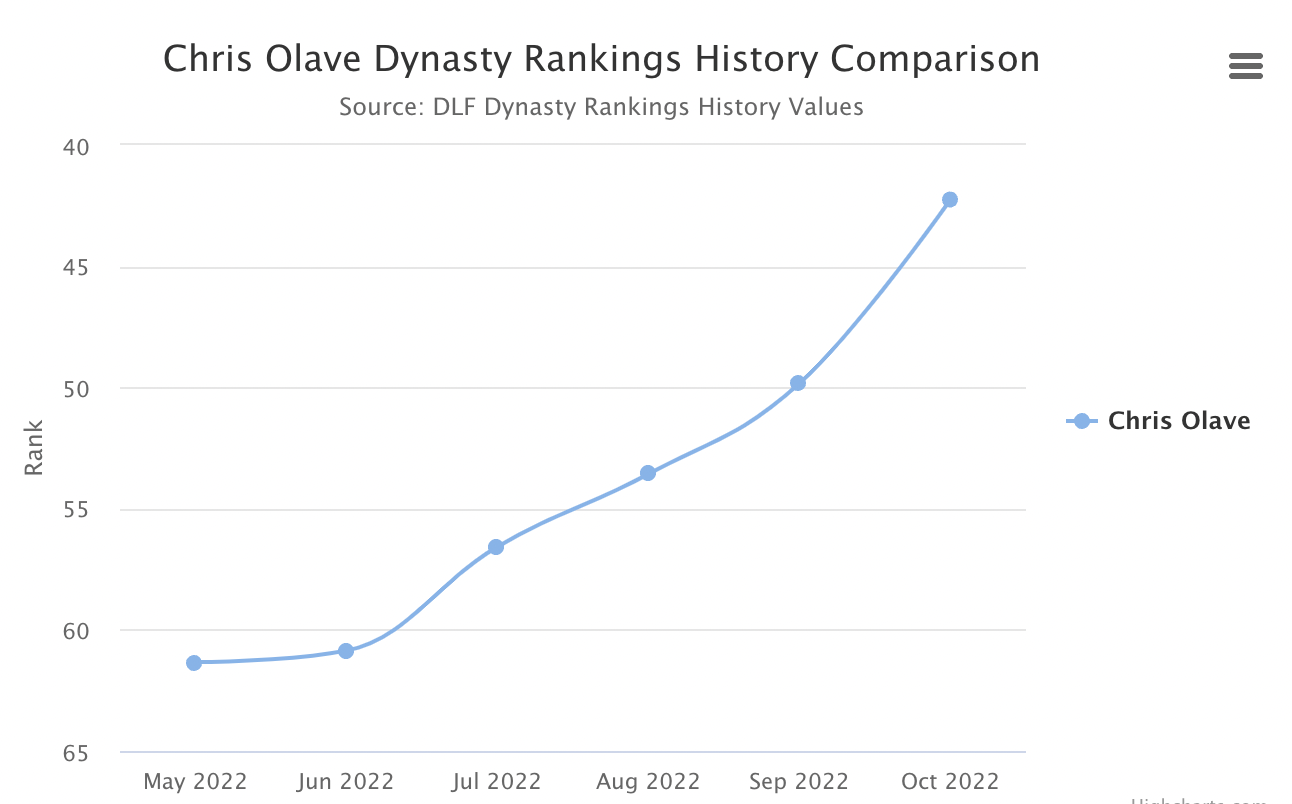 Data courtesy of DLF Ranking History Comparison App.
It has helped Olave's cause that Michael Thomas and Jarvis Landry have missed time this season, but Landry is currently set to become a free agent after this season, and Thomas has proven unable to stay healthy in recent years. Olave has youth on his side and the draft capital, talent, and early production to suggest he can become a premier receiver for years to come.
Should Move Ahead of:
Jerry Jeudy, Elijah Moore, and arguably Rashod Bateman.
TIGHT END
Greg Dulcich made a late bid to be featured here, but it's too early to go overboard on the Broncos' rookie. Instead, let's go with Njoku.
Njoku has finally become the player we hoped for when he was drafted with the 29th overall pick in the 2017 draft. He was a little slow to get going, showed some promise in his sophomore season, but then failed to separate from Austin Hooper for a couple of years. Hooper left to join the Titans ahead of 2022, opening the door for Njoku to step up. And step up, he has.

Data courtesy of DLF Player Stats.
Through seven games, the 26-year-old ranks sixth among all tight ends with 42 targets, and he's caught 82.9% of those targets, trailing only Robert Tonyan's figure of 85.7%. He's the second-most targeted receiver on his team behind Amari Cooper and has the second-best Pro Football Focus overall rating among all tight ends.
Njoku's position in DLF's rankings has risen considerably, and it should continue to soar.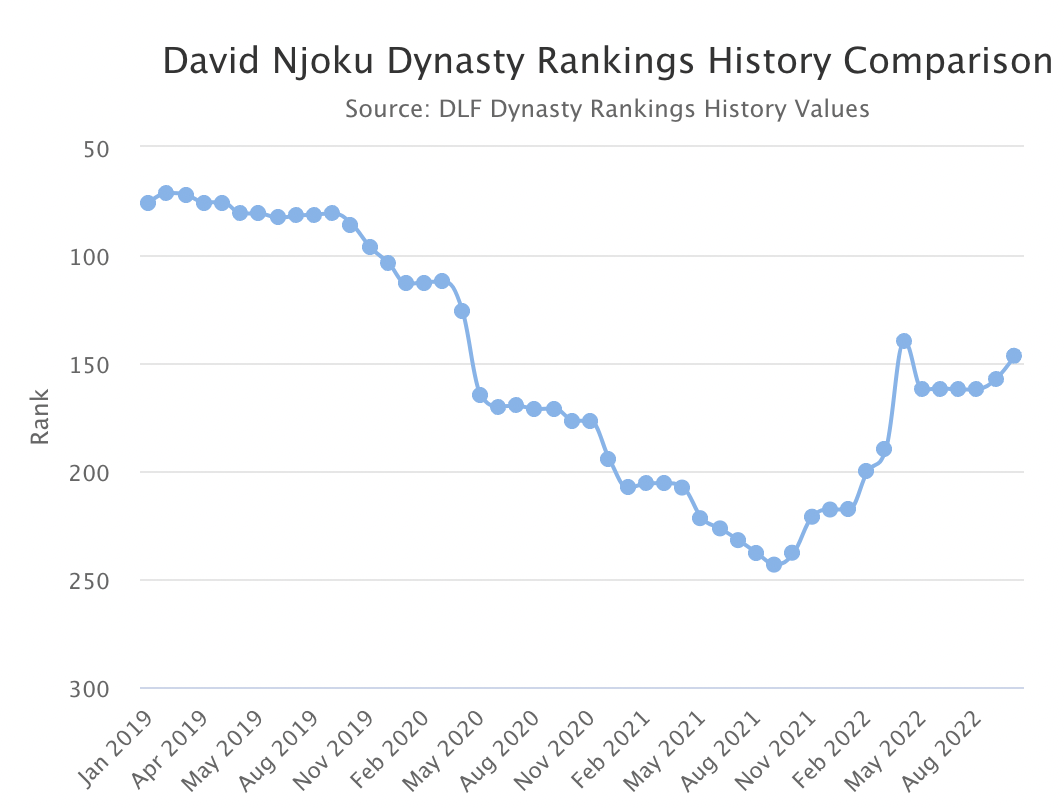 Data courtesy of DLF Ranking History Comparison App
Should Move Ahead of:
Mike Gesicki, Dawson Knox, and he's pushing Dalton Schultz.
WRAPPING IT UP
We aim to tip you off as to who the movers and shakers are weekly across our different ranking platforms. During the season, they will fluctuate on the regular. The best way to stay abreast of how a particular player you are tracking is performing is to head directly to our rankings pages. Thank you for following along, and best of luck in your fantasy endeavors.
RELATED VIDEO
Enjoyed this video? If so, please be sure to LIKE this video and
SUBSCRIBE
to our channel for more awesome, FREE analysis all year long!
Latest posts by Jason Abbey
(see all)