Dynasty Superflex Top 250 Fantasy Football Rankings: Movers and Shakers
Welcome to movers and shakers, an in-season series from DLF. Each week we choose a different ranking category; top 250 (one quarterback and superflex), devy, and IDP. We then review players from that group who may have risen or fallen substantially from the past month's rankings and alert you to any relevant changes. Let's get right to it.
Quarterback
We will avoid the no-brainer changes each week, such as Trey Lance. We all know he will be tumbling down everyone's board. Instead, we will focus on the more subtle shufflings amongst the ranks.
Editor's note: This section was written prior to Tagovailoa's head injury on Thursday night.
What a game we witnessed in week three between the Buffalo Bills and Miami Dolphins. On Sunday, we learned one thing for sure: Tua has "that dog" in him. Isn't that what all the cool kids are saying now? Tagovailoa showed how much of a competitor he is.
The Alabama grad currently sat as the QB5 heading into Thursday despite a down game against a shorthanded but still tough Buffalo defense. From an actual football standpoint, Tagovailoa has bested two of the quarterbacks in front of him on this list head-to-head. The 24-year-old had completed over 70% of his passes and has just two interceptions on 101 pass attempts.
Data Courtesy of DLF Rankings History Comparison App.
The third-year pro had already seen a spike in rankings starting in early September, and that trend should continue to climb with his solid play. New coach Mike McDaniel seems to be pushing all of the right buttons. Tyreek Hill has been everything they have expected, and Jaylen Waddle picked up where he left off in 2021. Tagovailoa likes playing with his new toys.
Should Move Ahead Of:
Tagovailoa should be placed ahead of Trey Lance (even before the injury), Justin Fields (struggling to find his groove), and probably Russell Wilson. This offense is one that opposing defenses will have to take seriously.
Running Back
Injuries and age will make running back the most volatile of all the positions, and we won't be dropping the obvious fallers due to injury. Instead, we will focus more on opportunities and performances.
We've waited. And waited. And waited. Perhaps Edwards-Helaire should never have been ranked this high. Draft capital and landing spot dictated such. It's time to move on, finally. It's not happening.
Edwards-Helaire put up a stat line on Sunday that is hard to duplicate: seven rushing attempts, zero yards gained. Somehow the third-year pro managed a touchdown and somehow he currently sits as the RB4 in PPR formats.
Data Courtesy of DLF Yearly Data App.
His real value probably lies somewhere between his yearly finishes seen above. He managed an RB22 finish in his rookie season but dipped to an RB42 finish during his sophomore campaign, playing only ten games. His touchdown prowess is the primary factor keeping him at the top of the chart. He has accumulated three in three contests. While this is great to see, it is not sustainable, especially with veteran Jerick McKinnon and rookie Isiah Pacheco stealing more reps weekly.
Data Courtesy of DLF Snap Count App.
A dependence on game flow and script coupled with his early reliance on touchdowns is no recipe for sustained fantasy success. Injuries have also plagued the 23-year-old early on in his career, as he played only 13 and 10 games in the first two go-arounds. We are not counting on the excellent start lasting long.
Should Fall Behind:
I would be comfortable moving David Montgomery, AJ Dillon, and James Robinson ahead of Edwards-Helaire at this point. The timeshare is too much of a concern.
Wide Receiver
The cream stayed at the top, as expected. Justin Jefferson, Cooper Kupp, and Ja'Marr Chase all did their thing and will continue to do so, hence their positioning up at the top. We have a wideout who should probably jump into the WR2 range after three weeks of play.
Is Urban Meyer the worst coach in NFL history? Don't answer that. It was a rhetorical question. If you have paid attention to the Jacksonville Jaguars and their 2-1 start, you already know the answer. Trevor Lawrence looks like a number one overall pick, and wideout Kirk appears to be worth every penny he got paid to leave the desert for the shores of the Atlantic.
Data Courtesy of DLF Player Scoring History App.
The former Arizona Cardinal is enjoying a career-high in points per game (20.9) thus far and is tied for second in the league with three receiving touchdowns. The 62.7 points he has accumulated thus far are good enough to sit as the WR6 in PPR formats. Kirk has never finished better than the WR26 during his four years in the league.
Data Courtesy of DLF Player Scoring History App.
Perhaps head coach Doug Pederson is utilizing the Texas A&M star in ways that Kliff Kingsbury couldn't during his time with the Cardinals. Whatever Pederson is doing, it is working. Kirk is not only getting more opportunities in Jacksonville, but he is doing more with them. Getting out of the shadow of DeAndre Hopkins and becoming the alpha appears to be just what the doctor ordered for the 25-year-old. At least, that has been the case through the first three weeks.
Should Move Ahead Of:
Things being as they are, Kirk needs to be placed ahead of Brandin Cooks, former teammate Hopkins, and Allen Robinson. You could easily make a case to remove Jerry Jeudy as the WR23 and put Kirk up there instead.
Tight End
The tight end position will be right behind the running backs regarding their volatility in ranks. With the scarcity of the position, we are always on the lookout for the next big thing. Perhaps a chip off the block is the answer for 2022.
There was some preseason hype surrounding Bellinger, and we are starting to see why after Monday night. The rookie set new season and career marks in snaps, targets, receptions, and yards. When the dust had settled from the loss to the division rival Dallas Cowboys, he ended with five targets and made good on four for 40 yards. He was also in on 60% of the snaps, up from 48% in week one and 58% in week two.
Data Courtesy of DLF Snap Count App.
With the New York Giants wideouts dropping like gas prices before the election, Daniel Jones has been forced to feed his tight end. Bellinger's measurables from the combine are solid, and his speed stands out. A 4.63-second 40-yard dash for someone who stands 6'6″ tall and weighs 255 pounds is quite impressive.
Data Courtesy of DLF Coaching History App.
Sterling Shepard tore his ACL and is out for the season. Kenny Golladay has fallen out of favor with the new coaching staff, and the young duo of Kadarius Toney and Wan'Dale Robinson are still on the mend. Look for Bellinger to continue to set highs in targets, receptions, yards, and of course, touchdowns.
Should Be Ranked Ahead Of:
Mo Alie-Cox and Austin Hooper are just a couple of the names I am comfortable moving Bellinger ahead of. Alie-Cox appears to have been supplanted by another rookie in Jelani Woods, and Hooper seems all but done in Tennessee. Geoff Swaim got the red zone target ahead of Hooper in week three, making him even less appealing.
Wrapping It Up
We aim to tip you off as to who the movers and shakers are weekly across our different ranking platforms. During the season, they will fluctuate on the regular. The best way to stay abreast of how a particular player you are tracking is performing is to head directly to our rankings pages. Thank you for following along and best of luck in your fantasy endeavors.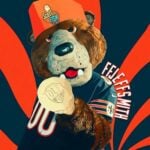 Latest posts by Jeff Smith
(see all)