Welcome to Would You Rather: Dynasty Edition, a series from DLF based on the popular board game. Each week we post a poll on Twitter asking fans who they prefer between a player or a certain pick. The values used here come via the DLF Trade Analyzer. We will cover the results and discuss both sides of the poll in depth.
We always look at players or picks that carry similar values and let you vote on who you would rather have. The focus this time around is on a couple of young wideouts. Here's how this one played out:
Who do you prefer in dynasty?

— DLF (@DLFootball) August 15, 2022
This is one of the closest results we have had all summer. Burks edged out Jeudy by precisely 5%. With AJ Brown headed to Philadelphia on draft day, Burks should be able to contribute immediately. Jeudy gets a major quarterback upgrade with Russell Wilson and may finally be unleashed.
Data Courtesy DLF Trade Analyzer.
These numbers indicate the values in a one-quarterback league. If we toggle the settings to a superflex league, the numbers favor Jeudy by a score of 232.3 to 222.3. This one is extremely close in either format. Let's look and see why the results were so close this time.
A Look at Treylon Burks
Some of the shine has come away from Burks' early season luster of late after a quiet preseason. Other rookie wideouts such as George Pickens and Drake London are stealing the thunder. That seemingly has impacted Burks' rankings a tad, as the Titans' first-round pick saw his stock drop for the fifth consecutive month in August.
Data Courtesy on DLF Rankings History Comparison App.
Concerns arose early when the rookie out of Arkansas missed time due to asthma and conditioning issues. Those problems have since been rectified, and by all appearances, Burks is working hard on his craft. We certainly cannot expect a replication of the season had by Brown last year in Tennessee, but the workload should at least be similar. Throughout his young career, Brown has seen 6.86 targets per contest.
Data Courtesy on DLF Coaching History App.
Despite having Derrick Henry and having a run/pass ratio of 50/50, head coach Mike Vrabel did target his wideouts 57.87% of the time in 2021. Austin Hooper is now in town but shouldn't disrupt that ratio much, if at all, in 2022. The front office must have liked what they saw in Burks to be comfortable enough to deal Brown and use the 18th overall pick on Burks. Burks turned down schools like Clemson, Florida State, and Michigan to stay home, so clearly, the talent has always been there.
Data Courtesy of DLF Player Combine Performance App.
Brown and Burks tested similarly at the scouting combine and have similar builds. Burks is two inches, but both weigh 225 pounds. Brown makes up for his shortcomings in height but has a 3.5-inch better vertical. Burks continues to be downgraded on Twitter, and his price will likely never be lower. A solid NFL career should be in store.
A Look at Jerry Jeudy
The verdict is still out on whether or not Jeudy will continue the incredible run for Alabama wideouts having success in the NFL (save Henry Ruggs). Lousy quarterback play and an injury in 2021 have left us wondering what exactly we have in the 23-year-old as a fantasy asset.
Data Courtesy of DLF Yearly Data App.
As a rookie in 2020, Jeudy played in all 16 of his games and finished as the WR45, averaging 9.85 PPR points per contest. The 2021 season was even worse as Jeudy averaged just 8.5 per contest. The time to prove his worthiness has arrived. No more excuses. The Broncos went out and traded for Russell Wilson this past off-season.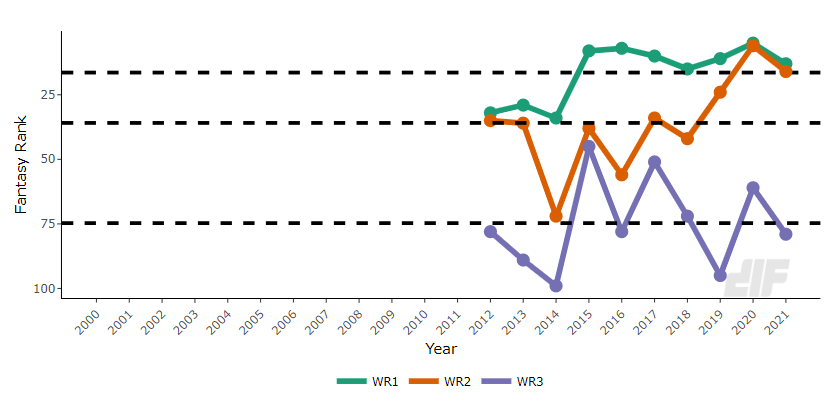 Data Courtesy of DLF QB History App.
Wilson has made a career out of producing WR1s for fantasy purposes and even had two of them in 2020 when DK Metcalf and Tyler Lockett finished as the WR5 and WR6, respectively. It has long been said that receivers break out in their third season. That isn't necessarily the case these days, but if Jeudy cannot produce now, it is fair to wonder if he ever will.
Data Courtesy of DLF Coaching History App.
Also new in town is head coach Nathaniel Hackett. We all know what he was able to do with Davante Adams while in Green Bay the past few seasons. One problem facing Jeudy is fierce competition for targets from teammate Courtland Sutton. Will Wilson be able to support two fantasy-relevant wideouts as he has in the past? Time will tell.
Conclusion
As is the case with anything dynasty-related, team needs, league size, scoring, and aversion to risk play a role in how you construct your roster. I will go with the majority on this one. There is little to no competition for targets in Tennessee for Burks. Jeudy will compete with Sutton and KJ Hamler, as we just mentioned. Rookie tight end Greg Dulcich has also been making noise in camp and could command some action in the red zone in 2022. Go with the rookie here.

Latest posts by Jeff Smith
(see all)