I recently did a rookie mock draft using DLF's new mock draft simulator tool to show readers how a rookie mock works on the site and how the simulator can be a valuable tool for dynasty owners. With a rookie mock in the books already, it seemed like a good time to conduct another mock, but this time as a dynasty start-up. It is the time of year when most redraft and dynasty start-ups are in full swing, so hopefully, you can glean some helpful information from this exercise. Also, if you find it useful, I've done an entire series of mocks for our friends over at 4for4.com, so there might be a mock that is more similar to your league there.
In this draft, I set it as a single-QB, 12-teamer with point-per-reception scoring and no tight end premium. I also set the draft for only 16 rounds. With only 192 players selected, this would leave a much bigger talent pool on the waiver wire compared to your average 20-round draft with 240 players. In many of my deeper leagues, the top waiver options are players like Braxton Berrios, Ameer Abdullah, and Josiah Deguara. 
This short bench, 16-round draft setup gives your leagues more waiver wire action in season and forces owners to make tough decisions when injuries pile up and the bye-weeks kick in. So, without further ado, let's get into it!
Rounds 1-4
In every non-superflex draft I've done, there is a clear top-three; Jonathan Taylor, Justin Jefferson, and Ja'Marr Chase. Landing the fourth spot in a draft gives you a lot to think about. Given the PPR scoring, Cooper Kupp was interesting, but it's hard for me to pull the trigger on a 29-year-old in the first round of a dynasty start-up. Nobody else in the league brings the upside of Christian McCaffrey, but ageism always rears its head in dynasty drafts, so I pivoted to Najee Harris, who is two years younger. Unless Harris is the second-coming of Trent Richardson, he should be a reliable top-ten backfield option for another six-ish seasons.
In the second round, a similar dilemma arose. In a redraft league, I'd have quickly grabbed Austin Ekeler, but I pivoted to the two-years-younger player again and went with Saquon Barkley. He's more of a dice roll than I would prefer this early in drafts, but we've seen the upside despite being on a terrible team. If he returns to the Barkley of old, I'm set with a nice 1-2 punch at running back for years.
With two running backs on my roster, I felt it was time to grab receivers in rounds three and four. Surprisingly, 15 receivers went off the board before my 28th overall pick. So now I'm feeling a little pressure, and I took D.J. Moore. As a young No.1 for a bad team, he should see plenty of volume in 2022 and beyond. With my next pick, I took Elijah Moore. Michael Pittman was still there, but oddly enough, Moore was also two years younger than Pittman, so he became the selection. I also like weird roster build sometimes, and I like the idea of a Moore-Moore wideout tandem every week.
What Could Have Been?
I might have started McCaffrey-Ekeler, which would have given me a slightly older team right out of the gate. I'm also not the biggest D.J. Moore guy, but top-end receivers thinned out quickly in this draft. Maybe with a win-now mindset, the McCaffrey-Ekeler start could have been paired nicely with Mike Evans here, but I went the other direction. I like Courtland Sutton more than Elijah Moore, but looking at ADP, I felt like there was a good chance Sutton would be available with my next pick.

Rounds 5-8
I hoped Sutton would fall another round for me, and there he was, making this the easiest pick so far. In round six, I debated between Darnell Mooney and Leonard Fournette. According to ADP, Mooney was the second-best receiver remaining, and Fournette was the third-best running back available. As a result, I selected Mooney and hoped Fournette would make it back to me in round seven, and he did. With my eighth-round pick, I grabbed twitter's favorite rookie receiver, the Steelers' George Pickens. I've probably done a few dozen mocks and actual drafts over the course of the last three months, and I can't recall a four-pick block that was easier to pull the trigger on with little to no thought. Sutton-Mooney-Fournette-Pickens was an easy 1-2-3-4 for me.
What Could Have Been?
As I just mentioned, there isn't anything I would change about these four players, and I'm thrilled I was able to land them here and give my team a really solid core. In redraft, I might have gone with Hollywood Brown over Sutton in round five, but I only like Brown as a single-year option. A case could be made for James Conner over Fournette, but I'm a big Fournette guy, so I'll stick with my guy.
Rounds 9-12
Having completely avoided the position so far, and realizing the draft is now more than halfway over, I grabbed my first quarterback in round nine, selecting Russell Wilson. With what looks to be questionable quarterback play for both of the Moores at receiver, I thought the Wilson-Sutton stack increase his value as my WR3 and insulate me a bit from any weekly variance my top-two receivers might experience. Unfortunately, given his age (33), I'm probably going to need to select my QB2 a little earlier than I had hoped. With my next pick, I'm keeping the elder-statesmen coming, and I drafted Adam Thielen. He's lost some games to injury over the last couple of years, but he's always a red zone threat, and there isn't anyone on the Vikings roster who is threatening to take targets from him. At the end of the season, there's a good chance this ends up being my best value pick of the draft. So, when I selected Wilson in round nine, I was eyeballing Jalen Hurts there. So, when he was still sitting on the board a full two rounds later, I had to draft him as the value was just too much to pass up. In round 12, D.J. Chark was staring at me, and I didn't see many other players who are likely to be their team's top receiver this year, so He was the pick for me there.
What Could Have Been?
Hurts very well could have been my pick in round nine over Wilson, but I'm glad he wasn't because now I have both. When I took Thielen, I was starting to look at tight ends but thought I could take him then double tap the TE spot in rounds 11 and 12. But Hurts was there in the 11th, and in the 12th the only tight end I kinda-sorta liked was Cole Kmet, and since I already have Darnell Mooney, I didn't want two weapons on what I think will be a terrible offense, so I pivoted to Chark. I was also assuming Both Zach Ertz and David Njoku would continue their slide in the draft, and I could get them both with my next two picks.
Rounds 13-16
Oh no! I waited too long, and Zach Ertz was taken. Njoku is now the only option on my radar, but he's way down on the ADP ladder, so I'm going to keep waiting. Looking at my roster up to this point, I've got seven receivers and only three running backs, and I'm feeling pressure to build some depth as this draft is quickly drawing to a close. Zamir White is the only name with upside remaining. I don't love the pick, but I painted myself into a corner. As pick 14 looms, I still need more running back help, but I see Romeo Doubs sitting there, and since I already grabbed one twitter darling in Pickins, why not double-dip and get two of twitter's favorite receivers?
In round 15, the pressure is really on with this short-bench draft. Despite it only being a mock, I felt the walls closing in on me over the last few picks. So I finally addressed tight end and took Njoku here. With my final choice, I was planning on selecting another tight end, but knowing it isn't TE-premium and waivers should be chock full of tight end options each week, I decided to roll with a single tight end. That choice lead me to drafting the Chiefs' Isiah Pacheco. A perfect fit to join my Twitter-darling overhype-machine combo of Pickens and Doubs.
What Could Have Been?
Sixteen rounds really go fast. If I were looking for a higher-floor, lower-ceiling veteran, I would have gone with Melvin Gordon over White in round 13. But nothing about that appealed to me. I also probably overdrafted Doubs, but sometimes you have to reach a bit to ensure you get a particular player, and I figured I could do a lot worse than the Packers' potential No.1 receiver. Had I not taken Pacheco with my last pick, I would have gone with a tight end, most likely one of; Gerald Everett, Evan Engram, or Austin Hooper. However, with the short benches and deep waiver wire, tight end seemed like the position to punt in the draft.

Who's Left?
The draft flew by, and it seemed like it was getting harder and harder to find quality guys. I mentioned how deep I believed the waiver pool would be, but I have to say, it doesn't look that great right now. This group of remaining players is the definition of "meh." I have no clue what I would have done with another one or four picks. Looking at the remaining player pool of a 192-player draft, I'm convinced the top 192 players were selected. There isn't anyone remaining that I feel like I missed out on or regret not drafting.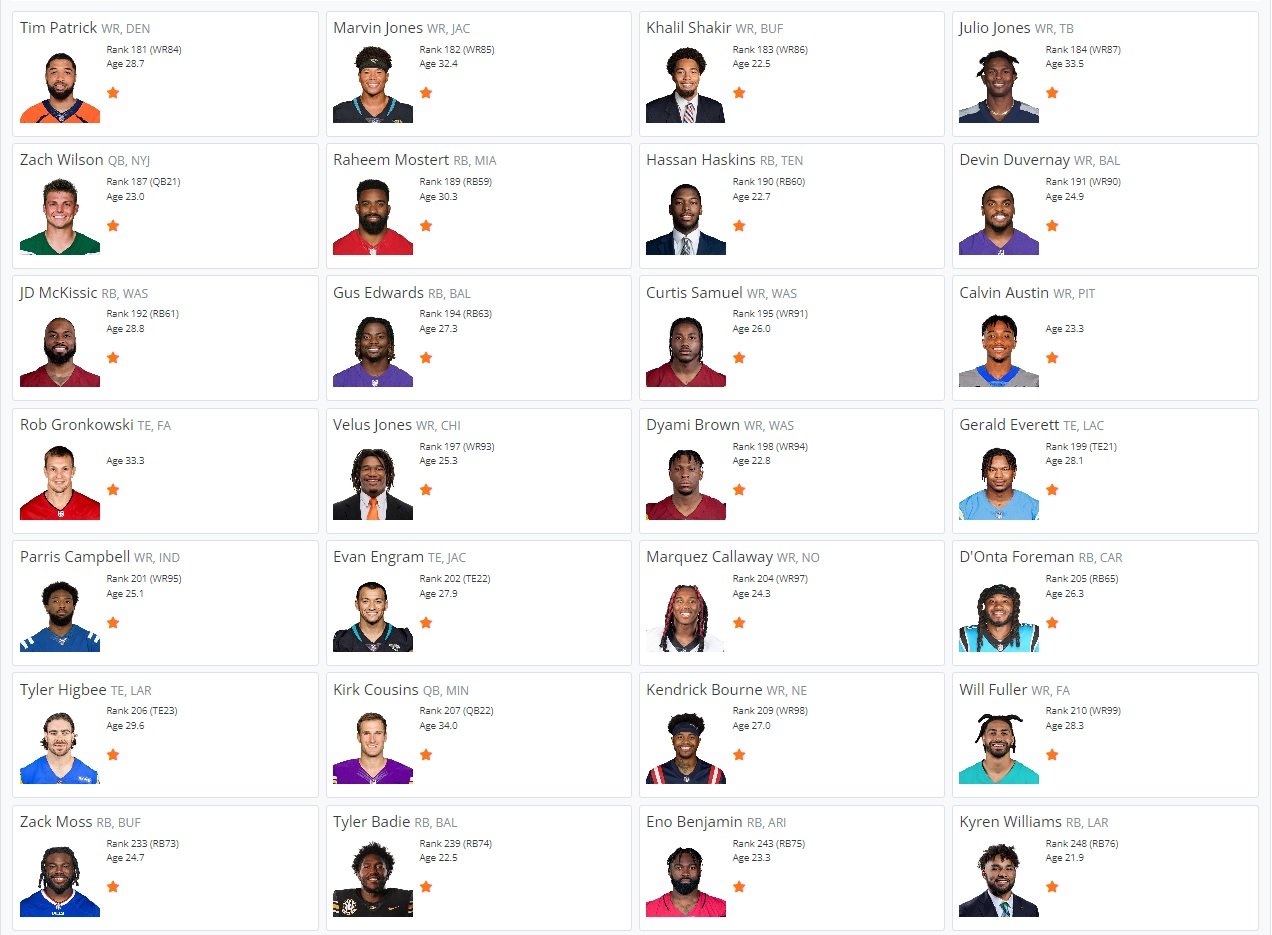 The Big Picture
This draft was a fun one to add to this series, and thank you for reading. Be sure to check out DLF's mock draft simulator as you prepare for fantasy draft season. I learned quite a few things throughout and have applied those lessons in more than one real-life draft myself. With a draft setup like this, looking at the remaining player pool, I probably wouldn't have selected a second quarterback or tight end if I did this again. There are several good options on waivers if I need to fill in for bye weeks or injuries. This was definitely the most fun draft of the bunch. Hopefully, you took something away from this series, have a great 2022 season.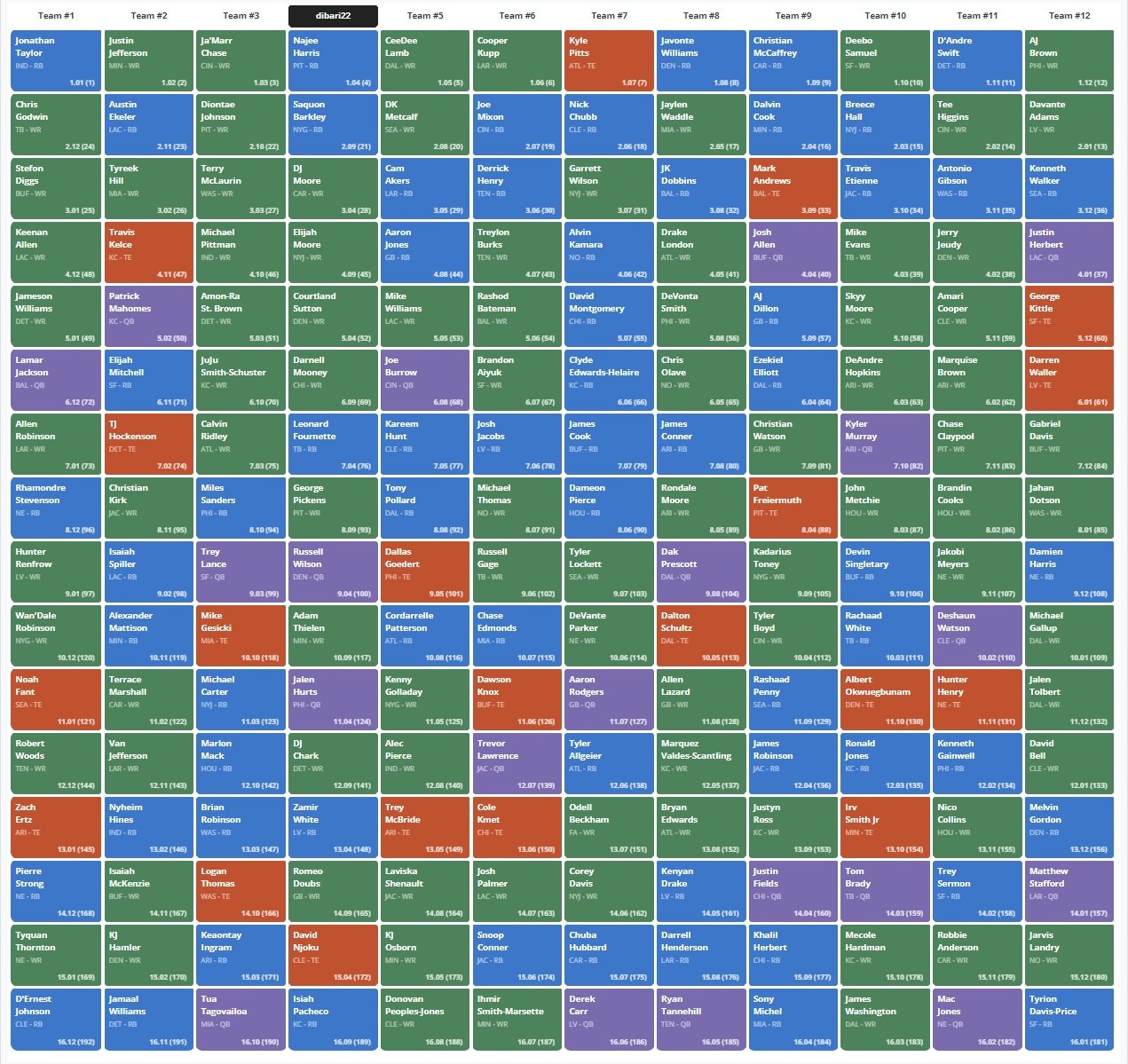 Latest posts by John DiBari
(see all)