Summer and the off-season are upon us. As dynasty owners, we are looking ahead to the upcoming season. In the Dynasty Fantasy Football Rankings Risers and Fallers series, we break down some of the fantasy-relevant dynasty players, including rookies, and look at their values while providing actionable advice on what to do with them.
David Bell, WR CLE (January Rookie Rank=8.4, Current Rank=17)
Purdue grad Bell has dropped eight spots since the January rookie rankings were posted at DLF. That may not seem like a lot, but when you are talking about falling out of the top ten, it actually is a pretty steep drop. Bell was knocked for not being very athletic coming out of college, and landing in Cleveland won't do him many favors. It is an opposite trend from last week's rookie highlight, John Metchie.
We don't know who will be under center come September for the Browns, and even if it is Deshaun Watson, does it even matter? The line chart below shows that Bell's decline is natural and has now leveled out. There is a chance we see some production out of the slot, but that is far from a given at this point.

Data Courtesy of DLF Dynasty Rankings History Comparison App.
Bell was the 16th wideout taken in the 2022 draft (99th overall) and does carry some draft capital into training camp with him. Also working in the rookie's favor is the Cleveland depth chart. More on that later.
Data Courtesy of DLF Rookie WR Rankings.
Bell now finds himself behind rankings risers such as John Metchie and Wan'Dale Robinson in the current rookie wide receiver rankings. Of course, his quarterback situation and training camp this July will go a long way in determining which way his rankings trends go from here.
Heavily Involved
Part of the allure with Bell had to be his college production. Across the three seasons played in Indiana, the 21-year-old accumulated 232 receptions (77.33 per year) and 2,946 yards. These impressive stats were topped off with 21 touchdown receptions.
Data Courtesy of Sports Reference.
We often hear the term 'market share' talked about in fantasy circles. If you aren't familiar with that, there is some excellent reading on the subject available. Bell was up there with the big dogs regarding his MS receptions during his ages 18 and 19 seasons.
Data Courtesy of DLF College Market Share App.
The hope is that college usage and production translate to the next level. Bell  is being drafted in the vicinity of former college teammate Rondale Moore and fellow rookies Alec Pierce and Jalen Tolbert.
Source: Bell's DLF Player Page.
DLF's very own Josh Brickner provided a post-draft update on Bell in June if you are interested in reading more about him. As seen in the highlight reel below, he was not a stranger to gaining yards after the catch.
We will see if he has what it takes to replace Jarvis Landry, who left this off-season to join the New Orleans Saints. However, the opportunities should and could be there for him.
Brown and Out
The Cleveland offense hasn't exactly been a hotbed for the wide receiver position. Many stars have been Browns for a short time and left for greener pastures. See Odell Beckham Jr and the aforementioned Landry.
Head coach Kevin Stefanski managed only a WR21 finish out of stud wideout Stefon Diggs while in Minnesota and hasn't had a receiver finish as a WR2 during his tenure on the lake. Perhaps sub-par quarterback play can be blamed for some of the results, but as they say, numbers don't lie.
Data Courtesy of DLF Coaching History App.
The more significant obstacle toward success for Bell may be in the design of the offense itself. Stefanski is known to coordinate an offense that splits its run/pass ratio almost right down the middle at 50/50. Further complicating matters is the usage of two or three tight ends being in on most downs.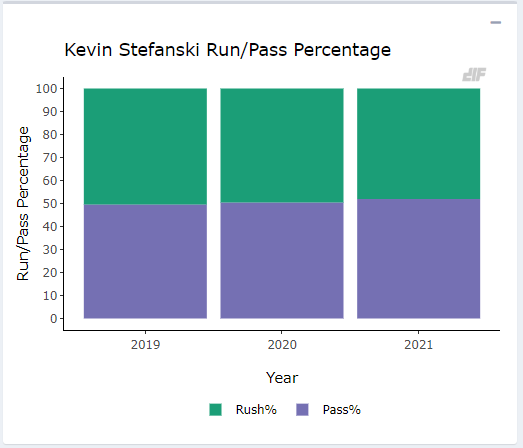 Data Courtesy of DLF Coaching History App.
The battle will be a tough one for David Bell to climb. Amari Cooper is the only proven threat in an offense that likes to run the ball. Will there be enough for Cooper, Bell, and the others for him to be playable in PPR formats? Some of the DLF expert rankers believe so. Jeff Haverlack ranks him as his 13th rookie overall and says, "not exciting, but good possession potential."
Conclusion/Course of Action
The comment from Jeff just about sums up Bell. He is not exciting. Could he turn into a good fantasy asset? Sure. Is he worth the investment at his current ADP? Also, sure. Will he become Steve Smith or Robert Woods? Not likely.
Data Courtesy of DLF Trade Analyzer.
Looking at the DLF trade analyzer above, it doesn't care for the Browns rookie much either. The algorithm values him in the area of a 2022 third-round pick or a 2025 second. I would take the future asset in this case and prefer Russell Gage over him as well.

Latest posts by Jeff Smith
(see all)