As dynasty managers know, landing spot and draft capital are crucial to any rookie's success. Last year, I wrote both the best situations and the worst situations articles, and I really enjoyed putting them together. However, in 2021, we knew a lot more about landing spots before the NFL Draft. Trevor Lawrence and Zach Wilson were mortal locks at first and second overall, the 49ers were taking a quarterback at third overall, and the Falcons and Bengals had constant links to Kyle Pitts and Ja'Marr Chase, respectively.
But this year, the NFL Draft was far more wide-open, as there were no top-tier prospects at any fantasy-relevant position. Therefore, it was far more challenging to predict landing spots, although draft capital fell similarly to what I expected. Interestingly, it felt like there were far more good landing spots than bad ones, so I've decided to split up the best situations article into two parts with five players each. I already wrote part one, and I'm ready to jump into part two. Let's go!
Bell was a production monster at Purdue.

Chart courtesy of Sports Reference CFB.
He stepped in as a true freshman in 2019 and immediately became the team's top wide receiver ahead of 2018 sensation and future second-rounder Rondale Moore. Then in 2020, he continued his role in a COVID-shortened year, averaging over 100 receiving yards and just under nine receptions per game. And finally, he lit the world on fire in 2021, completing an entire season of production with 93 receptions and 1,286 yards in only 11 games.
Unfortunately, Bell failed to impress at the NFL Combine.

Despite his strong college production, his 4.65-second time in the 40-yard dash likely removed him from some teams' draft boards. He also wasn't great in the other events, leaving little positive buzz after the combine wrapped.
Before the NFL Draft, I was worried that Bell would fall into day three and become a long shot for dynasty purposes. However, the Browns decided to take a chance on him, drafting him with the 99th overall pick. Even though the Browns' new quarterback Deshaun Watson may face a suspension in 2022, it's a fantastic landing spot for the long-term.
Amari Cooper is the Browns' WR1, but they have little behind him on the depth chart. I believe Bell can quickly beat out Donovan Peoples-Jones and Anthony Schwartz for the WR2 spot, giving him a path to targets. The Browns also traded their 2023 and 2024 first-round picks to acquire Watson, so a first-round wide receiver won't replace Bell over the next couple of years. This landing spot couldn't be better.
I don't understand why the Colts failed to add any significant veteran receiving weapons this off-season. They had an abysmal receiving corps in 2021, with nothing beyond Michael Pittman.
Chart courtesy of Pro Football Reference.
As you can see, their third and fourth target leaders were running backs Nyheim Hines and Jonathan Taylor, and their secondary target Zach Pascal signed in free agency with the Eagles. Additionally, Jack Doyle retired, and TY Hilton remains a free agent. Therefore, there's a massive target void on the Colts for new quarterback Matt Ryan, representing a significant upgrade over Carson Wentz.
I discussed the Colts' landing spot for tight ends in my worst landing spots article, where I mentioned that I wished my rookie TE2, Greg Dulcich, went there. However, Woods will also fit nicely in the Colts' offense, especially if they decide to run 12 personnel. Matt Ryan found success with Austin Hooper and even Kyle Pitts in 2021, so Woods has every opportunity to do well in Indianapolis.
As for Pierce, he can play outside and in the slot and is a versatile weapon, making him an excellent complement to an alpha-style wide receiver like Pittman. I don't see Pierce as a serious challenger for the WR1 role on the team, but Ryan can support a second fantasy weapon beyond Pittman. Even as a rookie, Pierce's second-round draft capital makes him the immediate favorite for that role.
Honestly, I didn't even think Davis-Price would hear his name called during the NFL Draft, let alone on day two. However, the 49ers picked him with the 93rd overall pick as the fifth running back off the board. He went ahead of more notable prospects like Brian Robinson, Zamir White, and Isaiah Spiller, all of whom seemed far more talented based on their college profiles.
However, there's no doubt that the 49ers are the best possible landing spot for Davis-Price. While Elijah Mitchell had a great rookie season in 2021, there's no guarantee that he will hold the job long-term. Additionally, 49ers' head coach Kyle Shanahan seems to be a run-game genius, as essentially any running back except Tevin Coleman has put up monster numbers in the 49ers' scheme over the past five years.

Chart courtesy of DLF Coaching History App.
From 2017 to 2021, the 49ers finished in the top quartile of rushing yards in three of those five seasons, and they never were below 19th in the NFL. They also consistently run the ball, although they did come in slightly below average in attempts in 2017 and 2021. But the general trend still holds, and the 49ers often use multiple running backs when they have numerous healthy running backs that they trust. If Davis-Price can become a trusted backup to Mitchell, he will challenge for work in this run-heavy scheme.
Unfortunately, Allgeier fell farther in the NFL Draft than I anticipated, landing at the 151st overall pick in the fifth round to the Atlanta Falcons. When I wrote his initial rookie breakdown, I expected him to contend for a day two selection or land in round four. It seems like the NFL wasn't as in on Allgeier as the dynasty community, with his 4.6-second 40-yard dash as the most significant factor in why.
However, the Falcons represent a perfect landing spot for Allgeier to see immediate playing time. After they drafted him, they cut 2021 committee back Mike Davis, leaving only Allgeier, Cordarrelle Patterson, and Damien Williams on the depth chart. Williams sat out 2020 due to COVID-19 concerns, and he had only 40 carries for 164 yards and two touchdowns in 2021 for the Bears.
Therefore, Patterson is the only concrete threat to Allgeier's touches in 2022. The Falcons gave him a two-year, $10.5 million contract, so he will likely lead the backfield, at least in the short term. However, he's already 31 years old, even older than Williams at 30. Allgeier is the only young running back on the roster, so he can capitalize on this opportunity. But, if he does, I would immediately look to sell him. Michael Carter is a perfect example of what can happen to day three running backs who have decent but not excellent rookie years.
Like Allgeier, Ingram is a day three running back who fell into a massive opportunity share. The Cardinals only spent a sixth-round pick on him, but they have absolutely nothing behind starter James Conner. They signed Conner to a three-year, $21 million contract with $13.5 million guaranteed, essentially locking him in for 2022 and 2023.
However, the Cardinals never intended to deploy Conner as a total workhorse.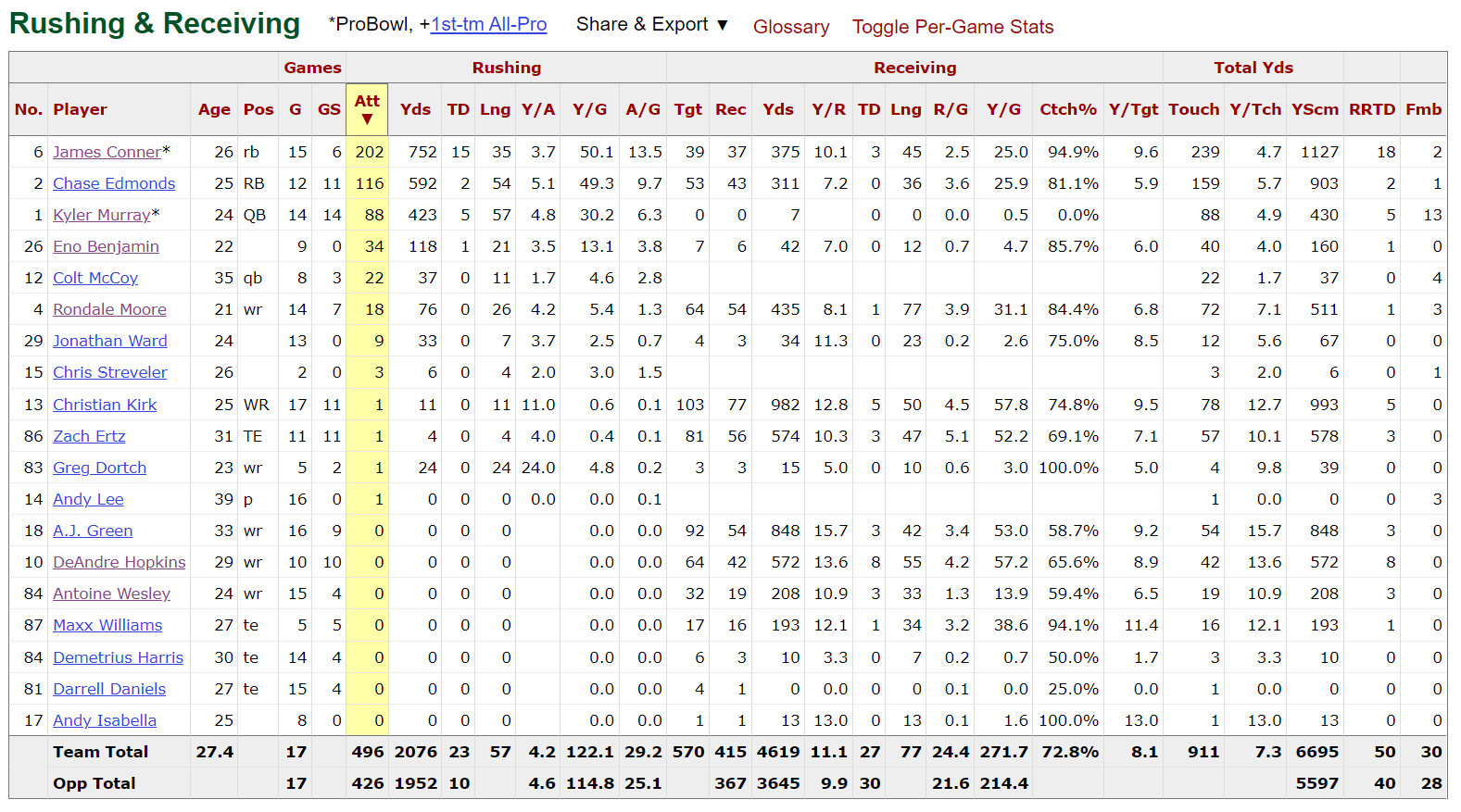 Chart courtesy of Pro Football Reference.
Even though he missed five games, Chase Edmonds saw 116 carries and 53 targets in 2021. I'm not saying that Ingram is a lock to take the full Edmonds role, but his college receiving profile says he's at least a candidate.

Chart courtesy of Sports Reference CFB.
He totaled 89 receptions for 671 yards and six touchdowns in 42 college games, which is impressive for a college running back.
Luckily, the Cardinals' other running back options aren't appealing. Eno Benjamin has been active for nine of a possible 33 career games, totaling only 34 carries for 118 yards and a touchdown. Beyond Benjamin, the Cardinals only have special teamer Jonathan Ward, who has nine carries for 33 yards in his two-year career. If Ingram has a strong training camp, I expect him to have a role from week one.

Latest posts by Tyler Justin Karp
(see all)