2022 Dynasty Fantasy Football Rookie Prospect: Desmond Ridder, QB Cincinnati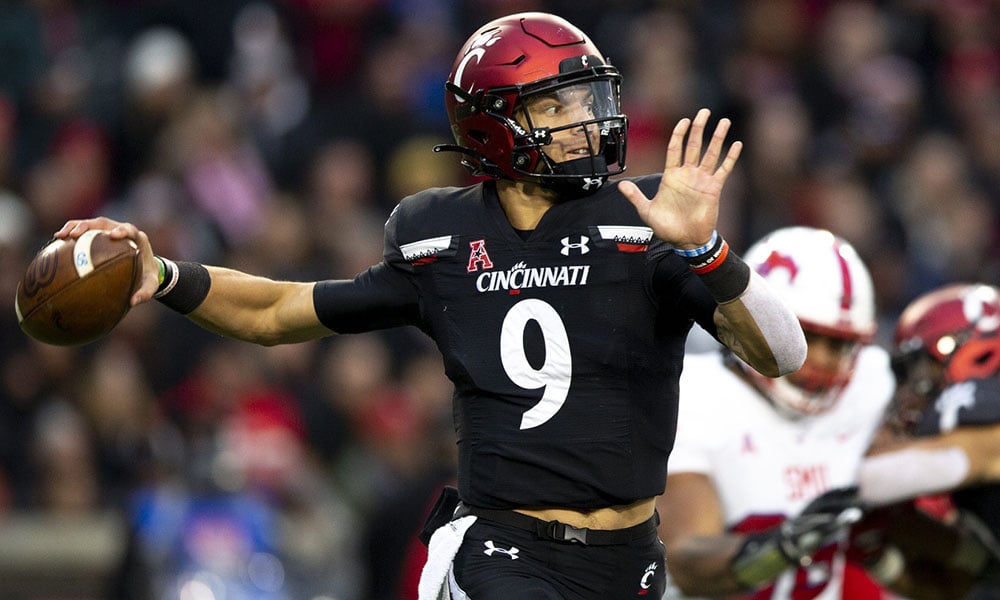 Shane Hallam
Posted On April 21, 2022
The DLF NFL rookie profile series continues with an analysis of 2022 NFL Draft Prospect Desmond Ridder, QB from Cincinnati. DLF will continue to provide in-depth rookie profiles and informative rookie analysis through the NFL Draft. Stay tuned, and stay ahead of your league.
The 2022 quarterback class has taken a lot of flack about not having an elite option. But, as Liberty's Malik Willis and Pittsburgh's Kenny Pickett gained steam throughout the season, one QB in the '22 draft didn't lose a regular-season game and made the College Football Playoff.
Enter Cincinnati's Desmond Ridder. Ridder quietly put together two straight undefeated regular seasons and not only impressed with his leadership, but also his athleticism as a rusher and scrambler in the pocket. But, will he be a first-round NFL Draft pick? If not, will he be a successful fantasy asset?
The Stats
Statistics from Sports Reference.
Ridder came into college as a three-star prospect who was thin with raw athletic ability. As a four-year starter for the Bearcats, he showed improvement each season as a passer. The first two years were average at best, when he often relied on his legs over pure statistical passing. It was in his junior year that he really took off.
SUBSCRIBE TO DLF PREMIUM!
Gain Instant Access to this resource and so much more!.

Premium membership provides access to all of our industry-leading dynasty fantasy football content.
You can also get a DLF Premium Membership for FREE! Find out how.
2022 Dynasty Fantasy Football Rookie Prospect: Desmond Ridder, QB Cincinnati