Welcome to the Dynasty Trading Post! This series will highlight the trading tools we have for our DLF subscribers. We'll use the DLF Trade Finder to look at actual trades that took place in dynasty leagues hosted on myfantasyleague.com, check in with the DLF Trade Analyzer to see what it thinks, and then discuss those deals. One caveat to mention is that the Trade Analyzer value of a player changes constantly, so all values discussed were at the time of writing. If you have a trade you'd like addressed in this space, please reach out to @MattPriceFF on Twitter!
This week we'll look at the dynasty trade value of the aging elite running backs. The trade market for most running backs often tanks after their rookie contract and they become hazardous assets to hold for teams that aren't in a competing window. Dynasty managers hate old running backs. They might even hate them more than leagues that still use kickers!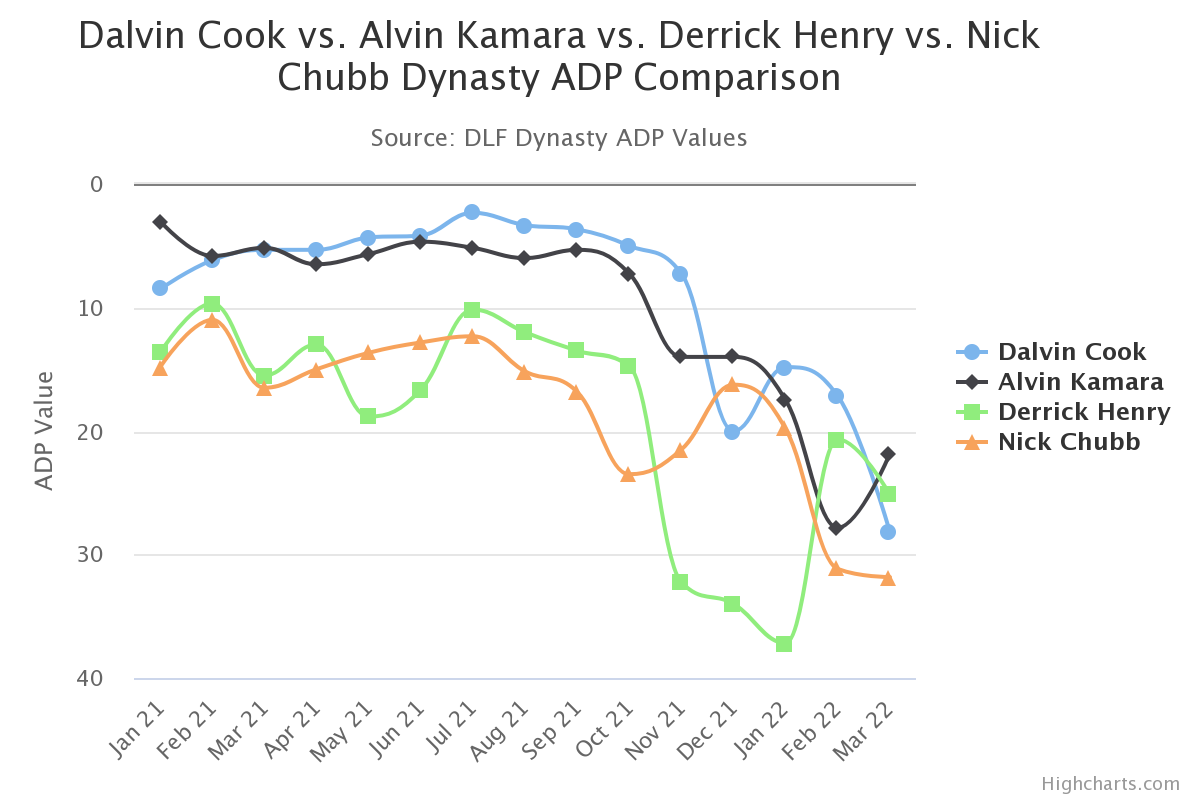 As you can see by looking at the ADP of these four running backs, the off-season has, in general, not been kind to any of these former top startup selections. Dalvin Cook and Alvin Kamara were both top-five picks throughout last off-season. Derrick Henry and Nick Chubb were both going in the early to mid-second at the same time. Just six months later, Kamara is barely hanging on in the late second and the other three are often still on the board in the third round. These guys are all past their prime in terms of trade value and will likely never return to the first round (or maybe even second round) in dynasty startup drafts.
Age-related ADP only makes up one side of the value of a player. Production and perceived years of production remaining make up the other. Is there an edge to be gained here by competing teams, or is it worth sending away future assets like picks and prospects to potentially gain a positional advantage on the cheap?
Let's take a look at some recent dynasty trades to gauge the going rate.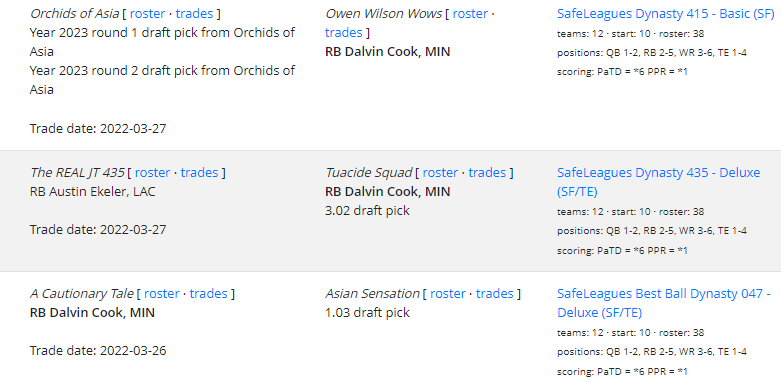 All three of these deals are pretty fair for both sides. I think a future first and second is kind of the baseline value for each player in this category. From there, adjust up or down based on league settings, team desires, fandom etc. I prefer Austin Ekeler in the second deal, but they're close enough that the 3.02 isn't going to prevent a deal from happening. It could just as easily have been on the other side of the exchange.
The final trade shows how to get a deal like this done. The manager getting the 1.03 guarantees him one of his most highly valued players in the class and the one getting Cook gets a year or two of stud production if everything goes according to plan. Nice job you guys!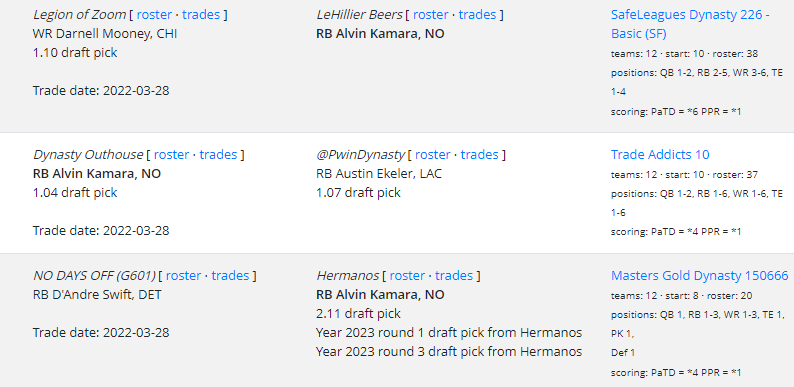 There are some interesting deals involving Alvin Kamara too. Even though it's superflex, I think Darnell Mooney and the 1.10 is a bit light. You're likely looking at something like the QB3, WR7, or RB3 in the class. Unless I just really need to get out of Kamara, I'm going to hold out for more.
The second deal demonstrates a perfect compromise. One side is getting the slightly better running back and the other is getting the slightly better draft pick. Well done sirs!
The final Kamara deal illustrates the expense that could be required to buy back three years of age and according to March ADP, to move up from the dynasty RB12 to the dynasty RB3. I'd personally keep Kamara and roll the dice on a prospect just as good as D'Andre Swift from the 2023 class and two more dart throws.

Moving over to Derrick Henry, we see more options for trade setups. Henry for Davante Adams just seems like a match made in fantasy football heaven. Can't you just hear the conversation now? "Hey man, I need some stud running back production. Is Henry available?" "Well I could use some stud wide receiver production. Is Adams available?" *Both together* "This deal is formed!"
I quite like the second deal for both teams as well. I think I slightly prefer the David Montgomery side because I'm buying back a few years and getting a shot at a decent prospect at the end of the first. It's a completely reasonable deal for someone looking for the league-winning upside that Henry presents too, though.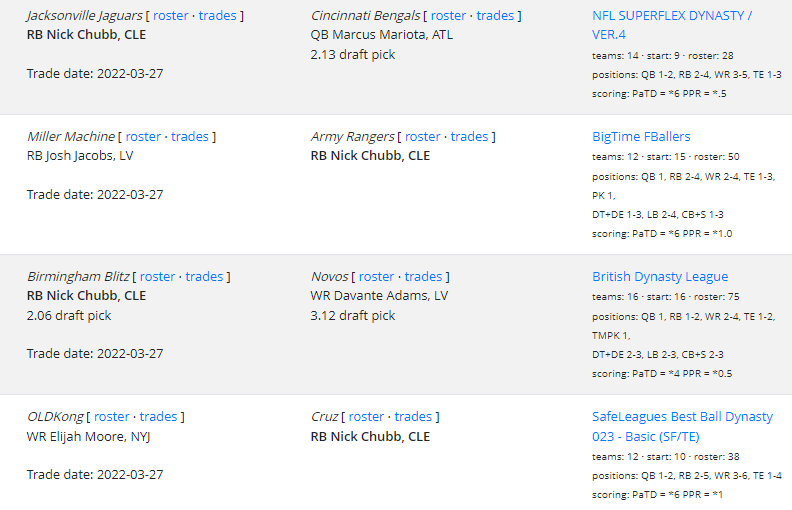 Lastly, let's see what we can get for Nick Chubb. In the first trade I think I'd prefer to keep Chubb, but maybe not? I know it's a 14-team superflex league so quarterbacks are very valuable, but I just think I can probably do better than Marcus Mariota. I get it though. Trade two, what is going on here? I'm hoping there are some contracts involved or something otherwise I definitely do not get this one.
Trade three is like a carbon copy of the previously discussed Henry for Adams deal but made more complicated with draft picks! The final Nick Chubb trade I wanted to pull out of the DLF Trade Analyzer appears to be selling a little low on the running back, but I actually like this for both sides. Elijah Moore is an exciting young wide receiver but is relatively unproven. Chubb is a proven fringe RB1 with week-winning upside who should be productive for at least two more seasons.
I hope I've given you some good examples of ways to get into or out of a variety of aging running backs who should still have enough tread for a season or two of potentially elite production. In general, this is a very risky and difficult to value asset. Managers really need to take a strong look at their teams and determine if they can compete for a title. If you're in the middle then it's at least worth investigating the kind of return you can get before making a decision. If you aren't in the top half of the league, then it's time to get out of them now even if you have to take a slight loss to do so. A season ending-injury for this category of players could be catastrophic for their trade value and in an instant, turn the potential goldmine into dust.
That will do it for this edition of the Dynasty Trading Post! Let us know what you think of these trades and how the trade analyzer values the pieces. Remember, the trade analyzer is but one tool in your dynasty toolkit. In the end, it's up to you to pull the trigger on a trade. If you'd like a specific player or trade run through this process, please don't hesitate to reach out!

Latest posts by Matt Price
(see all)