Quarterback Extreme: Trading Quarterbacks in Superflex Dynasty Leagues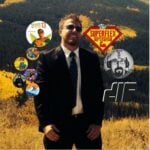 John Hogue
Posted On March 24, 2022
"QUARTERBACK X-TREME! ALL THE QUARTERBACKS!"
If you've listened to even a second of The SuperFlex SuperShow (thank you for listening!), you have heard that crazy host who calls himself the SuperFlexDude pound the table for this strategy. "Quarterback XTreme" (aka "Quarterback X-Stream," aka "QBX") basically amounts to taking QBs early and often in a superflex startup draft. Take them early, so that you can take them often; it's less about getting high-end elite QBs, and more about getting at least five NFL starting QBs before they dry up.
The strategy is based largely on the ability to stream QBs within your roster, creating scoring advantages in-season. With five QBs to choose from, you are bound to 1) have two healthy QBs who aren't on bye, and 2) have options at both the QB and Superflex positions, so you aren't accepting minimal scoring from a QB in a bad matchup.
But there is a byproduct to the strategy that ends up being far more compelling to most dynasty team managers than the scoring: trade value. The scarcity of the position in a superflex league drives the value of the entire player pool, not just the QBs. That same podcast host always says "superflex isn't a quarterback game, but it is a quarterback-driven game." Quarterback isn't the only position of value, but the (limited) supply and (high) demand of the position influences all of the other positions.
Trading quarterbacks in a superflex league becomes one of the most difficult moves to make in all of dynasty football, with so much nuance involved as managers try to navigate the immense value of a QB. Increasing QB "headcount" (depth) – receiving a QB without giving one up – comes with an eye-popping price tag, as the manager decreasing their QB depth puts themselves in a precarious situation that few managers are willing to endeavor without a massive payoff.
Suddenly, QBX doesn't feel quite as extreme when those five QBs give you a surplus to trade away. When the league has 11 buyers but just one seller, the manager with the luxury of trading away QBs gets to set the price.
That's my pitch (well… one small part of a long-winded plea) for QBX. But it's not the only way to play superflex… as much as it pains me to admit that. In fact, most people still don't subscribe to the QBX strategy, and prefer to live right at the margins at the QB position in order to free up roster space for other positions. Trading becomes more difficult, but also more necessary, as QBs retire or lose their starting jobs in the offseason, and get hurt or benched in-season. Before you enter the market, understand what the market looks like, and the four QB trade structures.
Structure #1: Decreasing QB Headcount
SUBSCRIBE TO DLF PREMIUM!
Gain Instant Access to this resource and so much more!.

Premium membership provides access to all of our industry-leading dynasty fantasy football content.
You can also get a DLF Premium Membership for FREE! Find out how.
Quarterback Extreme: Trading Quarterbacks in Superflex Dynasty Leagues