Just when we thought it was safe to fill out our NCAA brackets and relax in anticipation of the free agency frenzy, Tom Brady decided to upstage Russell Wilson (who upstaged Aaron Rodgers) and become the talk of the town at quarterback again. The veteran quarterback has decided to have his first shot at retirement last exactly 40 days and return to Tampa Bay for his 23rd season. The retirement reversal has some pretty serious ramifications in dynasty leagues. Let's take a look at the players involved.
Tom Brady, QB TB
What else can you really say about Tampa Tom? He's done pretty well for a "system quarterback," throwing for 84,520 yards, 624 touchdowns and just 203 interceptions in his 22 years in the league. His quarterback rating average for his career is close to 100 and he's thrown for 83 touchdowns in his first two seasons in Tampa Bay. In short, Brady is a QB1 in any season he plays and this next one should be no different. There are certain players contending dynasty league managers should target and Brady is a classic example of a player nearly guaranteed to give you elite QB1 numbers at a reasonable price based on his age alone. The beat goes on for Brady and it feels like this isn't going to be a one-year thing. It's quite possible he ends up throwing for over 100,000 yards in his career. One. Hundred. Thousand. Expect his ADP and ranking to move back up after his 40 days of fun.
On another note, this is yet another time where having a rule about fantasy managers retaining right of first refusal if a player they had retires, then comes back. It's a solid rule to have in place for these kinds of situations so teams aren't penalized when a player changes his mind.
Ke'Shawn Vaughn, RB TB
At this point in time, Vaughn is the last official man standing in the running back room. While the Bucs will clearly now go back after Leonard Fournette, it's fair to wonder if he wants to be "Big Bag Lenny" after he won his Super Bowl title. There are other options out there as well and you have to believe Tampa is going to add at least one more veteran to the mix. Still, this is as high Vaughn's value has been in quite some time. If they fail to add someone significant, he could finally get his chance. He represents a pretty nice late round flier at the moment.
Leonard Fournette and Ronald Jones, RBs FA
It seemed as if Fournette was more than ready to walk earlier in the weekend when he thanked Tampa Bay on social media, obviously looking ahead to the future. With the Bucs window open for at least one more season, Tampa Bay will likely make a big push for his services again. However, Tampa is starting to run out of money and Fournette has likely done enough to merit a larger contract somewhere else. It's actually pretty simple – will Fournette prioritize winning or money? As for Jones, it's hard to see him going back to the Bucs after spending most of his rookie contract in Bruce Arians' doghouse. If Tampa strikes out on Fournette, they could turn to Jones (or even bringing back Gio Bernard), but this is tough to say. In dynasty leagues, their values are both in flux until we see how the rest of the week shakes out.
Mike Evans and Chris Godwin, WRs TB
When Brady went into his retirement mode, there was real concern about the short-term value of these two. After all, the Bucs didn't get Russell Wilson and weren't really in the mix for Deshaun Watson, either. With Kyle Trask as the only quarterback on the roster, it was fair to wonder just what this duo could produce. With Brady back in the fold, expect similar numbers from both Evans and Godwin. With Evans, he's about as sure a bet for 1,000 yards as there has been in the league and Godwin is going to have his days as well. With these two (and the other receivers in Tampa), their short-term values are stable, though the Bucs need to think about the future.
Kyle Trask, QB TB
For about a month, it actually looked like Trask had a shot to start for Tampa Bay this season. While that was likely never going to be the end game, it's clear Tampa has at least some faith in his development. With Brady coming back, Trask will get another year to learn and possibly be ready to take the reigns at some point. Still, it's tough to hold him in shallow dynasty leagues at this point.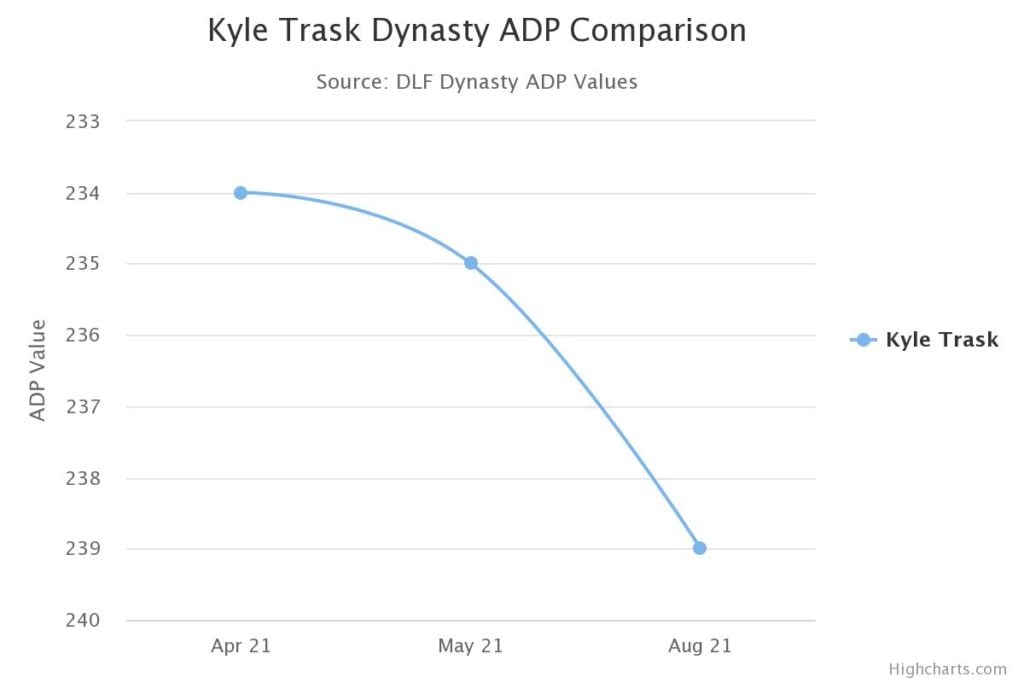 Rob Gronkowski, TE FA
Gronkowski has been pretty steadfast this off-season with the indication he wants to keep playing and it really looked like he was going to leave Tampa Bay for Cincinnati, Buffalo or another contender. With Brady back on the team, it's hard to see him playing somewhere else. Gronk is going to be Gronk – he'll be a low-end TE1 and perfect target for a contending team looking for a weekly tight end who won't cost elite prices and can give you some fun Gronk smashes on Sundays.
Cameron Brate, TE TB

If Gronkowski was to bolt (yes, unlikely), Brate could be in position for a nice bump in value. Again, we have to see where the rest of the chips fall here, but he's certainly a player to monitor.
Deshaun Watson, QB HOU
Well, scratch one more off the list.


Latest posts by Ken Kelly
(see all)