As we here at DLF celebrate Dynasty Trade Month, I wanted to look at three wide receivers you should be trying to trade for in your dynasty leagues. Using some of DLF's tools at my disposal, I came up with three players I'll be looking to acquire more of heading into 2022, and you should too. Enough of my rambling introduction; let's take a look at the receivers.
A year ago, Renfrow was an afterthought on draft day, falling to 201 overall. However, he rewarded those who selected him with a PPR WR10 finish, averaging 15.2 points per game, totaling 259 points. As a result, as you can see below, thanks to DLF's ADP over time tool, last season's WR1 finish propelled Renfrow's ADP significantly higher than we saw over the previous three years.
I know, you're probably thinking: "Isn't he a prime sell high candidate?" and my answer is no. Quite the opposite. Now is the time to get yourself some Hunter Renfrow. Looking at DLF's Trade Finder, there are many deals that I would happily make to acquire the 26-year-old receiver.
Straight up for a 2024 first-round pick. Straight up for Darrell Henderson. Straight up for Mike Williams. For Darnell Mooney and a 2022 third-round pick. It's a yes to all of those deals from me. But be prepared to overpay a bit. There are several deals for first-round picks or DeAndre Hopkins out there too. Long story short, if you're a Renfrow believer, now might be your last chance to get him on the cheap.
The Raiders hired former Patriots offensive coordinator Josh McDaniels this off-season. In case you were unaware, McDaniels' Patriot offenses featured two well-known fantasy receivers; Wes Welker and Julian Edelman. Over the course of nine seasons, on a per-game basis, they averaged ten targets, seven receptions, 79 yards, and .419 touchdowns. Projected over a complete 17-game season, that would look like 125 catches for 1,343 yards and seven scores. This stat line isn't a huge leap from the 103-1,038-9 line we saw in 2021 from Renfrow. They're obviously different players with different surrounding casts, but they're all excellent route runners, they're all about 5'10", and they're all about 190 pounds, playing predominately out of the slot for Josh McDaniels. I'll roll the dice on Renfrow in 2022.
Despite having what was perceived by many to be a "down" year, McLaurin still managed to finish as the PPR WR25 on an underwhelming Washington Football Team. Although the perception remains, it certainly hasn't impacted McLaurin's ADP as of this writing as he is being taken just slightly below where he was a year ago according to the ADP over time tool.
There can only be 12 WR1s every season, you're lucky to have one of them, and many rosters are made up of multiple WR2s. You may not have the marquee names up top, but many dynasty rosters succeed with multiple, reliable WR2s.
Looking at McLaurin's three-year career stats from FantasyPros.com (with nothing remarkable at quarterback), you'll see a very solid option for fantasy owners. The below numbers were good enough for finishes of 29, 20, and 25 over the last three years, respectively.

It would almost be impossible for Washington not to improve the quarterback position in 2022. Even if they chose to stay with Taylor Heinicke at signal-caller for another year, he now has a full season of NFL experience under his belt. This year, more than any in recent memory is projected to have a lot of moving pieces at quarterback, and any improvement will help Washington's number one receiver. There aren't many eye-catching deals in the DLF Trade Finder, as he seems reasonably priced by buyers and sellers alike.
Before I get started, full disclosure here: It's always 'Buy Kendrick Bourne Season' in my house and has been since he came into the league in 2017.
Unintentionally, all three players are 26, and the article has kind of gone by tier. Renfrow can be a consistent WR1, McLaurin can be a consistent WR2, and Bourne can be a reliable WR3. Unfortunately, Bourne's 55-catch, 800-yard, five-touchdown season has propelled his ADP to the highest it's ever been.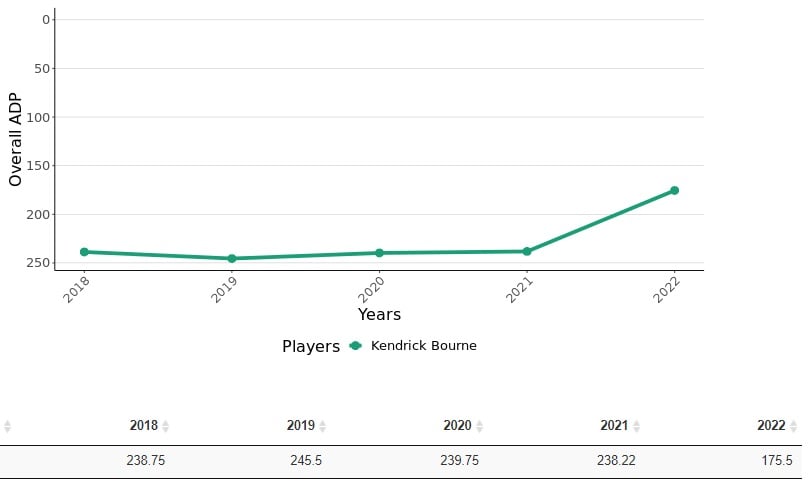 Bourne caught nearly 79% of the passes that came in his direction, tops among Pats' receivers. Additionally, rookie quarterback Mac Jones proved to be more than capable as an NFL passer and still has plenty of room for growth. On paper, it looks like Bourne is the team's top option at wide receiver heading into 2022, despite teammate Jakobi Meyers' 56 more targets. Despite that, Meyers only had 28 more catches than Bourne, but Bourne saw the end zone 2.5 times more.
Two of the more recent deals in the Trade Finder involving Bourne were for Adam Trautman in one, and for 2.11 in another. Another recent trade saw Bourne packaged with Trevor Lawrence for Ryan Tannehill and Elijah Moore. In all those deals, I love the Bourne side. The market doesn't seem to be thriving full of Bourne deals, and I have to think a late second or a couple of thirds would get the deal done in most leagues for someone who sneakily finished as the WR33 last year.
I hope you enjoyed this look at a few wide receivers I believe to be trade targets this off-season. Of course, there are many other options to choose from, and a lot depends on knowing your leagues and league-mates. Enjoy dynasty trade month, and good luck in 2022.

Latest posts by John DiBari
(see all)