The Tennessee Titans finished the regular season with a 12-5 record which led to a first-place finish in the AFC South. Unfortunately, they were bounced out of the playoffs in the Divisional Round by the Cincinnati Bengals.
The storyline dynasty gamers need to monitor going into the off-season is the team's tight end situation. All of the team's tight ends are expected to test the free-agent market. We could see this team level up this position group through the draft and free agency.
Dynasty managers will also need to pay attention to see if they draft or sign any wide receivers to bolster their depth chart. Julio Jones is listed as the team WR2, but the team might look to acquire some youth to develop for the future.
QUARTERBACK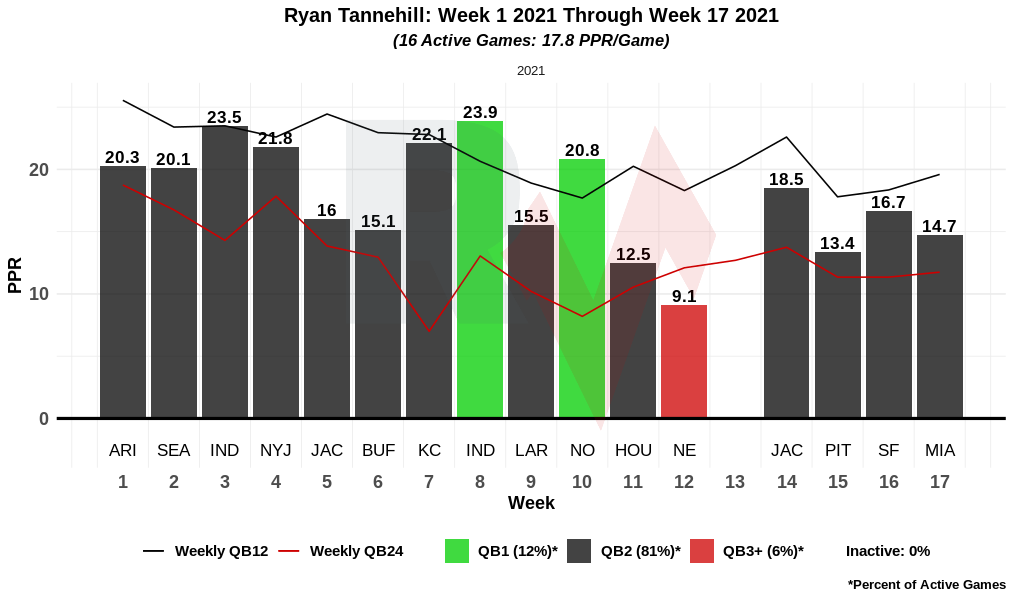 Courtesy of RotoViz.
Tannehill passed for 3,734 yards and 21 touchdowns while rushing for 270 yards and seven touchdowns. He finished the season as the QB12 with 17.8 fantasy points per game. From a week-to-week perspective, Tannehill provided fantasy gamers with steady high-end QB2 numbers. He posted two QB1 weeks and had seven games where he scored 20 or more fantasy points.
Courtesy of DLF's ADP Comparison Tool.
His dynasty value has been on a rollercoaster over the last year. His startup draft ADP dipped down to almost the 180 overall range. The 33-year-old quarterback is being selected on average as the 21st quarterback off the board behind other quarterbacks like Derek Carr, Zach Wilson, Tua Tagovailoa, and Mac Jones. His stability in fantasy is keeping him from falling to Baker Mayfield levels.
Just buy gauging the market, if you need a stop-gap quarterback to get you by for the next few years, then Tannehill might be your answer. Due to him averaging 4.06 fantasy points per game from his rushing production, he was able to elevate his floor in fantasy. Tannehill only had one game with less than ten fantasy points. He's that type of fantasy quarterback who's going to keep you in the hunt and not lose you many games. The downside is that he's not going to win you many games. However, for the price, you are getting stable production while you use other capital to build the rest of your roster.
Woodside has rushed for 13 yards over the last two seasons with the Titans. He will be testing the free-agent waters this off-season. Even in the deepest superflex leagues, Woodside isn't worth rostering. He has been in the league since 2018 and has only attempted three passes.
RUNNING BACK
Courtesy of RotoViz.
In eight regular-season games, Henry rushed for 937 yards and ten touchdowns. Even with him missing most of the season he still managed to finish the year ranked ninth among all running backs in rushing yardage and tied for sixth with ten rushing touchdowns. Henry was able to return for the playoffs where he rushed for 62 yards and one touchdown against the Bengals.
From a fantasy football perspective, when he was on the field, he was the top running back in fantasy. He was on pace to finish the season as the RB1. The injury derailed his season. His five RB1 performances set him apart from the rest of the pack.
Courtesy of DLF ADP Comparison Tool.
Henry is 28 years old and due to him being an aging asset, he is falling in startup drafts even though he is one of the most productive running backs in the league. We just saw him miss most of the season with an injury, making him a potential injury risk going forward. With that being said, Henry is a cheap buy if you want short-term production. He is the king, but father time is undefeated. After Henry in ADP, you have a lot of ambiguous running backs whose career is just as risky for the long-term.
Courtesy of RotoViz.
Foreman surprised everyone this season. He suffered an Achilles injury early in his career and many thought his career was over. This year, once Henry was out of the lineup due to his injury, we saw Foreman rejuvenate his career by rushing for 566 yards and three touchdowns. He produced four double-digit fantasy PPR weeks. He rushed for two touchdowns in the playoffs against the Bengals.
He is expected to test free agency this off-season. Considering everything he has been through with the injury, he is going to try and score big on his next contract. If another team isn't willing to pay him what he believes is his fair market value, then he will more than likely end up back in Tennessee since he has some continuity with the team. As of right now, we do not know where he will be playing football in 2022. The fact he could be Henry's backup limits his upside in fantasy. There's also a chance he goes to a team with a starting job up for grabs.
Hilliard rushed for 350 yards and two touchdowns this season. His contract with the Titans has expired and he will be a free agent this off-season. Hilliard is pegged as a player who will bounce from team to team throughout his career as a backup until he's out of the league. There's no reason to roster him in dynasty.
The Titans drafted Evans in the third round of the 2020 NFL Draft. He spent most of his season on injured reserve due to a knee injury. The 23-year-old running back is signed with the team through the 2023 season. He will get the opportunity to compete to be Henry's backup this off-season. Considering his career hasn't lived up to expectations, there's a good chance the team brings in some competition this off-season. Evans is a dirt-cheap speculation play in dynasty who more than likely won't pan out.
WIDE RECEIVER
AJ Brown (ADP = 6.83, WR4)
Injuries plagued Brown's 2021 season. In 13 games he managed to catch 63 balls for 869 yards and five touchdowns. He blew up in the playoffs against the Cincinnati Bengals, racking up 142 yards and one touchdown.
Courtesy of RotoViz.
When on the field, he was receiving the usage of an alpha wide receiver. He saw a 27 percent target share and a 41 percent share of the team's passing air yards. This led to him averaging 13.7 fantasy points per game.
Courtesy of DLF's Dynasty ADP Comparison Tool.
Brown is a premium asset in dynasty. He is currently being drafted as the WR4 in startup drafts. Even with him experiencing a season where he missed some games due to injury, he managed to increase his dynasty value. He will turn 25 in June and has plenty of seasons of production in front of him. There isn't a reason why fantasy gamers should be fading Brown since he has proven he can post top-tier fantasy numbers.
Courtesy of RotoViz.
Jones had the season you would expect for a 32-year-old wide receiver who used to be an alpha wide receiver. He played in ten games, catching 31 balls for 434 yards and one touchdown. The veteran saw a 15 percent target share while seeing a 21 percent share of the team's air yards. He didn't provide much fantasy production this season. Injuries impacted his ability to get his feet wet with his new team.
Courtesy of DLF's ADP Comparison Tool.
The balloon has been deflated when it comes to Jones' fantasy value. He is past his prime, and it's a matter of time before he retires. He is signed with Tennessee through 2024. We should get a few more years out of him before he decides to hang it up. Fantasy gamers don't know what they are going to get.
There's a chance he churns out some production, making him still a useful asset in fantasy. We could also watch him slowly rundown like many older veteran wide receivers. The downside is baked into his dynasty value. Anyone who selects him in startup drafts is getting him at a virtually free price point and is hoping he shows some signs of life during the next couple of years.
The Titans selected Fitzpatrick in the fourth round of the 2021 NFL Draft. He caught five passes for 49 yards and one touchdown during his rookie season. He will get the opportunity to compete for a larger role in the offense this off-season. Dynasty managers are currently valuing him as a borderline free asset. As of right now, depending on league size, he's either a waiver wire dandy or an end-of-bench flier.
Westbrook stepped in and proved to be a key contributor when Brown and Jones were out of the lineup. He caught 38 balls for 476 yards and four touchdowns. He will be a restricted free agent. The Titans will have exclusive rights to negotiations with Westbrook this off-season. Considering he was able to step up and help, there's a chance he could be on the team for 2022.
Rogers caught 30 passes for 301 yards and one touchdown with the Titans this season. He will be hitting free agency this off-season. Dynasty gamers should let him linger on the waiver wire until he starts to show some signs of life.
The Titans drafted McMath in the sixth round of the 2021 NFL Draft. His best attribute is his 91st percentile size-adjusted speed. He's 6-foot-2 and can run in the 4.44-range. The young wide receiver is going undrafted in dynasty startups. If you are looking for a wide receiver to stash on the end of your bench throughout the off-season, McMath might be a guy to look at. His athleticism could allow him to climb the depth chart. On the contrary, since he's a late route prospect, the odds of him hitting are very slim.
TIGHT END
Swaim had the best season of his career, catching 31 balls for 210 yards and three touchdowns. The 28-year-old will be a free agent this off-season. Considering he only caught 13 passes during his tenure with the Texas Longhorns, he should have never been valued as anything more than a stop-gap in fantasy.
There was a lot of speculation that this might be the year for Firkser. A knee injury slowed him down early in the season. In 15 games he managed to catch 34 balls for 291 yards and two touchdowns. He will be a free agent this off-season. It's going to be interesting to see if he will be back in Tennessee next season.
Pruitt caught 14 balls for 145 yards and three touchdowns in 2021 with the Titans. He's a six-year veteran who hasn't been able to take his career to the next level. His 89th percentile size-adjusted speed is very enticing, but he's currently pegged to be a journeyman backup for the rest of his career.
Izzo was drafted in the seventh round by the New England Patriots in the 2018 NFL Draft. He has caught 19 passes for 313 yards and one touchdown in his career. He is going to be a free agent this off-season. No matter where he goes in free agency, the odds are attacked against him forever being a functional dynasty asset.
Latest posts by Bruce Matson
(see all)