On Tuesday, we received terrible news regarding Cam Akers. He suffered a dreaded, career-threatening Achilles rupture while training for the upcoming season. To date, we have known this injury to be a death sentence for running backs in the NFL. While we have seen examples of various players throughout the league returning from an Achilles rupture (Richard Sherman, Emmanuel Sanders, Jason Peters), we have seen very few examples of running backs returning to their prior level of play.
If you have not read it yet, please go read Mike Havens' (@MikeEHavens) Instant Analysis on the Akers' injury for some very good actionable advice on how to handle your shares in dynasty.
Return To Play (RTP) Outlook
(Read this section closely, because it gives a glimmer of hope for Akers.)
First off, this gem of a study reveals some interesting insight into RTP for NFL players between the 2009 and 2014 seasons. Historically, RTP rate ranges from 66% to 78%, with a 61.3% rate found within this study. While the sample size was a total of 80 players (yes, a small sample), running back was limited to seven total players with three of those returning to play within 18 months of injury, a 42.8% RTP for the position.
A very important note here from this study – while there was a notable >50% reduction in power ratings, the players who were able to play >one season following injury were able to return to prior level of play. Now, on the surface from these findings, it sounds promising for Akers along with the details in the graph below revealing a higher RTP rate for players drafted in rounds one-three compared to lesser prospects.
However, we do not know the specific players this study tracked, so while this information is very important for a glimmer of hope, I recommend taking it with a grain of salt. The outlook appears murky when examining specific running backs who have suffered the injury. It appears that running backs are more likely to return to playing in the NFL overall, however unlikely to return to their prior form.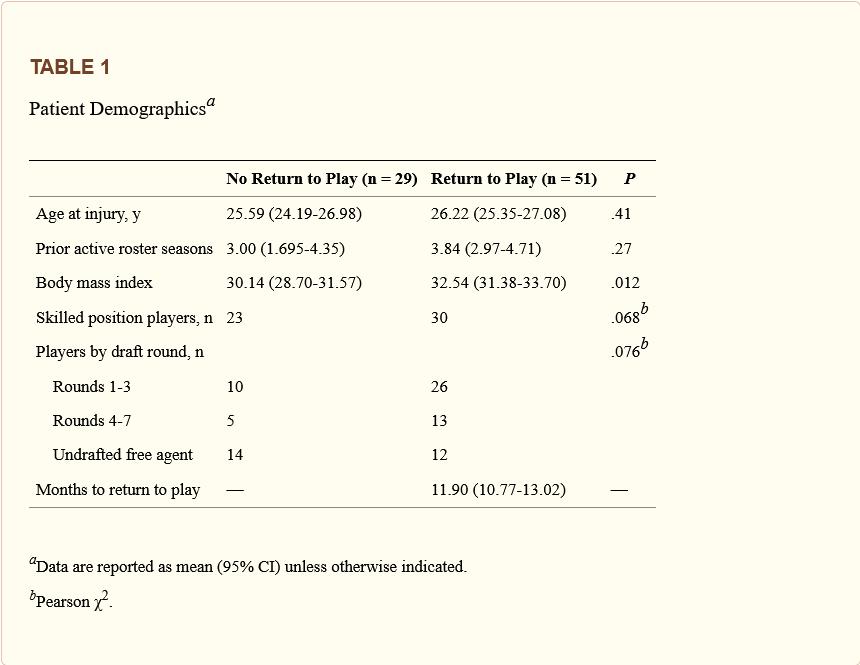 Past RBs who have suffered Achilles tears
The most recent example for the position is Mack, who suffered an Achilles tear in week one of the 2020 season. The Colts re-signed him on a one-year, two million dollar deal, relatively cheap for a backup coming off a serious career-threatening injury. We do not have much information on Mack as of right now, but I will be watching his recovery very closely as a recent example for Akers' potential return.
Important measurables:
Drafted fourth round (4.37)
29.7 BMI with 4.50 40-yard dash
103.9 speed score and 122.9 burst score
Age 24 at time of injury
Leshoure is one of the more interesting comparisons for Akers, as he is likely one of the better young RB prospects to have suffered the injury. As a recap, Leshoure was arguably 1B to Mark Ingram's 1A of the 2011 RB class. His draft profile at Bleacher Report said: "terrific cutting ability, makes would-be tacklers miss, patient runner, picks up chunks of yardage every time the ball is in his hands."
Unfortunately, Leshoure suffered his Achilles tear in training camp as he prepared for his first season in 2011. He returned in 2012 to play 14 games (suspended for the first two games) to rush for 215-798-9. It has been well-documented that he lacked the typical explosiveness that he displayed in college. He played in three games the next season in 2013 but only had two rushing attempts. He was out of the league by 2014.
Important measurables:
Drafted second round (2.25)
31.6 BMI with 4.59 40-yard dash
105 speed score and 125.6 burst score
Age 22 at time of injury
Foreman wasn't the best prospect, however there was steady support from the Texans' fanbase cheering for him to take over as the feature back for Lamar Miller. Unfortunately, Foreman suffered his Achilles tear in November of his rookie season and was unable to contribute in 2018.
He remained unsigned in 2019 until the Tennessee Titans signed him to back up Derrick Henry. While Foreman averaged 4.3 yards per attempt, it was in a very small sample of 22 rush attempts. It has been almost four years since his injury. Time is running out.
Important measurables:
Drafted third round (3.25)
31.6 BMI with 4.46 40-yard dash
112.6 speed score and 116.1 burst score
Age 21 at time of injury
Foster is one of the bigger names and success stories at the position to have suffered an Achilles tear. His situation is quite different than the prior three examples however, as Foster was arguably having one of his least efficient seasons as a rusher and was already 29 years old in his seventh season at the time of his injury. Foster attempted a comeback bid but was unable to regain his old form and was out of the league by 2016. He is an example, but not a great comparison for Akers.
Lendale White
White came into the league in 2006 as one of the next great power runners out of USC. He displayed his upside in his sophomore year, and famously vultured 15 touchdowns from Chris Johnson in 2008. There was a noticeable decline in efficiency starting at the end of 2007 however, with further reduction in 2008 and 2009.
White wound up signing a contract with the Seahawks in April of 2010 before being cut due to a failed drug test. He signed on with Denver but tore his Achilles in August and never played another snap in the NFL. It is truly difficult to say if White was unable to overcome his Achilles injury, or if other variables held him back from making a comeback. It serves as a difficult comparison for Akers, but one to note.
Crowell tore his Achilles in 2019 during a workout after signing a one-year contract with the Raiders. He had notably served as the Browns starting running back in 2016-2017 while also starting six games for the Jets in 2018. He displayed decent efficiency and power, however was never known as a very strong prospect. In fact, he went undrafted in 2014 before signing with the Browns.
Crowell has been unable to make a return to the NFL, though had been serving as a key back-up and reserve player at the age of 25.
Important measurables:
31.2 BMI with 4.57 40-yard dash
Undrafted free agent
102.7 speed score and 123.1 burst score
Age 26 at time of injury
Other notable running backs who suffered an Achilles tear however were not strong prospects or projected starters for their respective teams included Andre Brown, Earnest Graham, Kendall Hunter, Beanie Wells, Vick Ballard, Joe McKnight, and Branden Oliver. They served as decent backups but were lower-tier prospects or later-round draft picks.
What does this mean for Cam Akers?
Most notably, let us look at his measurables:
31.1 BMI with 4.47 40-yard dash
Drafted second round (2.20)
108.7 speed score and 121.4 burst score
Age 22 at time of injury
Oddly enough, all of these players seem to have very similar measurables in BMI, 40-yard dash time, speed score, and burst score. Do I think there is a correlation there? Probably not. But if you happened to look at those numbers like I did and have a split-second thought of "Wow, maybe I should fade prospects if they fall under these similar categories", don't do that.
What we can say about Akers' situation is that he has the best draft capital of the bunch. Can we say he is the most explosive out of the group? You would have to get together with some film grinders who were around in the mid-2000s, but I'm willing to bet they would say that Leshoure was more explosive than Akers. I wish we could say that Akers is by-and-large a far more athletic specimen than any of these past examples of running backs, however I don't think we can say that either.
From past examples, I also don't think that we can use the argument that Akers is young so he will heal better, as we have past examples of young intriguing prospects who flamed out and were unable to make a comeback.
The one fallback that can possibly be made is looking at Leshoure's example. His injury occurred in 2011, over ten years ago. The medical advancements that have been made over the last ten years have been remarkable, including methods of repairing an Achilles tendon rupture.
A common issue of repairs involves recreating the length-tension relationship of the Achilles tendon, oftentimes leading to an overly elongated (stretched) or inefficient tendon. Think of a rubber band – if the rubber band is stretched too far, it no longer can create a forceful snap, correct? The problem is that there is only so much we can do to affect how the collagen is laid down within the repair and if the collagen matrix is inefficient, it no longer can produce the same force output or power (eluding to the previously mentioned study that revealed a reduction of power ratings in athletes following Achilles repairs). This is an example of what was seen in Leshoure, he did not display his typical explosiveness that he showed in college, and he was unable to regain it.
Will this happen to Akers? To be honest, it very well could. There is a high level of risk in RTP following these Achilles injuries, which is why they're justifiably known as the death sentence for running backs (and often linebackers more than any other position due to positional demands). The key factors will be a top-notch surgeon who will attempt to ensure the re-establishment of the integrity of the length-tension relationship of his Achilles, as well as top notch physical therapy and rehabilitation to ensure that he trains properly over the course of the next year in order to first regain mobility, improve initial strength, and eventually attempt to regain his explosiveness for a full RTP outlook.
There is still immense risk involved, however. This fantastic thread by Ethan Turner (@ETurnerFF_PT) shows us the danger in assuming that "modern medicine has improved" or the common statement of "medical advancements may allow for__" in these cases. As Ethan points out, medical advancements have allowed for an Achilles repair to now no longer be a guaranteed career-ending injury. However there is still no guarantee that said player will be able to return to their prior level of performance. The evidence that we have towards running backs, specifically, seems overwhelming in stacking the box against a Cam Akers return to form.
"Modern medicine has vastly improved in the last 10 years"

While in general, this statement is true, it's not all-inclusive. In the last 24 hours, it's been used by people who 1. Don't practice medicine and 2. Don't understand how "modern medicine" works

Let's discuss.

— Ethan Turner (@ETurnerFF) July 21, 2021
What do I do in fantasy?
At this point, given the risks and the unfortunate examples of past running backs who have been unable to return to prior level (who also profile similarly to Akers), I would recommend shopping him for the right price. In my opinion, a future first is an auto-accept.
I would not sell your shares for only a future second-round pick or a pair of second-round picks (though I admit, it is tempting to consider it for an early to mid-second rounder). The odds of those picks hitting are not high enough, and you might as well bet on holding Akers and betting on his return to form (or hold for now in order to sell later on when hype/value increases again). If you are not getting a first or a usable asset to contend, I would hold. Do not sell simply to sell.
On the flip side, if you are looking to acquire, I would be comfortable sending a second-round pick for him on the chance that he is able to rebound and turn into the main case that we have for optimism following Achilles tendon repairs. I know that sounds contradictory, but you want to be on the positive side of this as a DLF subscriber. Keep your future firsts, and try to take advantage if the Akers manager is panicking. There are glimmers of hope in Akers' potential recovery to form. But I can't argue the fact that currently, the odds are unfortunately stacked against him despite his excellent profile and high draft capital.
It seems more likely that Cam Akers will be able to return to playing in the NFL and contribute at some level (likely in a committee role), than Akers returning to top-five running back value and potential workhorse volume that most had him projected for pre-injury. Maybe he can become the face of recovery from an Achilles repair for the running back position. Time will tell.
Latest posts by Jeff Mueller
(see all)