2020 NFL Draft Aftermath: Winners and Losers from the NFC West
The NFL Draft is the most anticipated event each year for the dynasty community. The players we have scouted and analyzed for months (or years) finally have a home for the foreseeable future. Rookie landing spots create a ripple effect throughout each roster. This requires evaluation not only of the rookies and how they fit with their new teams but also of the veterans impacted by the changing landscape.
Let's break down the implications of this year's draft additions for standing members of NFC West rosters.
SAN FRANCISCO 49ERS
WINNER – 49ers Running Backs
During the NFL Draft, the 49ers were able to add likely future Hall of Fame tackle Trent Williams for a 2020 fifth-round pick and a 2021 third-round pick. This came as their other stellar T Joe Staley announced his retirement. The OL play in San Francisco shouldn't skip a beat in 2020 after PFF ranked them in the top half at the end of the 2019 season.
In a move that should provide fantasy owners with a little more clarity, the team traded Matt Breida during the NFL draft to Miami. That leaves Tevin Coleman and Raheem Mostert as the two remaining backs from last season. Coleman out-snapped Mostert by a narrow margin during the season but it was Mostert who shined in the playoffs for the team.
Mostert has a middle-round start-up draft ADP, and Coleman is being drafted nearly five rounds later. Fantasy owners can find value in the San Francisco backfield without overpaying.
Pettis, a second-round pick just two years ago, takes yet another hit to his now, likely non-existent fantasy capital. Pettis was benched through the playoffs and the team added Brandon Aiyuk – they even traded up to get him. Kendrick Bourne presents a much better value for owners going forward.
Pettis is little more than a throw-in but in deeper leagues, maybe add him with the hope that he is moved in a trade before the end of his rookie deal.
LOS ANGELES RAMS
I'll start by saying that I don't believe there was a clear cut winner after the moves the Rams made this off-season. With the trade of Brandin Cooks to the Texans, it frees up targets and opportunities. However, it removes the deep threat that opened up routes for Cooper Kupp and Woods to operate.
Looking at data from airyards.com, specifically aDOT (average depth of target), we see that Cooks was used as the deep threat in the offense. With the team already heavily invested in their own players, it was difficult to bring in new talent during free agency along the OL and they elected not to spend capital during the NFL draft. Woods is a very underrated WR and saw nearly 25% of the team's Market Share Air Yards.
The team did spend a second-round pick on Van Jefferson who was clocked at the senior bowl as one of the fastest players on the field. Look for him to be the new deep threat on the offense to open up the field for Kupp and Woods.
After selecting Henderson on day two of the NFL Draft in 2019, the team came back in 2020 and spent even more draft capital in 2020 to select Cam Akers. Henderson failed to hit 100 offensive snaps in 2019 and was on the field just under 9% of the team's total offensive snaps.
The Rams OL was a big issue for most of 2019 as injuries hit the unit that was predominantly healthy during their 2018 Super Bowl run, but they will be expecting a healthy OL to get them back to their high-octane offense of 2018.
SEATTLE SEAHAWKS
It seems odd to call the player who suffered a fractured hip at the end of 2019 a "winner". Seattle did not address RB in free agency or the first two days of the NFL Draft. Recently Seahawks head coach Pete Carroll stated that the team expects Carson to be ready for week one of the NFL season.
The DLF ADP comparison tool shows that Carson is still the favored RB in Seattle but his value did take a slight dip post-injury. With the hip injury fresh in owner's minds, try to trade for Carson on a depressed value. It might be a good time to seek out the Rashaad Penny owner as well.
The only true loser in value I can see for Seattle is a player whose value is low to begin with. Dissly has suffered a season-ending injury in each of the last two seasons and the team invested in TE with free agent Greg Olsen and then used a fourth-round draft pick on Colby Parkinson.
The Seattle TE position is a muddled mess at the moment. When looking at Olsen, Dissly, Jacob Hollister, and incoming rookie Parkinson's (post-draft) ADP, you also have to consider they traded back into the draft for LSU TE Stephen Sullivan and Luke Willson is still on the team. For a one year fill-in, Olsen should have value, and Parkinson is now my favored young TE on the roster.
ARIZONA CARDINALS
The Cardinals acquired one of the top-ranked offensive lineman in the NFL draft when the team selected Houston T Josh Jones. While playing at T in 2019, he was graded out by PFF as having allowed only two pressures on 325 pass-block snaps. Jones should help solidify the OL and protect Murray in his sophomore season.
The team didn't have a second-round pick after they traded David Johnson and that pick to the Houston Texans for superstar WR DeAndre Hopkins. Hopkins is a HUGE get for the development of Murray. The addition of him to a WR group that already features Hall of Fame Larry Fitzgerald and Christian Kirk will push Murray up draft boards.
Kirk's rookie campaign saw him targeted 68 times (18.3% market share) for 590 receiving yards and three touchdowns, and had fantasy owners excited. In his second season, the team added multiple rookies, including Andy Isabella, Hakeem Butler, and KeeSean Johnson. Kirk took that in stride, as he was targeted 108 times (24.5% market share) and built upon his strong rookie season.
With the addition of Hopkins and the immortal Fitzgerald back for another season, it puts a slight cap on what we might expect for Kirk in 2020. I only write him in as a "loser" in the slightest terms. There just might not be enough targets for Kirk to see a significant rise in volume, meaning he would need more TDs to see him rise in fantasy value.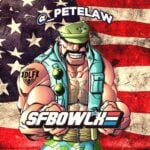 Latest posts by Peter Lawrence
(see all)