2020 Summer Sleeper: Detroit Lions
In our annual 32-part Summer Sleeper series, DLF scribes identify a lightly-touted player on each NFL roster who may be worthy of your consideration. Our subjects all have varying levels of "sleeperness," but each merits a bit of in-depth discussion here in the Premium Content section.
To help everybody along, we are going to be categorizing our sleepers under one of three headings:
Super Deep Sleepers – Players who aren't roster-worthy in 12-team leagues, but are still worth keeping an eye on.
Deep Sleepers – An end of the roster player who is more often than not on the waiver wire in 12-team leagues.
Sleeper – A likely rostered player who makes for a good trade target. Their startup ADP puts them out of the top-175 or so.
Because we aren't going to give you the likes of mainstream sleepers, most of these players will undoubtedly fizzle. All we are asking is for you to keep an open mind and perhaps be willing to make room for one of these players on your bench. You never know when the next Adam Thielen is going to spring up. Feel free to add your own thoughts about our choice for the designated sleeper, or nominate one of your own in the comments below.
By most accounts, the Detroit Lions had a good 2020 NFL Draft – addressing the defensive side of the ball, giving the offense more playmakers, and taking talent where it was needed.
In 2019, the Lions invested heavily in TJ Hockenson, and if he is able to stay healthy, he could provide a huge boost for the offense. Unfortunately he went down due to injury last season and the tight end spot really struggled and needed some help.
That help may have come in the form of a talented player who ended up going undrafted.
Category: Deep Sleeper
Bryant was widely considered a top 100 talent in the 2020 NFL Draft based on his ability but due to his smaller frame, a poor combine performance, and some past knee injuries, he ended up going undrafted. He was then considered one of – if not the top – UDFAs available, and the Lions were able to snag him.
Bryant struggled to stay on the field his first two years at Washington, but had a very productive junior year, posting 52 catches for 825 yards and three scores.
Stats courtesy of sports-reference.com.
There were some knocks on Bryant's game coming into the NFL, and while his combine performance wasn't terrible, it didn't help his stock either.
Courtesy of DLF's Player Combine Performance App.
There were two main knocks in Bryant's game leading up to the NFL draft. First, scouts and NFL personnel were having a hard time figuring out exactly where he would play. At 6'2" and 248 lbs, he is on the smaller side at the tight end position.
The second knock was his inability to block, or willingness to block. The tape is pretty darn bad when it comes to engaging with defenders and getting pushed around. Bryant projects to be an above-average pass catcher, but may be a liability when it comes to blocking.
Alright, that's enough negativity… Here is where you can get excited about Bryant as a prospect.
As you can see… he is a matchup nightmare. If he gets lined up against linebackers, he can beat them with route running and speed, and if a cornerback ends up on him, he can play bully ball and eat up yardage.
He may be a tweener, but he is also a playmaker you can lineup at different positions on the field. Just one year in and Hockenson wasn't consistently on the field, and the Lions needed some playmaking/catching ability behind Hock. They still have Jesse James and the versatile Isaac Nauta, but neither of those players have moved the needle like a playmaker of Bryant's caliber can.
According to DLF's ADP, he is the 54th-ranked rookie in drafts. Which means… he is basically free to stash on the end of your roster or on a taxi squad for a year or two.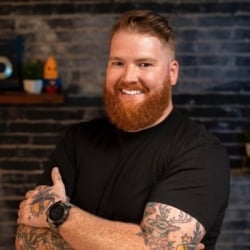 Latest posts by Levi Chappell
(see all)